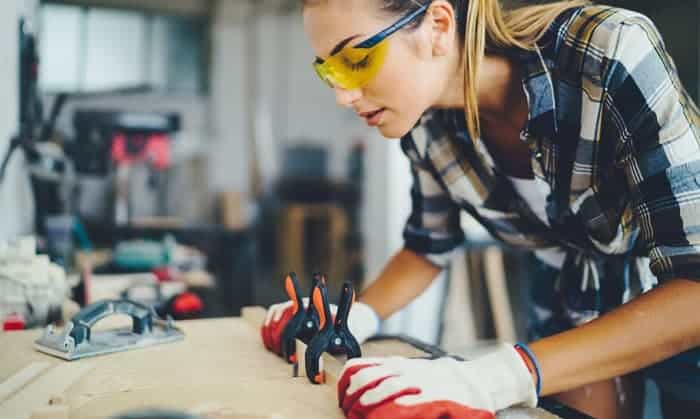 When seeking the right gear for their tasks, buyers must know if the chosen piece can handle the level of harsh and heavy-duty work. It's the same for finding eye protection apparatus, especially safety glasses. We should ask the question "What are safety glasses made of" to decide which suits our requirements the best.
In the market, most protective goggles are constructed using a lightweight yet durable material — Polycarbonate. Furthermore, many brands use different types of sturdy plastic for the frame, and glass, Trivex, or Plutonite for lenses.
What Materials are Used for the Safety Glasses Lenses?
When choosing the ideal safety glasses for work, the lens material is a determining factor. Currently, the most used materials for protective eyewear are organic, Polycarbonate, and mineral lenses. Read on to know about their best attributes.
Polycarbonate lenses – From the most well-established brands to newcomers in the protective eyewear industry, Polycarbonate is always their favorite material for producing lenses. Even NASA adopts this material to construct their spaceship windows and astronaut helmets. This is due to its resistance function to high impacts and high temperatures.
As it can withstand extreme conditions, the material is introduced to make eyewear lenses to ensure safety for workers. Furthermore, it is used to produce anti-reflective lenses, which block glaring reflection that might hurt and hinder the user's eyesight while driving or working.
Of course, Polycarbonate lenses are lightweight, contributing to light eyewear for all-day performance. Yet, they require special treatment to resist scratches, or else the pieces will be scratched easily.
Organic lenses – To deliver impact-resistant gear for wearers, manufacturers constructed organic or CR-39 lenses for numerous safety eyeglasses. This type of lens is compatible with various frames, as it is incredibly flexible. Also, the material makes a lightweight lens that contributes little to the overall weight of the pair.
The excellent attribute of an organic lens must be its good optics. Thus, if you want great prescription safety glasses, this material would be an ideal choice.
Mineral lenses – When brands want their products to resist scratches well without expensive special treatment required, they often go for mineral material. In truth, mineral lenses are a mixture of silica and metal oxides like titanium or sodium.
Such a combination results in a hard-glass product that makes it difficult for sharp edges to scratch the glass surfaces. However, this can be its weakness, as it lacks flexibility against strong impacts. A sudden drop from a certain height might break the glasses and splinters the pair easily.
Another incredible attribute of mineral lenses must be their aesthetic appearance and optical quality. This lens is crystal-clear and beautiful, which allows it to match various stylish frame designs. More importantly, it provides unbeatable optical quality, easily being the best among the three lens materials.
Furthermore, safety glasses with mineral lenses also shield users against chemicals. That's why they are often utilized in welding to guard worker's eyes against hot splashes.
What Materials are Used for the Safety Glasses Frame?
The construction of safety eyewear frames must ensure several criteria such as shatter-resistant, high-impact, and sometimes flame-resistant. But, more importantly, its quality should meet the American National Standards Institute (ANSI) standards for protective gear against hazards.
To follow these requirements and receive such authority approval, manufacturers need to opt for decent-quality materials as follow:
Polycarbonate (PC) – It is the favorite pick of many brands that produce safety and sports glasses. Such material ensures lightweight wear that offers workers all-day comfort. Besides adding little burden, a Polycarbonate pair can resist impact well, enduring sudden attack or falling without breaking too easily.
Zylonite (Zyl) – A type of plastic frame that most manufacturers choose to reduce the weight of protective gear on workers is Zylonite. Safety eyewear made of this plastic tends to be affordable, lightweight, and flexible. In addition, these pairs are widely loved for their various colors available, which must be exciting for stylish workers.
Cellulose acetate propionate – This next material is preferable for people with nickel allergy. With a nylon-based plastic frame, the safety eyewear is lightweight and hypoallergenic. Yet, these glasses will be better for light duties.
Stainless steel – Another material that often provides a classic and sophisticated look for safety glasses is stainless steel. Such a metal frame can be a fashion statement while acting as a shield against impact. These safety glasses are high-strength, as they resist impact better than flimsy plastic pairs.
Aluminum – Workers should also pay attention to some of the best safety glasses made of aluminum. The material is often utilized to construct high-end frames that are strong and resistant to corrosion. Furthermore, these glasses are flexible enough to handle pressure without breaking.
Titanium – People who are allergic to certain types of metals can opt for titanium eyewear. This material is super lightweight, among the lightest frames for safety glasses. Also, it is robust and durable, with superb tensile strength. Hence, it can endure rough handling.
Recommended Safety Eyeglasses Made of Quality Materials
If you want an all-around gear made of ultra-strong Polycarbonate, Mpow Safety Glasses can be an excellent option. Its durable lenses are coated with anti-scratch and anti-fog finishes, ideal for work in laboratory and construction environments alike.
For workers who want thoroughly polished metal frames, 3M provides the Metaliks ANSI Z87 gear that meets the requirements. Besides, it is very stylish and professional, with polycarbonate lenses that block UV rays. Such an ideal option for outdoor work and sports activities!
Conclusion
Many factors that determine our buying decision or safety glasses include durability, protective features like heat, scratch, or UV protection, transition effects, wrapping construction, and more.
To further understand those attributes, you can start with the information about what those safety glasses are made of. Then, hopefully, your selection process can be shorter after knowing better about the gear.
Hi, I am Alexander, forty-seven years old this year. I have been in the construction industry for twenty-five years and have provided a wide range of services. When it comes to expert guidance on site safety gear, you can put your trust in me.