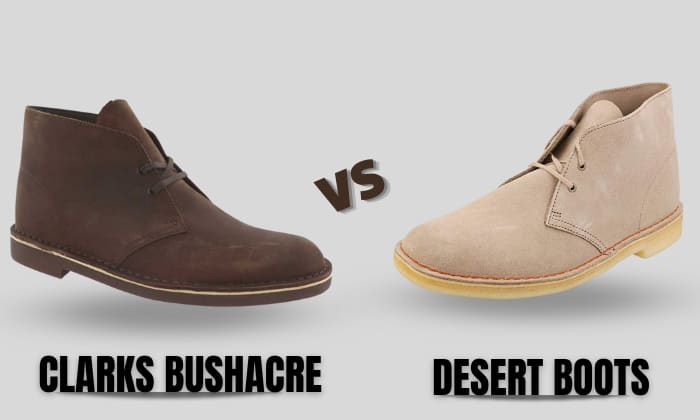 Chukka boots have always been a classic choice for footwear that stands the test of time. We can notice a pair of Chukka boots from afar with its distinct design with eyelets and a smooth brown look.
It's not hard to tell this type of footwear from others. But it can be tricky for some to notice the differences between two popular Chukka boots: Clarks Bushacre vs Desert Boots.
They are both iconic designs from Clarks, an established brand with more than 22,000 footwear styles. Let's see a detailed comparison between the two.
Clarks Bushacre and Desert Boots: Which Classic Boots to Choose?
In this detailed comparison, we will mention three designs from Clarks that spark various debates among Chukka boots enthusiasts on Reddit. They are the Clarks Bushacre 2, the Clarks Bushacre 3, and the Original Desert boots.
The Original Desert design has been an iconic men's fashion item for over 70 years. Since its first introduction in 1950, the boot has always been a popular choice for casual dressing.
On the other hand, the Clarks Bushacre 2 and 3 are relatively new designs with nice features that remind avid fans of the Original item.
They are all made from quality pull-up leather.
You can notice these boots by the two eyelets on the upper.
There are lace-up upper details, and the shoes extend up to the ankle.
The Chukka designs are easy and quick to slip on.
Let's see the main differences between Clark Desert boot vs Bushacre 2.
 
Clarks Bushacre 2
Original Desert boots
Insole
Mostly made of sheepskin
Mostly made of top-grain leather
Outsole
Durable and long-lasting vulcanized rubber sole, yet not as comfortable as crepe rubber
Made of crepe rubber, thus more comfortable yet not as long-lasting
Leather
Durable and quality pull-up leather, thus requiring some breaking in
High-quality pull-up leather, rather soft and comfortable, thus requiring a shorter break-in period
Color
Various colors (about 9) with a long-lasting good look
Multiple color choices, though not as many as Bushacre.

Subjected to dirt and grimes a bit more easily.

Value
Relatively modern and new, best-seller on various E-commerce sites
An iconic piece, recognized by many
Price
Around $48 – $170 (depending on different sellers and materials)
Around $130 – $150 (depending on different sellers and materials)
What to Know About the Original Desert Boots?
A classic pair never goes out of style. That must be why many prefer the Desert Boots despite many similarities between these designs and the Bushacre.
1. Superb comfort
When trying on both pairs, many might realize the sight difference in feeling, as the Desert boots are more about comfort. It comes with a tad more paddings along with softer leather.
They are also light shoes with crepe rubber, providing a lightweight heel and good grip for wearers.
The standard Desert boots have a heel height of 0.94 inches and a shaft length of 4.25 inches measured from the boot arch.
2. Varying colors
Furthermore, there are multiple colors for you to choose from, other than the classic brown pairs. You have options like the Brown Suede, Green Suede, Black and white Grid, Tan Combination – a very modern look, and the Navy Leather.
3. A modern touch
You might not be aware that Clarks also released the Desert Boot 2, a model with a modern touch that slightly differs from the Original pair. These shoes are re-engineered to adapt to the new century's demands.
They still focus on comfort. However, the finish is from beeswax leather for improved waterproofing and a smooth look.
Indeed, this model has its flaws, as the crepe rubber sole is not that durable. So, if you wear the boots often and subject the pair to harsh conditions, they might wear out sooner than expected.
Furthermore, the Desert Boots can cost you slightly more than the Clarks Bushacre.
What to Know About Clarks Bushacre Boots?
Design-wise, the Clarks Bushacre high-top Chukka boot is a hit. On Amazon, its sales are significantly higher than Desert Boots. We vouch for this pair of stylish Chukka boots due to the following reasons:
1. Multiple colors
While keeping many nice features in the design of the Desert Boots, the Clarks Bushacre come in various colors. And the widely-loved piece among them must be the Beeswax.
Moreover, some new models that appeal to people with different tastes include the Taupe Distressed Suede, Wine Suede, Wheat Suede, or the Dark Tan Leather, etc. Among many options, we surely can pick one that goes well with our current styles.
One may also notice very unique Olive Waxy Suede and Burgundy Leather models of the Clarks Bushacre 3.
2. Nice Chukka design
Other than the distinct two eyelets and smooth leather look, these boots come with a 0.75-inch platform and 10-inch opening. Such a design further promotes these Clarks boots as casual wear items.
The Clarks Bushacre 2 vs 3 differs slightly, as the latter version has a tad wider opening. Furthermore, it comes with a "Chassis" construction, which offers extra comfort and flexibility.
3. Durable construction
We should get our money's worth by getting a durable pair of boots. Fortunately, Clarks improved the Bushacre design by using vulcanized rubber soles, which last longer and ensure good protection.
Besides, the leather is equally as good as the Desert Boots, so Clarks Bushacre is a real bargain for prolonged use.
4. A good price
Even though there are Bushacre models that are a bit more expensive than Desert Boots, they are generally more affordable. You can find some pairs for under $50 from certain sellers.
However, you might notice that the rubber soles are quite stiff, thus taking us a week or so to finally break in the pair. Still, that's a slight compromise of comfort for extra durability.
How to Style With These Chukka Boots?
It has been known that Clarks Bushacre and Desert Boots are perfect for casual wear. Therefore, just put on a button-down white shirt and dark-colored pants, and you get yourself a smart look for a date.
You can also pair the boots with a pair of dark jeans and a sweater if the weather is chilly outside.
Another good idea for mixing these boots with your daily wear is a zip-up hoodie in earth tones, along with a denim jacket. You can wear nice dark-colored pants to complete the fit. That's good autumn and early winter mix-and-match.
A little warning, though, do not be too formal or ultra-casual, as these boots suit a nice and smart look. Therefore, you should best avoid colorful fits, shorts, sweatpants, or joggers.
Conclusion
I used to read each and every review from different platforms when contemplating similar boots designs. I hope I can save you from that trouble through this detailed comparison.
The debate on Clarks Bushacre vs Desert Boots might not end any day now, but it's all about personal preference. Both are classic boots, with minimal yet progressive styles that revolutionized footwear since their appearances. So, you can never go wrong with either.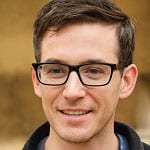 This is Edward Manning, the editor in chief of Construction Informer. Quite a bit of my time is spent researching the market and interviewing experts in the field so that I can give you reliable information.