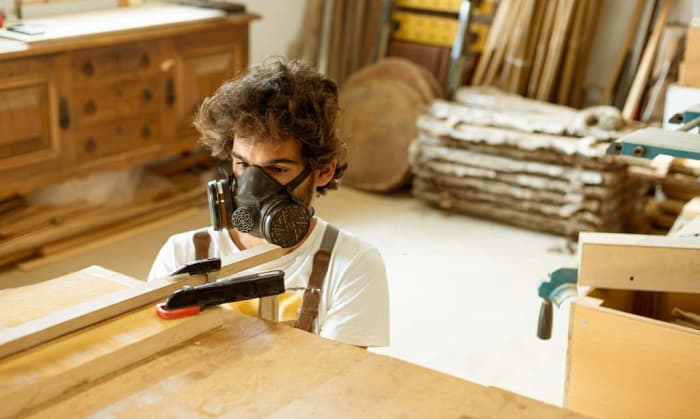 Many workers might not be aware of the severe dangers of inhaling too much hardwood dust. Prolonged absorption of such dust can result in breathing issues, asthma, and even nasal cancer. Woodworking health topics always state how necessary it is to have the proper gear to protect workers.
So, we should not ignore the importance of a good respirator for these tasks. And, we should also pay enough attention to purchasing just the best dust mask for woodworking to protect our health.
So what're the main features to consider? Here're some important hints:
Filtration – We recommend you pick dust masks with filters approved by The National Institute for Occupational Safety and Health (NIOSH). Specifically, P100 and N95 filters are the best options to block fine dust from woodworking from entering your respiratory system.
Type – Disposable dust masks are convenient picks for quick DIY tasks. However, for professional work, always select a reusable respirator or dust mask with a proper fit and adjustable straps to protect against particulates without leaking issues.
Breathability and comfort – We cannot enjoy comfort in a mask without ventilation. Therefore, when choosing a dust mask, make sure it has a breathing valve or cool air valve that reduces breathing resistance for long-hour work. You should also check if the materials are of good quality to not hurt your nose and skin.
There is more information that helps users arrive at a good purchase decision. Read the recommended list below and check out the detailed buying guide to find out.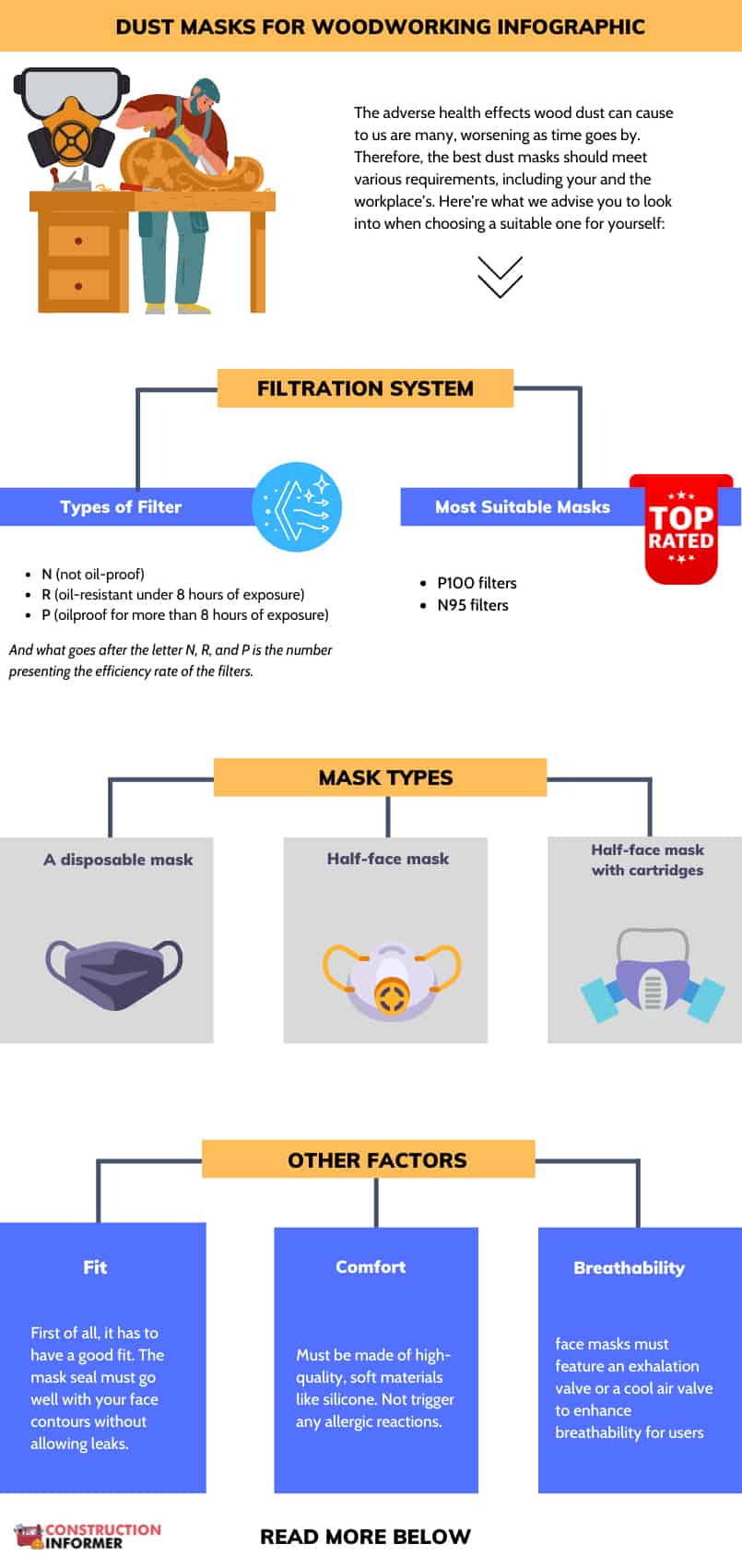 Featured Products
Best Overall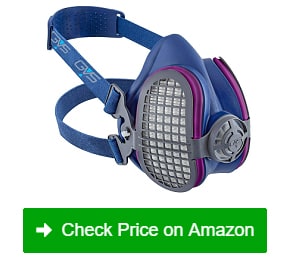 GVS SPR457
– Offers light wear at 130g only
– HEPA filters for a low level of breathing resistance
– P100 filters are approved by NIOSH
Editor's Pick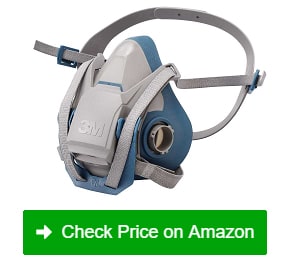 3M Half Facepiece 6503QL
– Has a quick latch mechanism for swift, easy, and painless wear
– Silicone seal fits face contours nicely for comfort
– Compatible with many 3M filters and cartridges
Premium Choice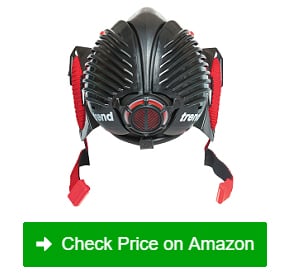 Trend STEALTH/ML APF10 
– An affordable dust face mask
– Reliable respiratory protection with NIOSH-approved N100 filters
– Anti-fog, breathable design with an exhalation valve
Best Woodworking Dust Mask Reviews
1. GVS SPR457 Elipse P100 Half Mask Respirator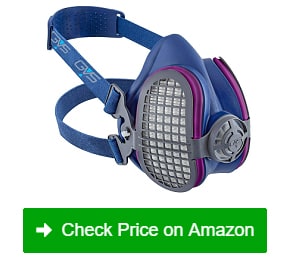 Wood particles are small enough to get through a mask without a proper filtration system. Therefore, we need a NIOSH-approved dust mask like this GVS SPR457 Elipse P100 Respirator.
The first feature that draws my attention is its lightweight structure, measuring 130g only. Everyone enjoys a functional mask that does not sit like an obstruction throughout work hours. And, a woodworking dust mask should be this lightweight and low-profile. With this design, I can put on safety glasses and work with ease.
Furthermore, the mask's HEPA filters minimize breathing resistance, making it comfortable and ventilated. At the end of the day, I do not feel any breathing fatigue, mostly thanks to such a feature.
The comfort of this mask also comes from its soft headband and face seal. Since the materials used to construct the seal do not contain latex, silicone, or a rubber smell, it is highly recommended for people with sensitive skin and allergies to those things.
Most importantly, the purification system on this mask is reliable. Its P100 filters are approved by NIOSH for blocking small particulates, protecting our lungs from tiny wood dust and other hazardous airborne substances.
However, it might bother some users that the air valve on this respirator occasionally makes a little sound. But, for me, it has never been a nuisance.
Pros
Offers light wear at 130g only
A low-profile dust mask that allows wearing glasses with ease
HEPA filters for a low level of breathing resistance and after-work fatigue
Has a soft headband and a safe face shield free of latex, silicone and a bad smell
P100 filters are approved by NIOSH for blocking harmful dust
Cons
The air valve can make a little sound sometimes
Overall, the minor downside pales in comparison with the multiple great features of this top-rated woodworking dust mask. It operates as intended with qualifying mask filters.
2. 3M Half Facepiece Reusable Respirator 6503QL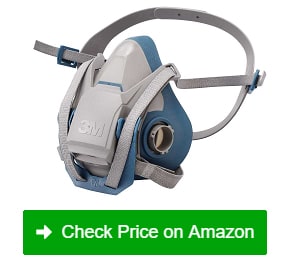 After spending hours and hours scrolling through many 3M respirators, I found several pieces perfect for woodworking. And, I am most satisfied with the 3M Half Facepiece Reusable Respirator 6503QL's functions.
First of all, the quick latch mechanism of this mask's headband design makes it easy to wear. I can put the mask on, then pull the cradle over my head and start working. Taking it off is also easy with a swift move, since the piece does not pull my hair.
Also, such a well-made head harness allows breezy adjustment in a few seconds. The added spandex straps secure the whole mask on my face better. And, the silicone face seal adapts to my face contours just fine. I have no discomfort or hassle to complain about when wearing this high-quality dust mask.
I have not encountered a high breathing resistance issue with the respirator, mostly because it has a good exhalation valve. I tried wearing glasses, and since the breath was led out of the mask downward, there were no major fogging problems.
For woodworking tasks or any kind of duties involving hazardous airborne particles, we can add compatible 3M cartridges and filters. The brand offers dust filters, sold separately, and replacement filters if we want to upgrade the mask. So, it is a long-lasting and reusable piece ideal for multiple tasks.
Although trivial, the mask has a flaw: its front straps can collect dust. So we need to wash or clean it rather often.
Pros
Has a quick latch mechanism for swift, easy, and painless wear
Breezy adjustment and good security with its harness and flexible straps
Silicone seal fits face contours nicely for comfort
No breathing and glass fogging issue due to the exhalation valve
Compatible with many 3M filters and cartridges
Cons
The front straps collect dust, thus requiring cleaning
In my opinion, this 3M reusable dust mask is worth a try for users seeking a functional and versatile piece. It is reliable and resilient enough for long-term work.
3. Trend STEALTH/ML Stealth Air APF10 Respirator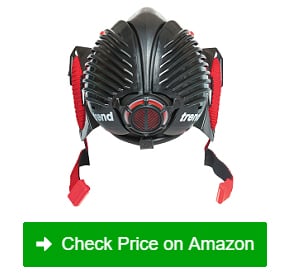 Among multiple quality woodworking masks I have tried, the Trend STEALTH/ML Stealth Air APF10 Respirator is an affordable yet practical one.
How the mask works to protect our respiratory system is the most important thing to consider. That's also why I picked this piece without hesitation. It features N100 filters approved by NIOSH for blocking air hazards.
In detail, we can wear this woodworking mask to filter out more than the dust of various wood species. It can block airborne contaminants from plasters, bricks, concrete, silica, aerosols, etc. Therefore, this versatile respirator can be of excellent use in different tasks at a carpenter's workplace.
Next, it promotes comfort and breathability, two other important features when picking face masks. In fact, like all respirators having exhalation valves, this one ensures little to no fogging to our glasses. Furthermore, it does not create breathing resistance, making it easy to wear for hours.
Regarding the comfort features, the mask has a seal made of soft and safe materials. So, we should not worry if it will ever trigger allergies to latex and silicone. Moreover, the neck strap has a quick-release hook for convenience.
However, we should be thorough when picking the right size since the chart offered by Trend is not correct. I had to choose a size larger than usual for it to fit nicely.
Pros
An affordable dust face mask
Reliable respiratory protection with NIOSH-approved N100 filters
Filters dust particles from woods, plasters, bricks, concrete, silica & aerosols
Anti-fog, breathable design with an exhalation valve
Comfortable mask features: soft and safe seal & quick-release strap hook
Cons
The chart might be off, so it is recommended to pick a larger size
4. BASE CAMP M Plus Dust Face Mask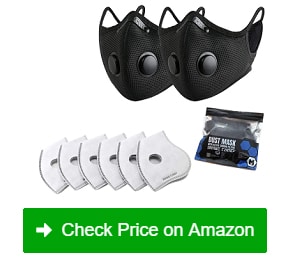 Woodworkers who prefer mesh materials should check out this BASE CAMP M Plus Dust Face Mask. It is made of nylon fabric that offers the comfortable feeling of a soft and breathable daily mask.
Since the elastic material wicks moisture and dissipates heat well, we can carry on working in the summer weather without sweating uncontrollably.
Furthermore, it has a soft hook and closure, along with an enclosed AEB system. Such a design ensures that the mask fits well on our face without much pressure on contact points or accidentally slipping off. I was surprised by how the piece's ear loops did not make my ears hurt after a long day of work.
Yet, the most notable thing about this mask is its multiple layers of filters for protection. In fact, its efficiency in blocking hazardous airbornes is 99%. We can wear the mask and rely on its six layers of filters to keep dust, smoke, gas, pollen, and more particles at bay. Thus, besides woodworking tasks, I often use this mask when traveling in polluted areas.
Another convenient feature of this mask is its detachable exhalation valves. I can take them off to wash the mask shell, then put them on again after the piece is dry. With that, the mask can be reused multiple times while maintaining good hygiene.
Even though I can figure out how to attach or replace the filters on this mask myself, I would like to have clear instructions.
Pros
Nylon mesh, a breathable fabric that wicks moisture and dissipates heat well
A secure fit with a soft hook and closure & an enclosed AEB system
Has soft ear loops
Has 6 layers of filters, blocking 99% of dust, smoke, gas, pollen, etc
Detachable exhalation valves for washing and reuse
Cons
No instruction for filter replacement
Furthermore, this washable dust mask with a cloth-like material is among the most comfortable models I use for long-hour work. It can shield me against airborne dust from woodworking sites and other polluted areas.
5. 3M(TM) Respirator Assembly 6291/07002(AAD)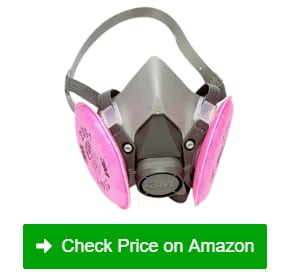 Another 3M product worth considering for woodworking tasks is the Respirator Assembly 6291/07002(AAD). I chose this mask mostly because of its particulate filter that blocks the tiniest particles, both oil and non-oil-based.
When putting this respirator for woodworking on, I can continue my tasks without much thought about breathing issues. Its NIOSH-approved P100 filtration system is powerful enough to stop the wood dust from entering my lungs and hurting my health in the long term.
Furthermore, I notice that its 3M cartridges, also approved by NIOSH, block annoying smells at my workplace. In fact, it allows me to breathe fresh air without toxic fumes and gases. So, when I work with others who spray paint or clean the wall, I would not smell much of the paint or the bleach.
Indeed, no matter how effective the purification of the mask is, comfort is always an important factor. Luckily, it is one of the main appeals of this 3M respirator. The half-face design wins me over with its lightweight materials, compact frame, and soft seal. All the features combined resulted in a great experience for me throughout the shift.
It is convenient to put on a helmet or a pair of safety glasses while still wearing this mask. Its compatibility with other gear makes it a good companion for any work.
It's just a side note that we should be careful when putting this respirator down to avoid its filters accidentally being knocked off.
Pros
Has a particulate filter that blocks oil and non-oil-based particles
NIOSH-approved P100 filtration system to block wood dust
NIOSH 3M cartridges to filter hazardous fume and gases
Has lightweight materials, compact frame, and soft seal
A half-piece design to go with any gear: safety glasses, helmet
Cons
The filters might be knocked off accidentally if not handled carefully
The downside is not so much of an inconvenience, as long as we get used to how to store or keep the mask outside of work. The important thing is this woodworking respirator does its job well.
6. 3M 8511 N95 Respirator
Another piece from 3M mentioned in many woodworking respirator reviews is the 8511 N95 Respirator. Many workers love this mask due to its optimal convenience and comfort.
For some projects, instead of settling for bulky respirators with huge chemical cartridges and exposed filters, a compact piece like this one should do wonders. The mask's cool flow valve makes it easy to breathe even during heavy duties. In fact, the brand claims that this version is an upgrade from their popular 8200 model in terms of breathability.
I know many workers do not prefer disposable respirators for certain tasks. Still, they can rely on this woodworking mask since it meets quality requirements with N95 filters. Approved by NIOSH, it can block at least 95% of hazardous particulates from entering our lungs.
Besides, the piece also shields against spores, pollen, and other tiny particles, offering versatile use for different tasks. I notice that many workers wear it for their sanding, drywall, sweeping, gardening projects, and more.
From my experience, a strong feature of this face mask is its comfortable wear. I love its adjustable nose clip that puts less pressure on my nose bridge.
It would be better if the mask had elastic ear straps, but it only features two bands; one goes over our head and the other our neck. However, these braid straps are stretchy enough for comfort, so I can get used to them.
Pros
A compact mask with a cool flow valve for better breathability
Disposable dust mask with NIOSH N95 filters to block tiny particles
Works against spores, pollen, and other tiny particles
Comfortable wear with its adjustable nose clip
The braid straps are stretchy enough
Cons
The design does not have ear loops
Overall, I deem this face mask one of my favorite dust masks for woodworking, obviously for its easy and comfortable use. Furthermore, the piece's efficiency in blocking dust is reliable.
7. RZ Mask M1 Face Mask for Woodworking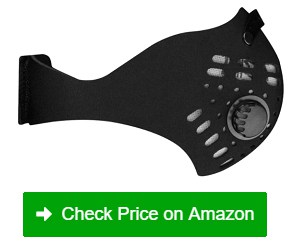 The RZ Mask M1 Face Mask for Woodworking is among the most suitable dust masks for DIY projects. In fact, I can wear this piece anywhere, even when commuting or traveling.
The dust mask features active-carbon filters, with a purification rate of 99.9%. It means when wearing this piece, we are safe from the smallest particles coming from woodworking. It ensures that users breathe in fresh air without tiny airborne pollutants clogging their nose and throat, leading to physical reactions like coughing or irritation.
I am glad to find out that this dust mask also reduces fogging issues when we wear glasses. As many people either need to put on goggles or must wear prescription glasses, their tasks can go smoothly without condensation hindering their visibility.
One thing that surprises me is this woodworking respirator's durable construction. Since it is made of neoprene, the piece is rugged enough to withstand various working conditions. It features replaceable filters, so I can just change those used ones and continue wearing the mask.
This versatile piece is made with a universal fit. Its closure allows easy adjusting, while the nose clip can be bent to conform to different contours. Therefore, I rate this dust mask as a well-fitted one.
However, it took me several tries to totally get used to the feel of this fitted mask on my face. It is not like the mask is uncomfortable, but it does require some break-in period for someone who has not tried it before.
Pros
Features an active carbon filter with a purification rate of 99.9%
Reduces fogging issues, allowing users to wear glasses without condensation
Durable neoprene design and replaceable filters for repeated use
Universal fit with adjustable nose clip and closure
Cons
Take new users some time to get used to its fit
Among the dust masks with an activated carbon filter, this design is definitely my favorite. It delivers comfort and protection for woodworking projects as intended, not to mention it has such a cool look.
8. 3M Professional Multi-Purpose Respirator
What the Professional Multi-Purpose Respirator offers is more than enough for woodworking tasks. Therefore, we can always purchase this design for various tasks involving air hazards.
In detail, this device's P100 filters are approved by NIOSH for blocking nearly 99.97% of particulates and aerosols in both liquid and solid forms. In other words, the chance that we might inhale brick dust, coal dust, mold, lead, and other harmful molecules is really small.
With such a function, the model can pass as a good dustproof mask factory design. Furthermore, it can handle long-hour duties at the workplace due to the exhalation valve included for easier breathing. Notably, its well-balanced structure surely makes it easier to adapt to the mask in a short while.
What I love about this dust mask is its sweptback cartridge positioning. In fact, many heavy-duty respirators are so bulky that I could not put on glasses. But, this one can make a difference. It also ensures no lens condensation, offering me good clarity during work.
Indeed, this mask allows cleaning and multiple uses. It is durable enough to last us for quite long. Besides, like all 3M products, we can expect quality and plentiful filters for replacement.
However, compared to other woodworking dust masks, this one costs a tad higher.
Pros
NIOSH-approved P100 filtration system with an efficiency of 99.97%
Blocks particulates and aerosols in both liquid and solid forms
Offers breathable use with the exhalation valve and well-balanced structure
Sweptback cartridge positioning for adding safety glasses
Avoids fogging issues to ensure good lens clarity
Durable, can be cleaned and reused
Cons
Costs a bit higher than other woodworking dust masks
Overall, I love this dust mask, which ensures occupational safety and comfort for users, no matter what work they do. For me, it is one of the top-tier dust masks for woodworking money can buy.
9. Generic Reusable Half Face Cover
What surprises me about the Generic Reusable Half Face Cover is the quality of all of the pieces offered in its package. I love every single item and gear as they make my work easier.
First of all, this woodworking face mask is constructed from food-grade silicone, ensuring no allergic reactions when touching our skin for a prolonged time. Furthermore, the combination of silicone and PVC plastic makes this half-piece design both compact and lightweight.
The filters and cartridges on this respirator can block vapors, gases, and particulates from entering our respiratory system. It not only shields against hazards like wood dust but also helps us avoid bad smells. Therefore, when we work near someone using a cleaning product or spray paint, the odor will be alleviated significantly.
I also appreciate how this dust mask delivers sufficient comfort. It has elastic straps, which fit nicely around my head without irritating my scalp. The nose bridge is also well-made to not put too much pressure or leave red marks.
Other than the face mask, the set also packs extra filters and cotton for multiple uses. As we wash the mask and put on a new filter replacement when required, the mask can be of good use for a long time.
However, the mask might run a tad smaller than usual, thus fitting snugly onto our face. Therefore, it might not be the most suitable woodworking mask for beards.
Pros
Food-grade silicone material to ensure no allergies
A lightweight and compact dust mask made of silicone and PVC plastic
Filters and cartridges block vapors, gases, and particulates
Comfortable wear with elastic straps and well-made nose bridge
Packs extra filters and cotton for long-lasting use
Cons
A bit too snug and tight for those who with beards
In my opinion, this package is a real bargain with practical pieces included for long-term use. It is among the most favorite dust masks helpful for woodworking and other follow-up tasks.
10. KISCHERS Half Facepiece
I always appreciate a generous offer of high-quality products packed in a set for multiple purposes. In fact, it is hard to resist such a tempting bargain from KISCHERS, given its Half Facepiece and Anti-Fog Safety Goggle package.
Starting with the face mask, it is made of premium-grade silica gel, which is non-toxic for direct contact with the skin. Besides, such a face seal is also soft and comfortable, making long hours wear more bearable.
The notable thing about this dust mask is its excellent ability to shield against fumes and organic chemical vapor, besides small particulates. Indeed, the mask can make sure wood dust is kept at bay when we work, but it takes protection to a new level with its dual filtration system with a 97% efficiency rate.
Furthermore, the flow valve incorporated in this wood dust mask can ensure good breathability for wearers. As it works smoothly to dissipate built-up hot breath inside the mask, we feel ventilated and also avoid condensation on our glasses if we wear them.
To my surprise, I love the goggles that come with this package. They have clearer lenses and a more durable construction than I expected. Surprisingly, the earplugs work wonders when I operate machines with loud noise.
However, I would appreciate it even more if the brand sent a clear instruction for new users to assemble the mask.
Pros
Premium-grade silica gel seal, non-toxic and soft for contact with skin
Shields against fumes, organic chemical vapor, and small particulates
Has a dual filtration system with a 97% efficiency rate
A flow valve to dissipate built-up hot breath
Includes functional goggles and earplugs
Cons
Instruction to assemble the mask is bad
Among the reusable dust masks I have used, this set stands out with its great protection and optimal practicality. The brand amazes me with how functional all the pieces of safety gear included are.
11. ANUNU 2097 Particulate Filter Half Face Respirator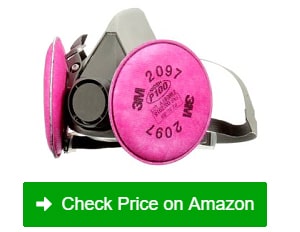 The ANUNU 2097 Particulate Filter Half Face Respirator is our last entry in this year's list but far from a lousy option for woodworking tasks. It is not that popular, but once we give the model a try, it will surely impress.
This dust mask has a P100 filter with an activated carbon layer. Therefore, it can keep non-oil-based particles from attacking our respiratory system. The mask works effectively to remove 95% of the airborne hazards, including wood dust.
And when the cotton filter absorbs so much dirt that it feels a little harder to breathe in this face mask, it's time to change the filter. The breathing resistance will be easy to notice since this design allows excellent breathability.
Furthermore, the filters will take a long while to get damaged since they are made of a high-electrostatic fabric of great quality.
I am sure workers will also appreciate this mask's quality materials. In fact, it is made of high-grade silicone, soft enough on our skin without adding excessive weight. Also, the headband allows free adjustment for many head sizes with its pressureless design.
The material also contributes to the overall construction of this mask, making it comfortable to wear. I love this piece mostly because of its compact half-face design, since I can wear my goggles together with it.
Up until now, I have not had any complaints when using this woodworking mask. I will update when anything comes up.
Pros
A P100 filter with an activated carbon layer to block non-oil-based particles
An efficiency rate of 95% in filtering out wood dust and other airborne hazards
Easy to notice and change the damaged filters
Features breathable and quality filters made of high-electrostatic fabric
Features a high-grade silicone seal and an adjustable, pressureless headband
Compact half-face dust mask to wear with other gear
All in all, this woodworking mask is a good choice for protecting workers from inhaling harmful airborne particles, including dust, at their workplaces.
What to Look for When Buying Dust Masks for Woodworking?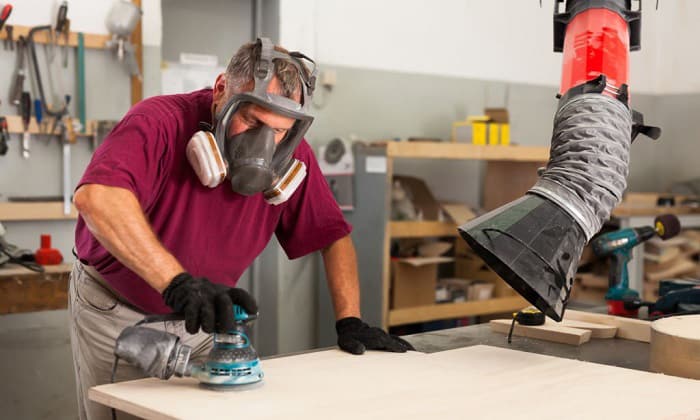 The adverse health effects wood dust can cause to us are many, worsening as time goes by. At different workplaces, there will also be other types of air hazards hovering like airborne allergens, radioactive particles, or fine toxic particles.
Therefore, the most trusted dust masks should meet various requirements, including your and the workplace's. Here're what we advise you to look into when choosing a suitable one for yourself:
Filtration system
Among the multiple filters available for face masks, you will encounter pieces classified as N (not oil-proof), R (oil-resistant under 8 hours of exposure), and P (oilproof for more than 8 hours of exposure). And what goes after the letter N, R, and P is the number presenting the efficiency rate of the filters.
For instance, if you see a face mask tagged P95, that means it can block up to 95% of one-micrometer particulates, including oil-based hazards, for more than 8 hours.
And in woodworking, the most common options for the best dust masks often feature P100 or N95 filtration systems, approved by NIOSH.
P100 filters have the highest rating for a face mask that blocks small particulates. Therefore, workers prefer using these filters to protect their respiratory system from various airborne hazards. A P100 respirator can filter out nearly 99.9% of particles larger than 0.3 microns.
N95 filters typically appear in respirators for various tasks. They prevent users from inhaling dust and other tiny particulates prevalent in their workplace.
If you want to take protection to a higher level, pick masks with filters and cartridges. You have options for either chemical cartridges, dual cartridges, or PARR (Powered-air-purifying respirator).
The former two are more popular options since they are more compact. The last one is less used by carpenters, as they are more suited to heavy-duty tasks that contain more toxic substances.
Mask type
To choose just the right dust masks for yourself, it is important to know what kind of tasks you are doing.
A disposable mask – If you only handle a short project, disposable dust masks will be a good choice, since they are affordable, rather breathable, and easy to use. We can quickly discard them when the tasks are finished. Still, make sure the mask's filtration system is approved by NIOSH.
Half-face mask – If you choose a respirator with filters and breathing valves only, the mask is still very compact. It works to shield against woodworking dust well while allowing wearing glasses and other gear.
Half-face mask with cartridges – This mask type can be bulkier than the other two above. However, we can still wear it with goggles, earplugs, and helmets when we choose a low-profile design.
Furthermore, these masks will block gases and harmful fumes as well. Hence, they can be an ideal dust mask reusable factories performance design.
Comfort, fit and breathability
No matter which mask you choose, you should always pay attention to these three features to ensure that the design functions well.
First of all, it has to have a good fit. The mask seal must go well with your face contours without allowing leaks. Furthermore, all the straps should allow easy adjustment. If for the ear, they should be elastic straps, but many respirators have a quick-latch model that allows easy on and off for the headband.
Regarding comfort, the dust masks' seals must be made of high-quality, non-toxic, and soft materials like silicone. When we have direct contact with the seal for hours on end, we should make sure that it will not trigger any allergic reactions.
Besides, a low-profile and lightweight face mask will benefit us more than a bulky and heavy-duty one, especially in woodworking.
Furthermore, face masks must feature an exhalation valve or a cool air valve to enhance breathability for users. You might feel a bit warm in summer weather with a ventilated dust mask, but it should not make you feel breathing fatigue after work.
Should You Wear a Dust Mask When Woodworking?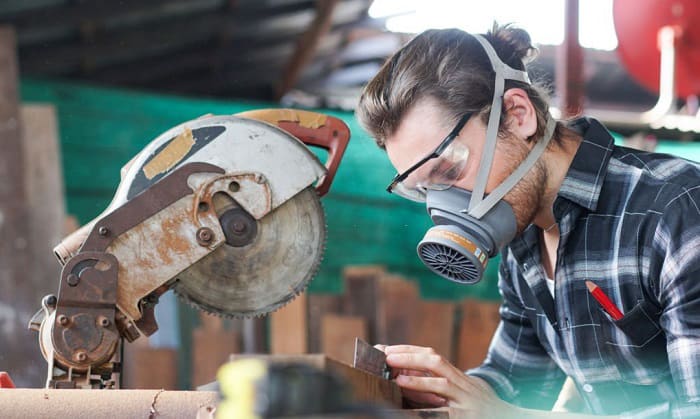 Yes, we should. In fact, we must wear the dust masks as long as we are still at our workplace where dust particulates are prevalent.
Even though we cannot see the dust microns, which are too small for our naked eye, they are extremely dangerous. Only with sufficient protective gear like face shields, dust masks, and respirators can we keep most of these harmful particles from entering our lungs.
How Do You Protect Wood Dust?
Wood dust, especially from sawing, cutting, or sanding, can just fly everywhere and contaminate the air other people around us and we breathe in.
You can reduce the risks of scattered wood dust by using local exhaust ventilation to protect and control dust. It will effectively capture the wood dust right when we are performing our tasks.
Many workers install on-tool extraction to absorb dust on their grinders and saws. With this device, the amount of dust in the air will decrease significantly. And they can just wear a sawdust mask and perform their work comfortably.
Water can be useful in controlling wood dust since they have a damping effect on those flying particles. And then, you can use a suitable vacuum to eliminate the dust after work is finished.
What's the Difference Between a Dust Mask and a Respirator?
A dust mask can shield users' mouths and noses from inhaling dust particles generated from dusting, sweeping, mowing, and even woodcutting. In other words, they are helpful to filter out non-toxic particles.
Meanwhile, respirators are better at protecting users against hazardous gases, fumes, and vapors. Many of them, when certified, can block harmful chemicals besides airborne particles.
Do N95 Masks Protect Against Wood Dust?
Yes, they do. You can comfortably wear N95 face masks or respirators to handle tasks involving wood dust. As mentioned above, they can filter 95% of small non-oil-based particulates.
Conclusion
Needless to say, dust masks are critical in protecting our respiratory systems from being hurt by inhaling dust for a long time. We can avoid allergy triggers caused by those small particles and severe conditions in breathing. Therefore, it is always important to be geared with the best dust mask for woodworking.
Hopefully, our guide has already helped you choose a suitable dust mask for use. If you are pondering over two options, you can read more opinions on Reddit, Quora, or other platforms to finalize your pick. Thank you for reading! Remember to work safely!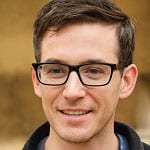 This is Edward Manning, the editor in chief of Construction Informer. Quite a bit of my time is spent researching the market and interviewing experts in the field so that I can give you reliable information.