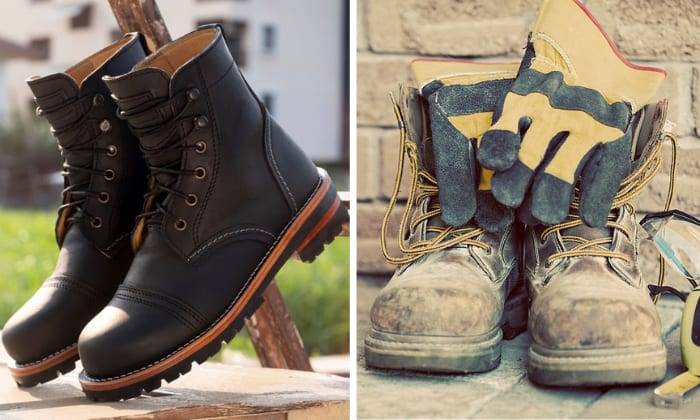 The logging industry requires the most rigid protection for workers' feet when they perform duties outdoors in unforgiving conditions. The hazards are many and might be different from the challenges and dangers in other fields' work sites. For instance, logger boots come with spikes while most standard work boots do not.
Let's see more details about logger boots vs work boots to find their similarities and main differences. From there, we can know which one we can utilize for our current requirements.
Logger Boots and Work Boots: Safety Features
Raised heel 
The district difference you can notice right away is logger boots having higher heels than casual construction boots. These pairs' high heels are often over 2 inches to prevent moisture intrusion while workers tread wet terrains. It is among the unique features that differentiate boots for a logger from normal work boots.
On the other hand, a work boot's heel prevents slipping when we climb on the ladder. It is often a 90-degree heel that adds ankle support when we walk on uneven terrain at the worksite. The work boot does not come with a high heel, as it's just around 1 – 1.5 inches, but more often has a rubber-padded heel to reduce shock and stabilize our feet.
Traction level
Logger boots and most work boots come with extra traction. The feature is required to help workers walk on oily or slippery ground without slipping. The excellent traction of logger boots comes from the outsoles' lug pattern. Such a feature is essential for duties on rugged terrain or unpredictable platforms.
Meanwhile, traction in work shoes comes from wedge soles designed to resist oil and slip. If we want more traction to work in wet conditions, it's best to treat the boot bottom with a mixture of salt and rubber glue.
Steel shank
It is among the main features that make a pair of logger shoes stand out from other boot types. Lumberjacks must wear boots with steel shanks to protect their feet. They often jump down and climb, putting a huge impact on their feet, thus requiring protection against puncture wounds.
On the other hand, some casual work boots come with a composite shank for added relaxation. It reduces the tension on our feet for the long-hour shifts. Of course, such a pair will not come with much protection, but it suffices for light-duty construction work.
Steel toe
A protective work boot often comes with a steel toe, as for workers at the construction site, toe protection is among the top priorities. Compression and falling objects are the main dangers to our toe area.
Thus, we should wear such a pair (either class 1 – green triangle or class 2 – yellow triangle) for good impact resistance around 1133 kg.
On the other hand, a logger boot does not feature a steel toe. Despite the part's good protection, it adds a burden and heat conductivity to the boot. Logging boots without steel toes come with better comfort and flexibility.
Electrical hazards protection
We all know that electrical dangers are not common in lumberjack's workplace. Therefore, we rarely see a pair of logger boots with electrical insulation.
But the case is different for work boots, as they are designed to protect workers against electric shocks, especially electrician and lineman boots.
Insulation
To many users' surprise, work boots come with better cold insulation than logging boots. That means the former type tends to handle low temperatures better than the latter.
Due to the design of the bottom sole, work boots can offer more warmth and allow smooth walking and climbing in freezing weather, even though both types are water resistant.
Logger Boot and Work Boot: Comfort Features
Weight
Standard work boots are often heavier than logging boots. As we know, lumberjacks often climb trees and walk through water puddles; they do not want the extra weight from steel toes to pull them down. That's why logger work boots are more lightweight than shoes for the construction industry.
Flexibility
Working conditions require our boots to be flexible enough for specific tasks. While loggers climb on trees, construction workers might stay on ladders or scaffolds during work, so both groups should feel safe in boots with good traction and flexibility.
That said, the lug pattern of logger boots, while comfortable, are more rigid than the wedge soles of work boots.
Breathability
Logger boots are often made of high-quality leather, both their construction and soles. The premium leather ensures good resistance to moisture while allowing good air ventilation. So, loggers can always keep their feet dry while walking through puddles and work in high-humid conditions.
While breathability is essential for logger work boots, it does not mean construction boots stay behind in offering good ventilation.
For buyers who intend to find a breathable pair for daily work, check out Thorogood Men's Moc Toe Boot, Timberland PRO Men's Titan Waterproof Boot, or Keen Utility Men's Tacoma Steel Toe Shoe to enjoy the feature.
What Are Logger Boots
Other than those features above, there are some more things you should know about logging boots:
Welt construction – To ensure ultimate safety for users, rather than focusing on various safety features like those in work boots, these shoes are made with Welt construction from Goodyear. It includes the reinforcement of the midsole, upper, insole, and outer soles, which are stitched together.
Kiltie – When looking closely, you might notice the Kiltie on logging boots at the end of their laces. It is a paneled and fringed leather piece to keep the debris, water, and dirt at bay.
Ankle support – The lace is another good feature of logging boots, which always have above-9-inch height. It supports loggers' ankles when walking on uneven grounds while keeping bugs, debris, and bushes out.
Are Logger Boots Comfortable
Yes, they are. The combination of premium leather and a breathable and flexible construction, like the full grain leather Chippewa logger boots or Ridgecut logger boots, ensures good comfort for work among trees and uneven grounds.
Besides, logging boots with spikes indeed keep all moisture out to avoid irritation caused by soaked fabric.
Can I Wear Logger Shoes for Construction Work
Yes, if it's light-duty work that does not involve electrical dangers. But, you should purchase boots that offer sufficient protection for your duties without compromising much in comfort. In many cases, wearing logger work boots will hinder your heavy duty tasks with their bulky design and unnecessarily long shaft.
Conclusion
So, logger boots vs work boots are definitely not interchangeable. One type simply cannot replace the other boots. Work boots focus on more safety features, including toe protection, electrical shock insulation, etc. Meanwhile, logging shoes come with a high heel and top-rated leather with good construction.
Yet, both of them can keep our feet safe and comfortable at the same time, as long as we choose the right one for our work. Hopefully, the article addresses all your confusion. Feel free to share and leave comments via our contact page.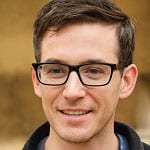 This is Edward Manning, the editor in chief of Construction Informer. Quite a bit of my time is spent researching the market and interviewing experts in the field so that I can give you reliable information.