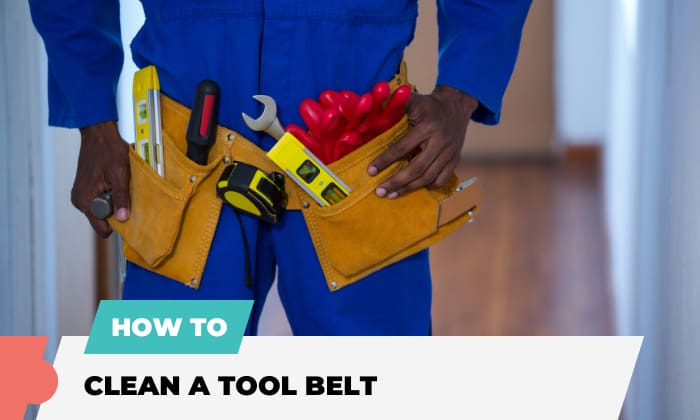 A tool belt is a significant accessory. You can store tools in separate pockets to select the correct ones conveniently. Plus, you don't need to go back and forth to pick a tool and never lose small stuff either.
Due to the tool belt's advantages, you usually bring it along whenever you work. The continual use results in the belt catching dirt, paints, and oils easily. A concern is that the dirty belt can make tools rust sooner. Moreover, the sunlight will discolor your tool belt quickly.
The good news is once you learn how to clean a tool belt properly, you can prevent these problems from occurring.
Steps to Clean a Leather Tool Belt
The tool belts are made from different materials such as leather, nylon, poly-cotton blends, and fabric which require specialized methods to wash a belt.
Leather boasts durability, sturdiness, and flexibility. If you are looking for the ultimate products, don't skip AWP leather tool belt and Occidental tool belt.
Despite leather's advantages, you shouldn't toss them in the washing machine and dryer. The ill-suited heat and washing cycle may damage the material.
1. Mild soap
You should use a very mild soap such as castile soap or saddle soap for leather belt cleaning to avoid ruining its natural oils.
What to prepare
Castile soap/saddle soap/ leather cleaner
Soft-bristled brush/ toothbrush
Cloth
Natural oil/baby oil/all-purpose oil/ lanolin oil/neatsfoot oil
Step 1: Remove dust
Remember to put away all things before cleaning tool belt.
Remove dust and dirt from the belt by shaking or vacuuming it.
Step 2: Scrub the leather tool belt
Before scrubbing a leather belt, rub soap or specialized leather cleaners with brushes until bubbles form.
Use the soft-bristled brush to clean a leather belt on the outside well. Utilize the toothbrush to wash a leather belt on the inside since it can reach narrow corners of the pockets.
After scrubbing the belt, dampen a towel to wipe off traces of soap and loosened dirt.
In case your belt isn't stain-free yet, repeat the process until everything is fine. Then, wait for 4-5 hours or even overnight to dry the leather belt.
Step 3: Mix the oils
We'll walk you through a few ways to create homemade conditioners.
Use only argan oil or baby oil. Argan oil is a kind of natural oil, while baby oil contains 98% mineral oil which is an inert liquid; so they are safe for applying to leather.
Simmer 4 ounces of water to melt 4 oz of blocked lanolin oil. Then combine it with 6 oz of neatsfoot oil or all-purpose oil to create homemade conditioners.
Step 4: Condition the leather belt
Using oil mixtures is a method to care for a leather belt and maintain its softness and suppleness. A worthy note is that you shouldn't pour oils onto the belt directly to avoid overspills.
You can use a damp towel or your fingers to spread the conditioner in circular motions. Make sure the oil can coat belt sections thoroughly.
Wait for 2 hours to allow the oil to penetrate the leather deeply. After that, the leather belt will be ready to serve you.
2. Vaseline and alcohol
Cleaning tool belt with vaseline and alcohol is a relatively strange method. Fortunately, once you follow this process, you will realize it is really effective. This remedy is especially good for the tool belt.
What to prepare:
Vaseline
Alcohol
Mild soap
Water
Cloth
Step 1: Wipe off the belt
Dampen a cloth with a soapy mixture to clean a leather belt. Wait till the belt is dried a little before applying vaseline.
If you are too familiar with the above method, you can try to dip a towel into rubbing alcohol. Then, rub it on the leather belt several times to cover the belt entirely. Dry it before moving to the next step.
Step 2: Rub with vaseline
Generally speaking, vaseline is derived from petroleum jelly, a combination of wax and mineral oils. That said, it is helpful in remoisturizing leather belts.
Apply vaseline to the belt using a towel little by little.
Wipe the excess vaseline when done since it's easy to catch dust and dirt.
Step 3: Polish the belt (Optional)
Using a leather polisher can bring the belt back to its original color. It helps to maintain the belt's suppleness and extend its life as well.
Steps to Clean Other Tool Belts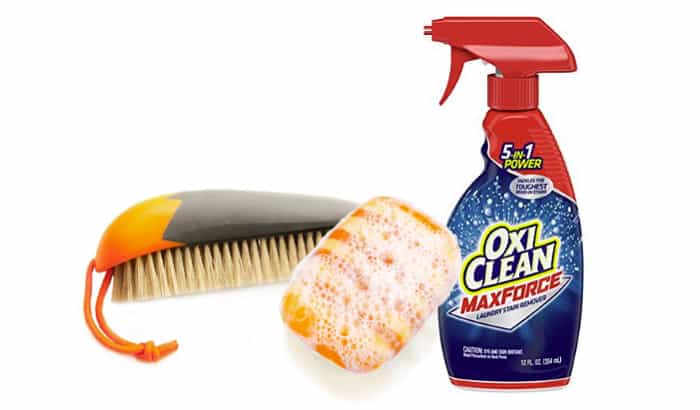 Aside from leather, you can find nylon tool belt, poly-cotton blends, and fabric tool belts. As Reddit users advise, these share the same cleaning process including 3 simple steps.
What to prepare
A soft-bristle brush
Warm water
Mild soap
Stain removers (optional)
Step 1: Remove loose dirt
You can follow similar instructions as step 1 when using mild soap to clean the leather belt.
Step 2: Remove stains (optional)
If your belt has stains, apply a remover to them and let it work for 1 hour before washing it.
Step 3: Wash the belt
You can hand wash the belts or toss them in the washing machine, with the former being preferable. Clean the belt with mild soap and lukewarm water with temperatures between 98-105F to soften stains quickly.
Step 4: Air dry
After washing the belt, you should dry it naturally.
Tips to Maintain a Tool Belt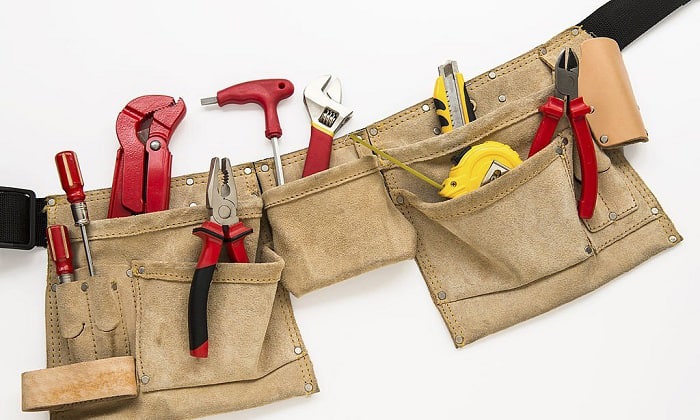 Use a damp cloth to wipe off stains right when you realize them on leather tool belts.
A tool belt usually carries a lot of tools that can stretch the material and puncture a hole. Hence, you should usually rearrange and put away unnecessary tools.
Even when the leather belt is coated with a water-resistant layer, it will fade over time. To check if this layer is still good, throw several drops of water on it. If the leather absorbs water, condition it now.
Never use hair dryers or dryers to dry leather belts as they will deform your belt.
Condition your leather belt once or twice a year to prolong its longevity.
The belt should be dried completely before you wear it.
Avoid washing belts on humid or rainy days since they will take a long time to dry.
If you don't wear tool belts immediately, store them in dry and clean areas to protect them from moisture.
Sharp objects are easy for puncturing the belts. That said, be careful when carrying them.
Never use tough brushes and strong pressure to scrub the belt
How to Restore an Old Leather Tool Belt
What to prepare
Tools and materials for washing
600-grit sanding paper
Crack filler
A palette knife
Leather dye
Sealer
Sponge/applicator pad
Step 1: Clean the belt
This step is pretty much the same as steps 1 and 2 from using mild soap to cleaning leather tool belts. Ensure the belt is dried entirely before doing the next steps.
Step 2: Even the belt's surface
Smoothing the cracks with 600-grit sandpaper is good for transforming leather into scabrous to catch filler and dye easily. Note that you should sand the leather along its grains and wipe off dust right using a dry cloth after you're done.
Step 3: Fill the cracks
Use a palette knife to add filler to the cracks until these are filled well. It should be noted to remove excess filler to avoid a mess on the surface.
Put the belt in a well-ventilated and dry area for 6 hours to dry it.
Step 4: Dye leather (optional)
Before turning the leather into its original color, re-smooth the surface with ultra-fine sanding paper and wipe off excess dust as step 2.
You can apply up to 5 thin coats of dye to cracks with a sponge or pad. Use a low-temperature hair dryer to dry it for 2 minutes each time. You should move the hair dryer constantly to avoid drying the leather.
Step 5: Apply sealer
Spread a sealer over cracks to protect filler and dye from getting stains and damages.
Dry the sealer for 2 minutes using a hair dryer.
FAQs
Can you wash a tool belt in the washing machine?
01
Leather tool belts
The answer is no. Leather shouldn't be soaked in water for a long time since it will take an extended time to dry. Moreover, excess water can make it shrink and crack. I'd recommend hand-washing leather belts.
02
Nylon and other materials
These materials are washable, so you can wash them in a washing machine. Plus, you can apply a remover to tough stains and let it work for several hours. You can also scrub stains to get rid of them completely. Then, let the washing machine do the rest of the mission.
Why not put leather tool belts in the dryer?
Dryers aren't a preferable option to dry your leather tool belt even when you set up a low heat due to the following reasons.
Dryers will damage leather's natural oils and suppleness. It will be dried out and easy to crack.
The heat in dryers can melt the glue spots, making the belt parts detach suddenly while working.
Unsuitable temperatures can stretch out and deform the belt. As a result, it cannot fit your waist snugly.
Dryers can make stains stay for a long time if they aren't removed completely before. Plus, the high heat can discolor the belt as well.
Conclusion
The materials to produce tool belts vary. You should know how to clean a tool belt properly to avoid ruining it. The cleaning processes aren't complicated. You can follow them to wash your belt. Don't forget to condition the leather tool belts regularly to maintain their condition and extend their life.
If you have other questions about the procedure, feel free to comment. Good luck with the cleaning tool belt process!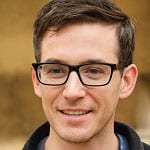 This is Edward Manning, the editor in chief of Construction Informer. Quite a bit of my time is spent researching the market and interviewing experts in the field so that I can give you reliable information.