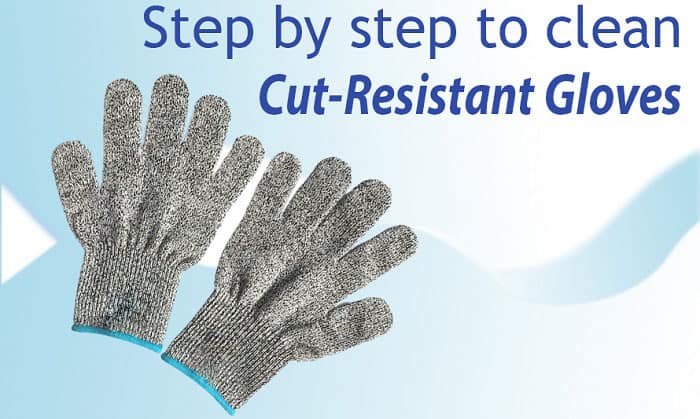 Cut-resistant gloves are qualified by ANSI/ISEA or EN standards for protecting users against sharp tools and objects at work. Depending on the level of protection, these pairs can offer us safe handling of blades, knives, and more. We can quickly identify them by materials and designs.
Here's a note for anyone that owns a protective pair of cut-resistant gloves, either made of metal mesh, cut-and-sewn fabric, or high-strength yarns. It's important to wash it right. To offer some help, we show the detailed guide on how to clean cut resistant gloves as follows:
Machine-Wash Cut-Resistant Gloves
The good news is most cut-resistant gloves allow machine washing; you just have to check your pair's tag. Usually, gloves made of cut-and-sewn fabric or kevlar thread are machine-washable, yet metal mesh gloves are not.
So, watch out for the materials and read the tag to be sure. If there is no tag and you cannot contact the brand service, it's safer to assume it is not machine-washable. When the tag indicates that you can, here're the steps to follow:
Step 1: Throw your gloves in with other laundries.
For tan or white gloves, it's recommended to put them in with white clothing. Similarly, if the glove colors are dark, toss them in with other laundries of dark colors. That way, you will not have to worry about one piece ruining all the other and vice versa.
You also have the option of putting the gloves inside a mesh laundry bag to protect your clothing or just wash the gloves along and set a gentle cycle for the process.
Step 2: Pour in the liquid detergent
You definitely figure out this is the next step, but make sure you put in a proper amount of detergent. Also, please avoid adding fabric softener and bleach. These two agents are out of the question since they can easily damage the fingers of cut-resistant gloves, especially Kevlar pairs.
I learned not to use fabric softener to wash Kevlar gloves the hard way, so trust me on this.
Step 3: Set the washing cycle and heat level
Some gloves require a delicate cycle to avoid sagging and losing tensile strength; others can handle the standard wash. You can decide on choosing the suitable cycle, but the delicate setting will be safe for all. Besides, the medium heat level is ideal for cleaning cut-resistant gloves.
Step 4: Dry the gloves
One last thing to do is setting the medium heat level for drying your gloves. Toss them into your dryer, set the cycle, and wait for the process to end. Just make sure you do not include anti-static or dryer sheets.
You can also air-dry the piece if you want to be extra careful not to let the heat affect your pair.
Hand-Wash Cut-Resistant Gloves
This method works for different types of materials, ones that are machine-washable or not. So, if you have some spare time and are ready to do clean your work gloves, it's time to get into the task:
Step 1: Add the soap and use warm water
Wear both gloves on your hands, then squeeze some dish soap or detergent on the palm. You can now turn on the lukewarm water and put your hands under it with gloves on under the running water.
Now, just rub your hands together, starting to clean the palm by lathering the soap as much as possible. Then use the lather to scrub the glove back, fingers, and cuffs, too. You can repeatedly make the same rubbing moves for about 3 minutes for the dirty fiber to soak the soap in.
Step 3: Remove the soap by rinsing the gloves
With the gloves still on your hands, rinse both of them under lukewarm water again. Now, let the water run from the fingertips down to the cuffs to remove the soap.
Afterward, squeeze your hands and leave them there under the running water. Then, take the gloves off and run the water through the glove inside to remove all detergent left.
Step 4: Dry the pair
Lastly, hang your clean pair neatly on a hook and let it dry naturally. Make sure to leave it out in the open with wind and sunlight to dry quickly.
Pro tips: For gloves that work with food, it is required to use a QUAT-based agent or chlorine sanitizer after washing and before drying.
Can You Wash Cut-Resistant Gloves?
Yes, you can. If you read the whole guide and still doubt if your cut-resistant pair handles washing with detergent, the answer is yes, absolutely. Please know that dry cleaning and laundering do not have much impact on the protective attributes of the pair.
Conclusion
I hope that our guide on how to clean cut resistant gloves helps you keep your pair in good condition and squeaky clean for your tasks. Please try to use high-quality and suitable cleaning and sanitizing products if you work in food service or plan to use gloves to prepare meals. Washing it every day and washing it the right way is essential.
If you find our guide and tips valuable, do not hesitate to share them with friends and family. Thank you!
Hi, I am Alexander, forty-seven years old this year. I have been in the construction industry for twenty-five years and have provided a wide range of services. When it comes to expert guidance on site safety gear, you can put your trust in me.