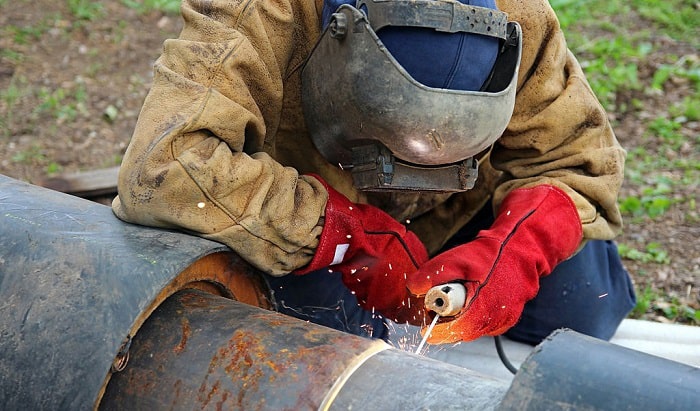 In choosing suitable work gloves, many questions come up. For welders, the quality of their hand protection pieces is essential. Therefore, they need to know about the gloves' durability, safety features, and more.
Among those things, the glove material is among the determining criteria. So, what are welding gloves made of? Which glove material is the right choice for your current welding work? Let's walk through all the critical factors.
Welding Gloves Material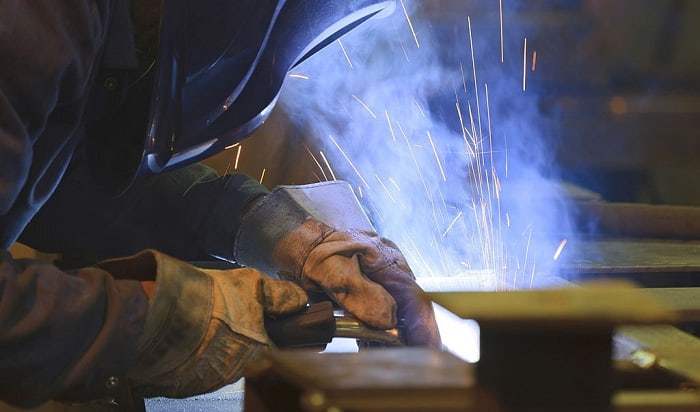 For your information, welding safety gloves are mostly made of leather fabrics. In most cases, the manufacturers combine different kinds of leather to construct a good pair with the best features of every material.
Cow leather: Gloves made of cowhide offer excellent abrasion resistance. They are durable enough to last long despite frequent contact with hard and sharp edges. Also, this material can handle heat and flame, making it ideal for welding tasks. Cowhide is a frequently-used fabric for MIG welding gloves.
Goatskin: Goatskin leather gloves in welding provide wearers with flexibility and dexterity. It is a flexible yet durable material for long-term use in harsh environments.
In fact, many welders prefer goatskin gloves due to the comfort and lightweight feeling they deliver. We can notice in the market many TIG welding pairs made of goatskin.
Deerskin: Manufacturers opt for deerskin when they want to make soft and comfortable welding gloves. This fabric also offers good sensitivity and dexterity for workers' hands as they handle small objects. Thus, deerskin is a popular pick among MIG welders.
Elk leather: All the best brands in making welding gloves have at least a model from elk leather. It is a premium-grade leather that stays soft and comfortable while shielding against heat well. These gloves can handle cuts and abrasion, making them ideal for stick welding.
Pigskin: The uniqueness of this material must be its small holes that provide excellent breathability. Besides, pigskin is highly durable, making up rugged gloves with their porous textures. However, this material might not be the best in resisting high heat.
Manufacturers not only choose among many types of skins and hides, but they also decide on different parts of the leather. Here's why many brands opt for either split or grain leather to construct the cut — the most important part of leather work gloves:
Grain leather: For enhanced dexterity and toughness, many gloves are made from grain leather. As we go through all well-known manufacturers, we can notice numerous high-quality welding gloves made of top-grain and full-grain leather.
In detail, the top grain leather is the top fiber layer of the hide, with the highest density and durability. Such compact fibers make rugged work gloves for welding and other tasks, as they can handle abuse.Full-grain leather is also made from the top-grain fiber of the hide. Yet, it is pricier due to the natural state of the product that does not experience alteration or added grain print.
Split leather: This fiber is the next layer of the hide after removing the top grain layers. It is indeed less compact and durable, resulting in more affordable prices than grain leather. There are also different types of split leather, depending on the parts where they were taken from.
Side split is the most durable among them all, making a reliable cut for gloves. Furthermore, the shoulder split is slightly less rugged, thus being even more affordable. Lastly, the lowest-priced split leather comes from an animal's belly.
Why Are Welding Gloves Made of Leather
Different leather fabrics are chosen to make welding gloves due to their non-conductive, durable, and heat-dissipating features. Those are essential functions that a welder needs in their gloves to protect their hand and skin against welding hazards.
Insulation Parts of Welding Work Gloves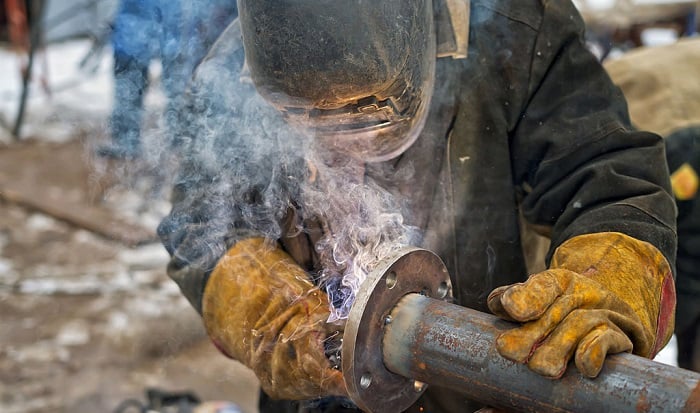 Other than the cut, welding work gloves consist of many different parts, determining how durable and functional they are.
Insulation is among the crucial features that add to the thermal protection of welding gloves. Based on the leather type, the manufacturer can choose a specific insulation layer for the pair. The most popular options include:
Thermosock lining made of matte fiber
Thinsulate lining
Pile lining made of cotton
Interlock lining from cotton knit fabric
Jersey lining — a single-knit cotton fabric
Fleece lining made of cotton fleece
Foam lining
Wool lining
And more. You can find them in different brands' glove collections.
What Are the Welding Glove Standards
EN 12477: 2001 is the combined standard for welding gloves. In detail, work gloves for welders must be tested to meet the EN 388: 2016 requirement for mechanical risks. Also, they have to conform to the EN 407:2004 standard to protect against heat and fire.
Welding work gloves are also classified based on purposes and designs. For instance, type A pairs offer a high level of protection against heat yet ensure a lower dexterity and flexibility level. Meanwhile, Type B work gloves provide excellent dexterity and flexibility while having a lower tolerance for high heat.
How to Choose the Right Welding Work Gloves
The most important factor should be the type of welding you are doing. Work gloves for TIG, MIG, or stick welding differ in terms of required dexterity, durability, and protective features. You need to check out their standards to ensure the chosen pair can cater to your tasks.
Furthermore, materials, lining, and design are other criteria that affect our choices of ideal welding gloves. And, do not leave out welding hand gloves specifications as we need a well-fitting pair to enjoy optimal comfort and protection.
Conclusion
For the question 'what are welding gloves made of?,' our quick answer is leather. But, there is more to choosing the ideal work gloves for our tasks. Hopefully, our article offers just the right information to satisfy your curiosity and help you finalize your decision.
We are happy to hear your verdict and see our article reaching the people who need it through your sharing. Thank you for reading!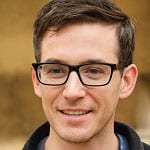 This is Edward Manning, the editor in chief of Construction Informer. Quite a bit of my time is spent researching the market and interviewing experts in the field so that I can give you reliable information.