A common saying goes, "the man with his tools makes the man with his trade". And no trade is quite as recognizable by its tools like that of the electrician. From Allen wrenches to clippers and wire strippers and everything in between, electricians need many tools on hand to do their jobs effectively.
Of course, it isn't very convenient to bring an entire toolbox wherever electricians need to be, especially when working in tight spaces or high altitudes. For this, the best electrician tool belt is needed.
For the most part, selecting the right electrician tool pouch or belt is a matter of personal preference, especially when choosing between two products of comparable quality and value. That being said, there are specific general characteristics of electricians tool belts and pouches that should be strongly considered when making a purchase decision:
Capacity: First off, the electrician tool belt must have the capacity to carry all of the equipment that the electrician needs in their line of work. Now, the exact capacity requirements for each electrician will vary, but it is generally better to have extra space on the belt than not enough space.
Support: Having so many tools to work can make the tool belt quite heavy. Ensuring the belt provides enough support to carry these tools comfortably is integral to getting a good experience with the electrician tool belt.
Customizability: One of the reasons workers buy electrician tool belts and pouches are because it gives them the ability to customize the belt precisely to their specifications, which contributes to their efficiency. Such customizability should also be expected of the top-rated electrician's tool belts.
With all of these considerations in mind, we've prepared a list of electrician tool belt reviews which we believe are a cut above the rest in terms of quality.
Featured Products
Best Overall
ToughBuilt ClipTech Pouch and Hub
– 13 compartments for ample storage
– Rivets on high-load areas
– Easy carrying and adding extra tools
Editor's Pick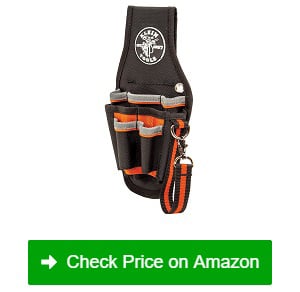 Klein Tools 5240
– A lightweight belt for easy carrying
– 9 pockets with an electrical tape holder
– Tough ballistic polyester construction
Premium Choice
Dewalt CLC DG5103
– Deep and spacious pockets
– Can be mounted with a belt loop or clip
– Includes tape strap and carabiner
Best Tool Belt for Electrician Reviews
1. ToughBuilt ClipTech Pouch and Hub
My first recommendation on this list is a small electrician tool pouch from ToughBuilt. Although compact, it is big in versatility and features.
First off, this pouch comes with 13 different compartments and storage points, which is an impressive amount of storage for a single pouch. As an electrician, having this much space is essential to keep my screwdrivers, pliers, and cutting tools within reach.
It is simply the top-tier tool pouch assembled from 6 layers of high-quality fabrics, which allows it to boast heavy-duty durability that looks and feels long-lasting.
These fabrics are reinforced further with rivets attached to high-load areas, such as the main structural panel that bears most of the weight of the tools. This reinforcement gives the pouch some much-needed rigidity as bags that are too loose won't hold tools very securely.
The pouch is attached to the belt with the use of ToughBuilt's specially-designed ClipTech Hub. The part features a base attached to the belt and a connector attached to the pouch. Hence, I can easily connect and disconnect the pouch from the belt whenever needed.
However, I have had some problems with the belt clip, especially when filling the pouch with all the tools I usually use. This has resulted in the Hub forming a crack as it was not strong enough to handle the weight of all of the tools.
Pros
A compact pouch for easy carrying and adding extra tools
13 compartments for ample storage
6 layers of material construction for heavy-duty durability
Rivets on high-load areas for structural reinforcement
ClipTech Hub with a base and a connector for convenient attachment
Cons
Included belt clip is not very strong
This ToughBuilt electrician pouch is a versatile and flexible addition to any tool belt loadout, and deserves a strong recommendation from me.
2. Klein Tools 5240 Tradesman Pro Tool Pouch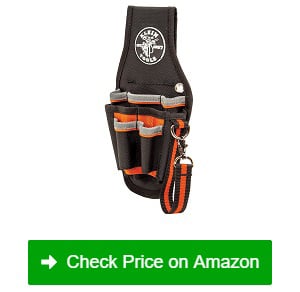 Klein Tools is a brand that's become almost synonymous with the handyman industry. With a storied history going as far back as the 1800s, it's safe to say that they have a substantial amount of knowledge and experience in making both hand tools and the places in which to store and carry them.
Their model 5204 tool pouch is a container that provides a handy storage solution in a highly compact package. The pouch includes nine pockets to store most of your tools, as well as an electrical tape holder, carabiner clips, and other items to hook onto.
Some of the pockets are also made with a pass-through pocket design. This design allows the holders to cradle longer hand tools that would otherwise be too long to fit in a closed pocket.
Although the storage space is enough for the essentials, I found that some of the pockets (especially the three dividing compartments on the inside of the main pocket) were a bit too small. This aspect is essential as some of my pliers have a hard time fitting in the compartments, which forced me to get creative with my tool layout to get everything to fit securely.
The pouch is constructed with a ballistic polyester that provides impressive toughness for its weight. By keeping the weight of the pouch low, I can feel less strain on my belt as most of the weight comes from the tools instead.
Pros
Universal belt loop for seamless compatibility
9 pockets with an electrical tape holder
Pass-through pocket design for quick drawing of tools
Tough ballistic polyester construction
A lightweight belt for easy carrying
While a bit more petite than many of its competitors, the model 5204 from Klein Tools is one of the most favorite electrical pouches I've tried.
3. Dewalt CLC DG5103 Maintenance and Electrician's Pouch
Dewalt electrician tool belts and power tools have always served me well in my line of work. I personally use their power tools quite often for jobs that require them.
That's why I was quite happy when they released a line of pouch attachments to be used with tool belts, which included this model DG5103 electrician's pouch. Built with a polyester weave with reinforcement strips along the edges, the pouch was rugged enough to handle the hard knocks of the typical workday.
The pouch could be mounted to a belt with either a loop or a clip mechanism. I really appreciate this feature as it gives me a lot more flexibility as to how and where I can attach the pouch.
However, the belt clip included with the pouch was not as durable as expected. Thankfully, the belt loop is much, much more robust, and because it can handle the weight of the tools better, I prefer using the belt loop anyway.
And indeed, the pouch is capable of holding a lot of tools with deep and spacious pockets. This design allows me to keep on hand some of the larger tools for some huge projects. In truth, it can accommodate a multimeter, larger wrenches, and more.
The pouch also includes a convenient built-in tape chain strap and carabiner clip on the front for easy storage of tapes, cables, and other loose objects.
Pros
Polyester built with a polyester weave with reinforcement strips
Can be mounted with a belt loop or clip
Deep and spacious pockets to hose multimeter, larger wrenches, and more
Includes tape strap and carabiner for extra storage of tapes, cables, etc
Cons
Belt clip is not as durable as the rest of the pouch
We can choose one among Dewalt electricians tool belts to match with this functional tool pouch if we do not have a compatible one already. This item allows carrying essential tools in a layout that is easy to arrange and use.
4. McGuire-Nicholas 526-CC Professional Electrician's Pouch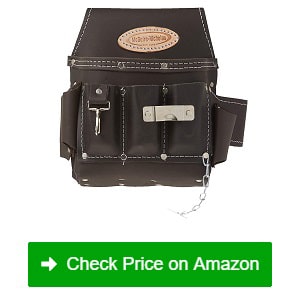 McGuire-Nicholas is another longtime maker of industrial workwear, ranging from gloves and knee pads to suspenders and storage pouches. And of their products, the model 526-CC electrician's tool pouch is, in my opinion, one of their best models to date.
One of the ways that this pouch gains the edge over the competition is through its tanned leather build. Thick, robust, and drop-dead gorgeous, good leather is always nice to have on any piece of equipment, especially true in this case.
These panels are held together with a combination of double stitching and metal rivet reinforcement, practically ensuring that the pouch will not fall apart even in the toughest working conditions. I can attest to this myself, with the pouch still being as good as when I bought it even after several weeks' worth of electrical projects.
However, the thickness of the leather material does mean that the pouch starts out very stiff out of the box. This issue is a common characteristic of most leathers (especially the thicker kinds), and the solution is to crease and stretch the leather a few times to break it in.
The pouch offers 12 spacious pockets to hold all manner of parts and tools. The toughness of the leather made it difficult to stretch, but this allowed tools to stay in their compartments much more securely, which I found very useful when I needed to work at high altitudes.
Attaching the pouch to my belt was easy thanks to its integrated channel fitting tool belts of up to 3 inches in width.
Pros
Tanned leather panels are thick and robust with a beautiful look
Double-stitched panels with metal rivets for tough working conditions
High capacity with 12 pockets to hold electrician tools and parts
Tight pouches for work on high platforms without falling tools
3-inch belt channel fits most tool belts
Cons
Leather requires break-in time
Given enough time to get the leather to break in and stretch out, this electrical tool pouch from McGuide-Nicholas is truly built to last.
5. Gatorback B240 Electrician's Heavy-Duty Ventilated Work Belt
Gatorback is a popular name in the work accessories space, making tool belts, suspenders, and other helpful carrying equipment for construction, plumbing, and electrical jobs. Their model B240 is one such tool designed explicitly for electrical work.
One of the ways we can tell this is through the layout of the pouches. With 18 triple-reinforced pockets across two pouches, there is more than enough space to store all the tools and extra components our tasks require.
The pouches are attached to a fitted belt with Gatorback's special memory foam padding that provides a solid amount of support and comfort. The padding, in particular, was quite good at cradling and supporting my lower back, keeping me comfortable even while working in challenging positions such as in crawl spaces.
However, some might find the padding to be a bit bulky, which is understandable as the belt padding is quite broad. As someone with a short but relatively stocky build, though, it wasn't a problem for me.
The pouch and belt are all made of Duratek nylon, which adds noticeable strength over other fabrics of the same thickness. This construction helps the belt handle the weight of my typical tool loadout, which typically weighs around 15 pounds total.
I also really like the addition of attachment points on the belt for use with suspenders, although they have to be purchased separately. It's a useful addition, especially if one needs to carry a lot of tools around.
Pros
18 pockets with triple reinforcement for extra heavy tool load
Fitted belt with memory foam padding for comfort
The Duratek nylon build to handle rugged use and up to 15 pounds
Features attachments for conversion to suspenders
Cons
Padding can make the belt a bit bulky for some
This Gatorback tool belt offers a compelling feature set that makes it easy to recommend for most electrical and home improvement work.
6. Custom Leathercraft 1608 Electrician's Lift Combo Tool Belt
Custom Leathercraft is one of the few brands with affordable yet reliable products. I am a frequent user of their work gloves in particular. Still, CLC is no stranger to making all kinds of personal protective equipment for industrial applications, and their model 1608 combo tool belt is no exception.
My favorite feature about this particular tool belt is its inclusion of suspender straps, where most tool belts would have them sold separately. This addition gives workers the option to distribute and minimize the load on their waist and hips for a more comfortable wearing experience.
The belt itself is sturdy and supportive, with ample padding across the back for improved comfort over long working hours. This design, of course, helps support the weight of tools on the belt but is ultimately optional when used with the included suspenders.
The two included pouches share 28 pockets between them, and some of the pockets have flaps that close over them to keep small parts and tools from falling out. Such a layout is a solid example of attention to detail here, which I like to see.
This entire set is constructed out of polyester fabric for the belt, pouches, and suspenders, with the hooks and attachment points made out of metal components. This combination offers a good balance of durability and weight.
For someone who is relatively short and slim, the size of the belt can be an issue.
Pros
Includes suspender straps to minimize load on waist and hips
Available at an affordable price for workers
Sturdy belt with ample padding across the back for improved comfort
Flapped pouches with 28 pockets to secure tools from falling out
Lightweight polyester fabric with metal components for durability
Cons
The belt size can be a bit large for slim workers
The CLC electrician tool belt model 1608 is a very well-rounded carrier for use in any job, and I am more than happy to recommend them to any industrial worker.
7. Gatorback Electricians Combo Deluxe Package
Another excellent option for an electrician tool belt with included suspenders is this kit manufactured by Gatorback. This brand quickly rose to prominence as one of the top-tier tool belt makers for its conscientious design made by contractors for contractors.
Their model B240C+ combo tool belt is an effective all-in-one tool belt solution for electrical and construction work of any scale. With 27 spacious pockets in their two included pouches, this tool belt has all the space one could ever need for any project.
The belt itself has a very effective double-hook design that keeps it secure. It also comes with ventilated padding across the back and waist. I found this air mesh foam padding particularly useful as it adds some much-appreciated cushioning. Meanwhile, users do not encounter heat and sweat buildup issues, which tends to happen when working long workdays in the sun.
As a complete combo set, shoulder straps are also included to use the tool belt with suspenders. The straps also have padding to help distribute the weight over the shoulders for much better comfort than with no padding.
Gatorback also includes a pair of their DuraGrip work gloves with the tool belt, which adds just a bit extra to the value proposition of this tool belt set.
Unfortunately, the shoulder pads have a bit of a tendency to slide down the straps, which forces me to readjust every time I put the straps back on.
Pros
An effective all-in-one tool belt with suspenders and holders
Two main bags with 27 total pockets to store any tools
Wide double-hook belt with ventilated padding for comfort
Includes DuraGrip fingerless gloves
Padded shoulder straps to distribute weight evenly
Cons
Suspender padding slides down to the back if not adjusted right
This Gatorback electrician tool belt combo provides some of the most competitive work equipment packages on this list and is a solid choice to get as a "one-and-done" solution.
8. Klein Tools 55429 Tradesman Electrician's Tool Belt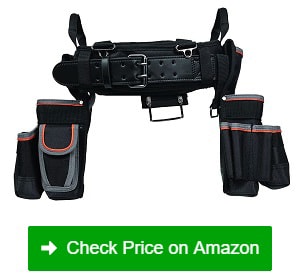 I have previously recommended a product from Klein Tools earlier on this list, but I do want to show with this entry that the brand is more than capable of making a proper full-blown tool belt for electrical work.
Their Tradesman Pro tool belt is designed with two easily detachable pouches from the main belt assembly. Such a design lets me easily reconfigure my tool placement in either pouch or clean them when they get dirty (as they often tend to do).
The pouches are also designed with a dedicated drill bit, hammer, and steel measuring tape holder each for easy access to these commonly-used tools. Besides, the pouches are removable to replace or reposition them to have a better layout.
The belt itself, though, is no slouch. It is made of breathable mesh, with the tips of the belt (the parts that undergo the most wear) made out of leather for added durability.
All of the fabric parts of the tool belt, from the straps to the pouches, are made of a heavy-duty ballistic weave, which adds significantly to the long-term durability of the belt, which I greatly appreciate.
However, it is not a perfect product, as there are some complaints that the belt is a bit bulky to their likings.
Pros
Multiple and flexible holders for freedom in storing and organizing tools
Dedicated holders for drill bits, hammer, and tape measure
Breathable mesh belt with durable leather ends
Heavy-duty ballistic weave construction
Cons
The belt is a bit bulky for some users
For workers who want a Klein electrician tool belt with suspenders, this item can be a part of that functional system.
9. Occidental Leather 5590 Commercial Electrician's Set
One of the most important considerations when purchasing any leather electrician tool belt is the quality of the leather used. After all, it is one challenge to use a desirable variety of leather. It is still an entirely different one to have it treated correctly to withstand the rigors of work, often for well into the tens of years.
That is why Occidental Leather, a tool carrier manufacturer that hand-crafts all of its products in the USA, deserves a spot on this list.
We'll get this out of the way: this leather tool belt is expensive, much more so than the other options on this list. But the genuine leather used on the occidental leather electrician pouch and belt here is thick but light—a combination of characteristics that is very difficult to pull off and easily justifies its price tag.
The tool belt includes 2 pouches with both nylon and leather pockets. Such a combination helps the belt reduce its overall weight a bit further without sacrificing its structural integrity.
One of the best aspects of this leather tool belt is its integrated set of hand-specific tool holders. The pockets and attachment points are laid out in a way that makes sense for most users, with most essential tools meant to be placed in one pouch and larger items and parts placed in the other.
The no-spill tool holders, which are essentially riveted leather compartments, really helped in this regard, as they provided pockets that held onto tools tightly but without making them too difficult to get in and out, making for very reliable storage.
Pros
Genuine leather belt is thick but light
Includes 2 pouches with nylon and leather pockets
Hand-specific tool holders designed for electricians
No-spill tool holders for reliable storage
Cons
More expensive than other options
10. TradeGear Electrician's Belt & Bag Combo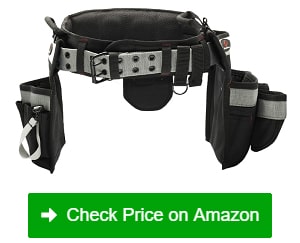 The tools of the electrician's trade are numerous and highly variable in both shape and size – from precision screwdrivers to power drills. Hence, electricians need an ample organizer to prepare our tools for the similarly varied repair and installation work expected of them.
For this reason, electrician's tool belts and pouches, like this combo from TradeGear, are essential for our jobs. Two main bags with 27 total compartments provided, there is enough space on this belt to carry a toolbox's worth of tools, all within easy reach.
To handle the weight of all those tools, the belt is built with two layers of 600D nylon, which strikes a good balance between strength and weight.
The belt is also backed with adjustable air mesh foam padding to prevent the nylon webbing from digging into the hips, unlike belts of lower quality. The end result is a tool belt that I am happy to wear all day.
Arguably its best feature, though, is its integrated attachment points for suspenders and an additional D-ring at the back. This addition gives the belt a ton of customizability, especially for choosing where to shoulder the weight of the tools.
However, the belt can be a bit larger than usual sizing, making it hard to fit people with a slim waist.
Pros
2 pouches with 27 total pockets to accommodate all electrician tools
Dual-layer 600D nylon belt is lightweight yet durable
Adjustable belt padding for custom comfort
Suspender attachment points and rear D-ring for more customizability
Cons
A large tool belt that does not fit well on people with a slim waist
With the right setup and adjustment, this TradeGear tool belt and tool bag set is ready to handle whatever loadout is needed to get the job done.
11. FASITE PTN012 Electricians Tool Belt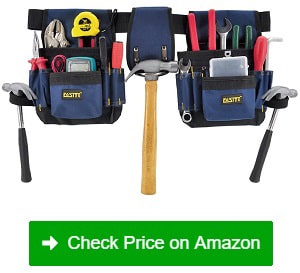 FASITE is a relatively newer manufacturer of tool bags, belts, and pouches yet quickly become quite popular thanks to their combination of good design and durability. Their model PTN012, in particular, is my favorite for a variety of reasons.
The first reason is its construction—the tool belt and its pouches are made of 600D polyester, a very lightweight fabric grade. While we might not see this weight reduction, we can definitely feel the difference, especially as work fatigue worsens the longer the workday drags on.
Another reason for the fabric choice is that a layer of PVC backs the polyester for waterproofing. Although I usually don't work in the rain, the waterproofing does at least help with keeping the tool belt from getting soaked with water—or, as is more common, sweat.
The two pouches on either side of the belt are designed with a ton of pockets—32 of them, to be specific. This structure makes the tool belt one of the most versatile in terms of storage capacity and customizability. My time working with this belt was especially good, as I was confident that it could carry all the tools that my work demanded.
The pouches are also reinforced with metal rivets and are double-stitched at the seams to keep them from falling apart, especially since their capacity means that workers are likely to put all their tools into them.
However, I would have liked to see the belt include attachment points for shoulder strap suspenders, given the capacity of the tool pouches.
Pros
Made with lightweight 600D polyester for long-hour work
Fabric backed with PVC for waterproofing
32 pockets for unmatched versatility
Reinforced with metal rivets and double stitching
Cons
No attachment points for suspenders
With its extreme capacity and customizability, FASITE has made one of the top-rated tool belts for use in heavy-duty jobs.
What to Look for When Buying Electrician Tool Belts?
As we touched on at the beginning of this article, a lot of what makes the right tool belt for electrician is a matter of personal preference.
As each worker's body is different, there will undoubtedly be differing opinions on what tool belt design works for them and what doesn't. For this reason, we strongly recommend that you shortlist a few tool belts that have the features you want and try to fit them in a physical store so you can be sure that the design fits your personal needs.
There are a few common features that one should consider when looking at reviews for this equipment on sites like Reddit:
Capacity: The first thing to look out for in an electricians tool belt is its carrying capacity, or how many tools can fit in the included pouches and compartments. An ideal tool belt designed for electricians should have hammer loops, metal tape clip, holders for tape measures, etc.
While one might be quick to buy whatever tool belt has the most pockets and compartments, yet pouches with more capacity also tend to be larger and bulkier. Make sure to look into your tool collection and most used tools and to choose the right storage bag.
Comfort: The comfort aspect of using an electrician's tool belt encompasses several factors, which include the size of the belt, the fit, the cushioning features, and its weight distribution.
The importance of this should not be understated for any worker, as having a tool belt that is not comfortable may cause a range of issues from general discomfort to being a serious danger, as in cases of the belt being too big or small for the worker.
Customizability: The customizability indicates how flexible it is for wearers to adjust and change to their liking. The primary purpose of an electrician's tool belt is easy tool access; being able to customize the tool belt is important, as every electrician has very different and very specific ways of working.
For example, some prefer to have their most frequently used tools on the left, while others need them on the right. Some prefer to have different electrician tool bags and electrician tool pouches other than the ones already included with the electrician belt. As such, the tool belt should generally have to be a customizable tool belt.
Weight: We previously touched on weight distribution as a significant factor in the comfort of an electrician's tool belt, but this aspect is only secondary to the actual weight of the tool belt. As the tools in the electrician's profession are numerous and varied, it should be no surprise that the collection of all of their tools gets very heavy very quickly.
It is indeed such that electrical tools can weigh as much as 20 pounds or more when all put together. Having a lightweight tool bag helps reduce the overall load that the worker has to carry, which also helps with their ergonomics and general workplace safety.
Value: Under most circumstances, workers will only need one tool belt to use in all of their work tasks, replacing them only if they get too worn out or fail. As such, it is vital to consider the cost of the electrician's tool belts one is shopping for and balance it against its expected lifespan.
After all, one might find that buying a single expensive leather tool belt now will save money over the long run. A genuine and superior material is more durable than multiple cheaper fabric ones. That, of course, is not to say that polyester tool belts are less durable than leather tool belts, but for some, it is definitely worth keeping in mind.
Do Electricians Need Tool Belts?
Fundamentally speaking, electricians do not necessarily need to have a tool belt. After all, most electricians will probably already have a toolbox to store all of their tools; in such cases, that is already more than enough for most electricians in most situations.
However, having a tool belt has a ton of benefits that most electricians will find helpful. It allows them to have all their tools within reach all of the time. It is not only a benefit in terms of convenience, but it is also a benefit in ergonomics and safety.
As electricians tend to bring their tools around wherever they need to do their jobs, they are exposed to a lot of risk of repetitive strain injuries. These injuries typically develop from the worker performing the same action multiple times daily. One common example is bending over or reaching out to grab certain tools from one's tool box.
Wearing a tool belt removes the need for having one's tools all stored in a separate box and allows the worker to continue their job with minimal downtime and injury risk.
How Do You Wear an Electrician Tool Belt?
Electrician tool belts, being belts, are worn around the waist. Unlike the belts that hold up your pants, tool belts go over your clothes as they are bulky and carry many tools.
However, some wearers might have trouble with their tool belts if they put too much pressure on the hips or waist. This is very common among electricians and construction workers, who tend to fill their tool belts to the brim with the tools they use for their jobs.
To get around this, some manufacturers will integrate features to allow the attachment of suspenders to the electrician tool belt setup. By having this shoulder strap design, most of the load of the tool bag is taken off of the hips and is handled by the shoulders instead, improving the worker's overall comfort, especially when working long hours.
How Long Should an Electrician Tool Belt Last?
Ideally, an electrician belt should be able to last a lifetime—and in some cases, with the right care and awareness of how to use it, some tool belts do.
Unfortunately, many manufacturers today choose to build their newer designs with less than ideal materials. Hence, the expected lifespan is shortened, so most will be convinced to replace their tool belts with a new one in 3 years or less.
Conclusion
The humble tool belt is not to be underestimated, as much thought and consideration go into designing the best electrician tool belt.
We hope that this guide on the most suitable tool belt for electricians shows you the design considerations that go into this important piece of equipment. We hope that you will put this to use to find the electrical tool belt that will help you do your job safely, efficiently, and effectively as professional electricians.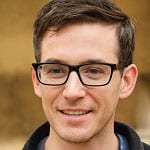 This is Edward Manning, the editor in chief of Construction Informer. Quite a bit of my time is spent researching the market and interviewing experts in the field so that I can give you reliable information.