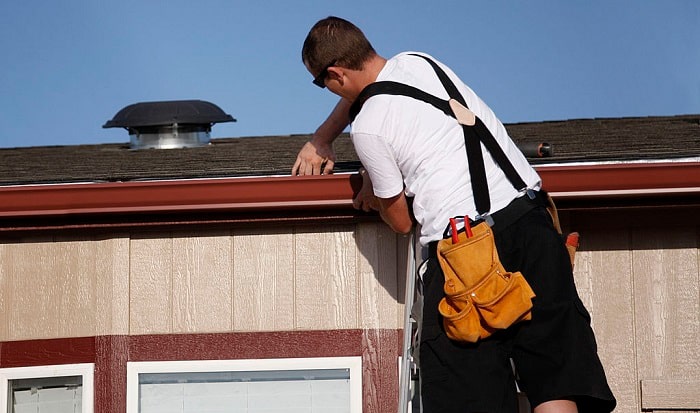 Tool belt suspenders are not a small investment, especially when we have our eyes on top-quality products. So, is gearing yourself with such a system necessary? The answer is yes for workers with a heavy tool load. They need the best tool belt suspenders' ultimate support to balance and relieve the weight.
This workwear can benefit workers who have to climb on high platforms to perform tasks with multiple tools. It is also necessary for anyone with back and waist pain due to carrying heavy gear for hours on end.
But, having a low-quality suspender can be counterproductive, as it is most likely to hurt our shoulders. And to find at least a decent one, workers, especially those who are first-time buyers, should check out these following features:
Designs – We have to decide which kind of suspenders we currently need. A simple suspension system without paddings or a complete set of a tool belt and suspenders? In most cases, you only need suspenders to replace your old and saggy one. If so, make sure they are compatible with your current belt.
Adjustability – Adjustments are very important, so those buckles and straps should allow us to customize freely for a good fit. They should give us an even weight distribution by having a comfortable fit.
Durability – Look at the materials, reinforcement features like rivets and stitches, and the hardware to know if a product is of high quality. If you have a big budget, go straight to well-known brands' collections for heavy-duty pieces. If not, make sure to choose ones made of leather, ballistic, or Cordura nylon. They can hold up well.
Those are important points, but definitely not everything you need to know. So, check out our detailed buying guide below and read our reviews on the top-rated work belt suspenders money can buy.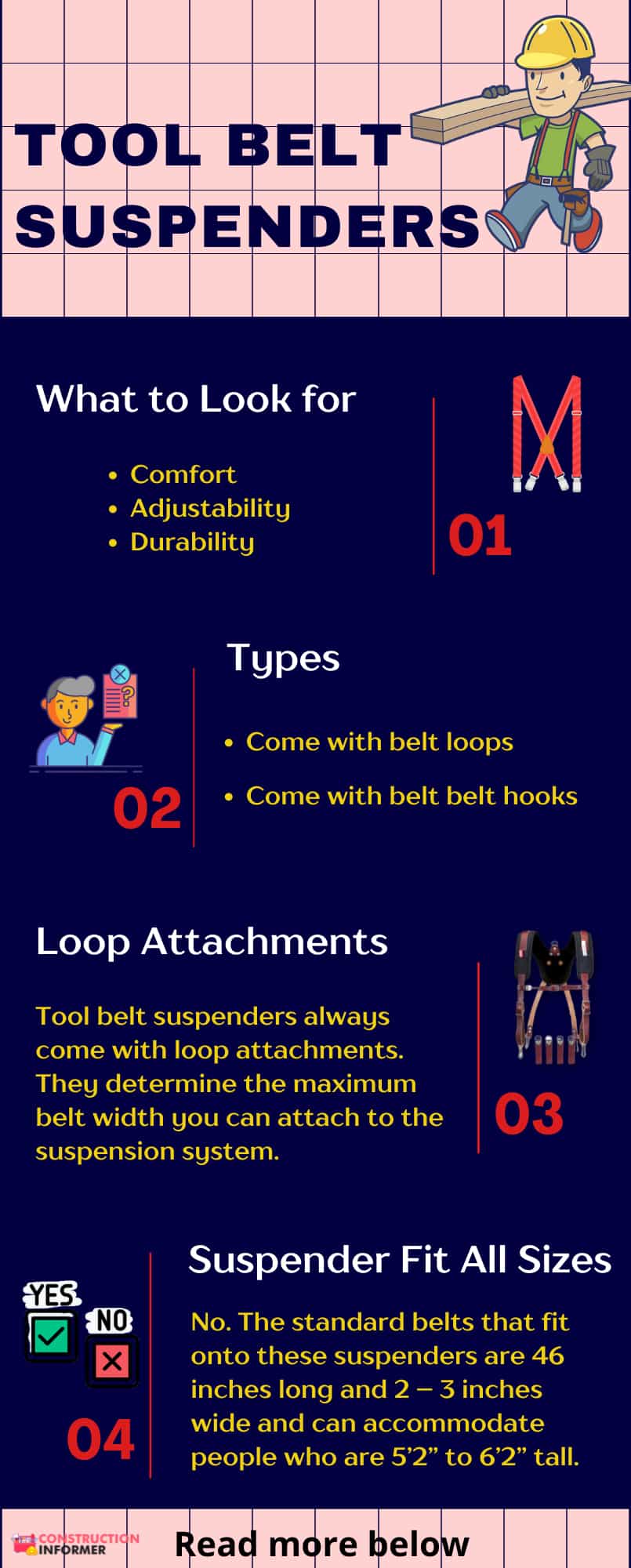 Featured Products
Best Overall
Occidental Leather 5055
– Durable nylon and leather
– Mounted D-rings at the back
– Adjustable chest and front straps
Editor's Pick
ToolsGold Work Suspenders
– Adjusts all the straps freely
– Ultra-strong trigger snap clip
– Four belt loops for good balance
Premium Choice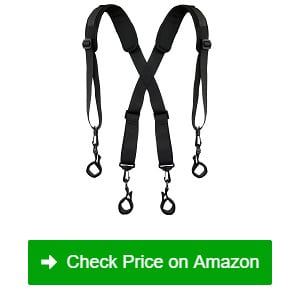 YYST Duty Tool Belt Suspender
– Low-priced tool belt straps
– Lightweight nylon construction
– X-style for convenient use
List of the Top-rated Tool Belt Suspender Reviews
1. Occidental Leather 5055 Stronghold Suspension System
A nearly five-star rating on major E-commerce sites already shows the hype on this Stronghold Suspension System. But, it is not surprising, since this design is from the well-established workwear brand – Occidental Leather.
The combination of nylon and leather makes this suspender durable enough to stand the test of time. It carries the heavy tools and distributes the whole weight evenly without signs of stretch and tear.
Notably, this is a secure system with Conway buckles, often used to make dog collars and halters. We know how much strength it can handle to resist aggressiveness from canines. Also, the leather loops are designed to hold a 3-inch tool belt, ensuring no slipping or sagging.
Adjustability is vital for a suspension system, as a too loose or tight piece can be dangerous. As expected, this design allows workers to adjust the chest and front straps. There is a mounted D-ring at the back, but it's for hanging up the system, not serving any safety purpose.
Lastly, it is a comfortable suspension rig that keeps us relaxed throughout the work shift. The contoured and padded yoke reduces the pressure on our hip and back. Also, the moisture-wicking lining makes wearing this system in hot weather more bearable.
Still, compared to most products available,
Occidental tool belt suspenders
cost workers more for extra comfort and functionality. And this one is not an exception.
Pros
Durable nylon and leather suspenders for tool belt
Carries and distribute heavy weights evenly
A secure system with Conway buckles and leather loops for belt
Adjustable chest and front straps
Mounted D-rings at the back for hanging
Contoured and padded yoke with a moisture-wicking lining
Cons
Costs more than most tool belt suspenders
In the close competition of functional leather tool belt suspenders, Occidental is among the leading names. And its Stronghold model indeed makes workers' life easier.
2. ToolsGold Heavy Duty Work Suspenders
The all-black and black & red models of ToolsGold Heavy Duty Work Suspenders are often spotted on construction sites, as they are an amazing addition to our work belts. Style-wise, I prefer the black suspension with a nice touch of red lines.
Upon seeing the trigger snap clip, we can anticipate how much load this suspension can handle. In truth, it is among the most robust clip designs available, lifting nearly 25 lbs of tools. If we ever bring along that much gear, we know which suspenders to rely on to move around without hurting our waist and back.
Its strength also comes from the high-density nylon construction, bearing tools of carpenters and electricians. Such a resilient device helps us work on roofs and ladders with safety.
There are four belt loops included, allowing workers to easily attach the rig to their belt and achieve a good balance. These loops can host tool belts as wide as 3 inches, slightly larger than the standard ones. Therefore, it is truly a versatile and secure suspender for various tasks.
Indeed, we can adjust the suspender freely to have a comfortable fit when wearing. Its rear straps are made of heavy-duty elastic materials, and other adjustable straps make it fit for different body builds.
Since the product is quite stretchy, we should always shorten it more than usual to avoid sagging.
Pros
Available in all-black and black & red versions
Ultra-strong trigger snap clip handling 25 lbs of tools
Durable piece with high-density nylon construction
Four belt loops for good balance, holding up to 3-inch wide belts
Adjusts all the straps freely for various body sizes
Cons
Stretchy pieces require shortening to avoid sagging
The bottom line, simplicity wins in many situations, and it's especially true for this suspender design. It is not flashy, giving everything we need, from balanced weight to a comfortable fit.
3. YYST Duty Tool Belt Suspender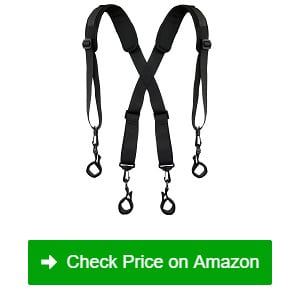 Workers who want a lightweight and straightforward harness for their tool belt should consider this YYST Duty Suspender. At a low cost, the piece offers us just what we need to reduce the heavy feeling on our waist.
Due to the nylon construction, this model is very lightweight. But that does not mean it can be torn under heavy weights, since the nylon fabric makes a pretty strong webbing. The design suffices when we need extra support to balance the tool weight when climbing on ladders or working on high platforms.
The length is adjustable, so it can comfortably accommodate our upper body without much struggle. In fact, since the design is rather simple with adjustment points at the front and back, muscular or slim users can utilize the suspender just fine.
Furthermore, I appreciate this suspender's X style, which is basic yet functional. We can bring it along in our package for traveling. Plus, the straps are a breeze to adjust, and our belt can get into its four loops in a swift move. In other words, there is no effort required to use this piece, making it perfect for rookies.
Another perk of the suspender must be its comfortable paddings. Despite the low price, this product still provides decent comfort, not letting a thin strap hurt our shoulders. Its neoprene padding works well for long-hour tasks.
However, it can fit 2-inch duty belts only, which limits its use since heavy-duty tool belts are often larger than this dimension.
Pros
Lightweight nylon construction with strong webbing
Adjustable suspenders with a simple design to fit various body types
X-style for convenient use, including straps and belt loops design
Features comfortable shoulder paddings made of neoprene
Low-priced tool belt straps
Cons
Limited to 2-inch tool belts only
As long as this strap's dimensions fit our belt nicely, there is no need to hesitate. It is among the few decent padded tool belt suspenders at such a budget-friendly price.
4. Occidental Leather 1546 Stronghold Lights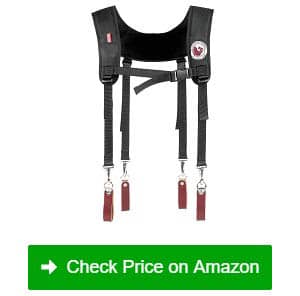 Occidental Leather 1546 Stronghold Lights should be the ideal pick for tool belts carrying a heavy load. It also allows freedom of movement and much comfort, which appeal to many professional workers.
Even when the weather becomes too hot, this padded suspenders tool belt does not add to our frustration. It is a comfortable and breathable design that does not suffocate workers. Compared to other suspenders from the brand, this one's padding is definitely thinner, which explains why it is perfect for summer wear.
As expected, Occidental combines high-quality and tough leather with lightweight nylon. It results in a durable yet compact structure that makes working in harsh conditions more bearable. Heavy and sharp tools cannot tear this rugged suspension system easily.
We look for tool pouch suspenders to enjoy utter balance even when bending and titling. That's why this piece is a sought-after suspension system. The simple yet practical design features four attachment points with a heavy-duty spring clip. The grip it has on the tool belt indeed puts us at ease.
Just like other suspension rigs, this one allows easy adjustment for the front, back, and chest. The heavy weight is dispersed, reducing the burden on our back and waist. Besides, it does not limit our range of movements, including our hands, hips, and legs.
One minor downside, though, there's no metal ring to hang this suspender.
Pros
Comfortable padded suspender, breathable enough for summer use
Made of high-quality leather and lightweight nylon
Offers balance for workers with its four-point attachment system
A secure design with heavy-duty clips on the tool belt
Adjustable front, back, and chest
Dispersed burden from our back and waist, allowing free movements
Cons
No metal ring for hanging
Overall, it's effortless to store this item, so the minor downside is absolutely not a deal-breaker. Besides, this item is among the leather suspenders for tool belt we can rely on for years to come.
8. MELOTOUGH Padded Tool Belt Suspenders
This piece's affordable price tag is a delight for buyers with a low budget. In fact, the MELOTOUGH Tool Belt Suspenders are of decent quality, offering us easy attachment and comfortable use.
It is a well-design system, an ideal choice for replacement when our old one is ripped. We can install the suspender to our tool belt using its four attachment points to enjoy good stability. This rig balances my tool assortment better than I expected, since the low price really made me doubtful at first.
The rig's quality shows in its rugged, raw fabric, withstanding loads of tools and items stacked on the belt. However, we should not use it for heavy-duty tasks at a hazardous set-up, as the piece has its limits in handling harsh conditions and extra heavy gear. Still, with medium-duty tasks, this model will be a huge help.
This system of tool bag suspenders also offers a comfortable experience. It features mesh foam on the shoulder parts, ensuring good breathability for long hours. Its adjustable size for 32 to 44-inch pants also allows us to have a nice fit.
One of this rig's notable features is the detachable holder that is large enough to keep a smartphone. Besides, the tape measure webbing and pencil holder allows us to bring more items when our belt is already full. Such a sensible design!
Pros
Low-priced yet decent-quality tool belt shoulder straps
Easy-to-install and stable with 4 attachment points
Ideal for light and medium duty
Comfortable design with mesh foam shoulder padding for breathability
Adjustable fit for 32 to 44-inch pants
Features a detachable phone holder, tape measure webbing, and a pencil holder
Cons
Not ideal for heavy loads and harsh conditions
For this price range, this MELOTOUGH product is among the most favorite padded tool belt suspenders we can rely on. The practical design with extra holders and comfortable foam makes it a real bargain.
6. DEWALT DG5132 Durable Tool Apron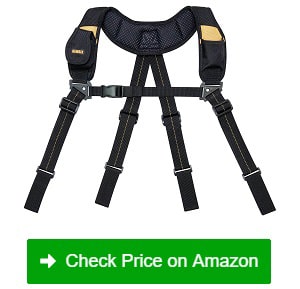 Dewalt is popular for their work gear, including tools for protective wear and more. Regarding suspenders for tool belts, their DG5132 Durable Tool Apron is among their best pieces.
We know the brand for its practical design and affordable price, and this one proves the brand's appeal. It is marketed as an apron-style suspender, holding our belt on four connect points. Such a structure lightens the burden on our hips and back and transfers parts of it to our shoulders.
From this point, the shoulder paddings relieve the pressure with their thickness. The shoulder yoke comes with Dri-lex material for workers to spend hours carrying heavy loads without feeling suffocating. It is a moisture-wicking and breathable fabric, as expected from the brand.
Other than the comfortable materials, this apron shines with its adjustable fit. The front and back straps are easily customizable in a swift pull. Besides, this suspender can accommodate a tool belt as wide as 4 inches, making it the most versatile piece on this list.
The practical features of this design are its quick-release buckle on the chest and added pockets. We can insert a cell phone, keys, or any essential belongings there for use in emergencies.
I have no complaint about this suspension system, just warning that it is not constructed for harsh and heavy-duty work.
Pros
Competitive price apron-style suspension
Relieves burden on hip and back with 4-point connection to the tool belt
Thick shoulder yoke paddings with breathable Dri-lex material
An adjustable fit with back and front traps
Holds tool belts as wide as 4 inches
Comes with a quick-release chest buckle and added pockets
Cons
Not designed for heavy-duty and harsh work
We can easily settle for these adorable suspenders that deliver good comfort and extra support for our tool belt. It works as intended and proves Dewalt's signature appeal: competitive price and practicality.
7. TradeGear Electrician's Suspender Harness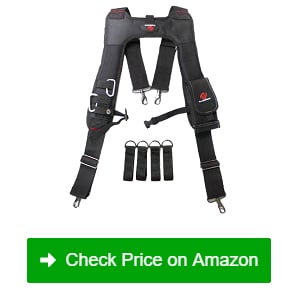 Many of us seek a design that supports an electrician's huge collection of tools. In that case, the TradeGear Electrician's Suspender Harness can end our long search for such heavy duty tool belt suspenders.
Like other well-designed items on this list, the TradeGear product does not fall behind. Its four-point attachments of four loops and nickel-plated hooks can hold our belts securely, balancing our full stack of electrician gear.
The system allows better weight distribution, sharing parts of the burden to our shoulders instead of just hips and back. With this suspender, we can say goodbye to intense back and hip pain when working on huge projects that require many tools.
It has adjustable straps, offering the perfect fit without hindering our movements. Besides, the moisture-wick fabric and mesh padding make work on hot days tolerable due to good ventilation.
What makes this option stand out must be its added storage, like a large-sized phone case and two carabiner hooks. We can put our personal items, including phones, keys, and other small stuff, in there. It is truly a user-friendly and practical design.
This suspension system is in the middle price range. But, considering all the great features and its functional design, I deem this product worthy and even cost-friendly in the long run.
However, we should take the pouches off our belt to insert the latter into this suspender. So, that's a minor inconvenience.
Pros
Secure 4-point attachments of 4 loops and nickel-plated hooks
Relieves back and hip pains with good weight distribution
Adjustable straps for a good fit and free movements
Breathable moisture-wick fabric and mesh padding
A large phone case and two carabiner hooks
A practical design at the middle price range
Cons
Requires taking off tool belt pouches before attaching to the suspender
Overall, this is a decent-quality tool belt suspender that does an excellent job of relieving heavy weights. For many electricians, this one is a must-have item for their projects.
8. ToughBuilt – Padded Suspenders for Tool Belt
We already know how well-made ToughBuilt tool belts are for carpenters, electricians, linemen, and many others. So, it is not surprising to see the brand's Padded Suspenders make it to this list.
At first look, this item does not give much of an impression due to the simple and basic design. But, this system is among the most versatile suspenders for work as it is compatible with not only ToughBuilt tool belts. It can easily hook on belts with its loops, saving us some time when putting on and taking it off.
In order to handle heavy loads, the suspender must come with a strong construction. In this suspender, its toughness shows in the durable materials reinforced by rivets and steel hardware. Such a combination makes the whole system strong enough to handle rigorous working conditions.
This professional workwear is engineered and tested to meet USA quality. It can accompany us to carry heavy tools for a long while without signs of sagging, tear, and wear.
Notaly, the piece is very comfortable to wear with its shoulder padding. Since the brand intends to transfer the weight burden to our shoulders, these parts are cushioned with lightweight yet soft pads. We can get through a long day's work with comfortable support and fit from its adjustable straps.
However, this suspension rig is not the perfect choice for people taller than 6 ft. We can notice that its harness is not that long.
Pros
Has durable materials reinforced by rivets and steel hardware
Engineered and tested to meet USA quality
Comfortable wear with lightweight and soft shoulder paddings
Adjustable straps for a good fit
Cons
Not ideal for workers taller than 6 ft
As long as we are sure this item fits us well, purchasing it is an excellent idea. Since the brand offers excellent belts, we can have a tool belt with suspenders from ToughBuilt for rigorous work.
9. MeloTough Men's Industrial Strength Suspenders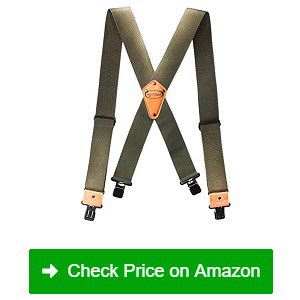 Quality workwear does not have to be all black. We can find reliable products with bright colors like the MeloTough Men's Industrial Strength Suspenders.
Among various options, the Army and Khaki designs caught my eyes the most. The nice design can also fit different body sizes due to the one-size-fit-all layout with adjustments.
But the main appeal of this item must be its tough webbing made of non-elastic fabric. Different from some stretchy suspenders that require more adjustments to avoid sagging, this one has a solid hold on our tool belts at all times.
The X-style back with leather crosspatch of the suspenders adds to its stability, which is already impressive with the non-elastic material. It also offers four attachment points like most suspension rigs, so we can expect fair weight distribution from this product, too. It relieves the tension on our back and hips effectively.
Besides, its clips are made durable enough to handle pretty heavy weights. Thus, the item is suitable for industrial work, ensuring no problem when carrying standard tasks' pack of tools.
However, this suspender might be a bit wrinkly when buyers first receive it. The uneven surface wasn't a huge problem for me, as the fabric became smooth with usage.
Pros
Has many bright and nice color options
One-size-fit-all design with adjustable straps
Tough webbing made of non-elastic fabric
A stable design with X-style back, leather crosspatch, and 4-point attachment
Durable clips to handle industrial work
Workers know what they need when opting for this simple design. They want a piece that handles their tool collection well without having to pay extra bucks. In such cases, the suspender serves its purpose.
10. Bucket Boss AirLift Tool Belt with Suspenders
Instead of purchasing a separate belt and rig, we can save money with this complete set of Bucket Boss AirLift Belt with Suspenders. One notable thing about this product is its rugged suspension clips.
BucketBoss takes pride in its ample bag storage, so it's advisable that we take this design home to stack as many tools as needed for tasks. Remarkably, all pouch bottoms are reinforced with barrels. Thus we can utilize this product to pack heavy and sharp gear without worry.
We highly recommend this work belt with suspenders mostly because of its convenient single construction. When the belt is connected with its compatible suspension system, all heavy loads are distributed evenly instead of focusing only on our hips. Therefore, it will benefit our health in the long term.
This gear has a fully-adjustable belt and rigging system. First of all, the tool belt can be customized to fit around a 52-inch waist. Second, the suspension harness comes with adjustable straps at the front and back, along with flexible pouch positioning. The whole structure boasts freedom of adjustments and movements.
Furthermore, the durable system comes with high-strength clips that hold firmly on pouches without compromising. With all the great features, this tool belt with holders and suspenders is surprisingly affordable.
Still, such a long rig does not fit well on people below 5 ft. Users might need to bulk up the belt area to keep the whole thing in place.
Pros
Features ample pouches with reinforced barrels
Convenient single construction to distribute weight evenly
Adjustable tool belt to fit a 52-inch waist
Adjustable straps and flexible pouch positioning
High-strength clips to hold pouches full of tools
Cost-effective set with a belt, holders, and suspenders
Cons
Not an ideal fit for people below 5 ft
Due to such a well-made construction, this one stands among the top-tier tool belts with suspenders that almost every worker can afford.
11. Milwaukee 48-22-8145 Padded Rig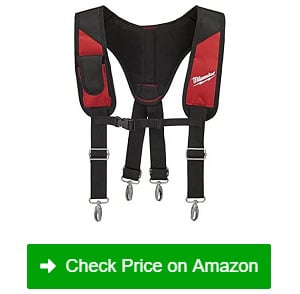 This list is not complete without the final entry from Milwaukee. The brand provides the 48-22-8145 Padded Rig for workers who either need a replacement for their old torn one or want a compatible suspender for their heavy tool belt.
No description is as reliable as user reviews, so the overwhelming good ratings on e-commerce sites speak volumes about this design's functionality. It is simple and easy to use with adjustable straps and four attachment points. We can hook it quickly to the belt and start work in a few minutes.
Workers value durable products as they expect investments to offer good use for long. This product meets the requirement with its heavy-duty 1680D nylon reinforced with riveted seams. Its metal hardware, including hooks and straps, is able to handle heavy loads well.
The brand claims that this rigging system can fit comfortably on workers 6'2" tall. I am 5'10'', and the suspenders are adjustable to fit me well. Since it comes alone, without a belt, we can attach it to any belt size without hassle.
Some users will be delighted to find out that they can keep their phones and keys inside the added pocket on this rig. It is convenient since many of us do not want to mix our phones with the tools in the belt pouches.
However, its thick materials might make us sweat a bit in hot weather. That must be the only flaw I can think of.
Pros
Easy to use with adjustable straps and 4 attachment points
Durable, heavy-duty 1680D nylon with riveted seams
Metal hardware to handle heavy loads
Adjustable straps to fit workers 6'2" tall
Added pocket for a small phone and keys
Cons
The thick materials might make us sweat a little in hot weather
Overall, this tool belt suspender does its job and does it well. For tall workers who struggle to find a heavy-duty rig for their work, it is the right choice.
What to Look for When Buying Tool Belt Suspenders?
There are several designs available for your choice, depending on your requirements. First of all, if you seek a tool belt with shoulder straps, it should come in a complete set that meets various factors. The most tricky part in choosing this style must be to make sure both the belt and the straps fit your body size well.
In some cases, workers only need a simple suspension system without cumbersome parts or shoulder paddings. These products are incredibly lightweight and low-priced. They are perfect for light and medium-duty. Just make sure the quality is decent, and the design should allow even weight distribution.
Most of us want to find padded suspenders that are thick and durable enough to handle heavy loads. We need a functional product that relieves the weight of gear packs, some exceeding 20 lbs. In this case, high-quality tool belt suspenders leather made are the most sought-after products.
When deciding which product to go for, we should also take a look at our tool assortment. Carpenters tool belt with suspenders will be different from ones designed for electricians. For instance, the hardware attached to these rigging systems will definitely not be similar.
Other than that, we need to consider some features that should come with our suspenders:
Comfort – Oftentimes, comfort comes from a product with a good layout that balances the whole weight well. We feel comfortable in suspenders that transfer the burden from our hip and back to our shoulder. Then the added shoulder paddings relieve parts of the tension.
Therefore, find an over the shoulder tool belt or rigging system with a four-point attachment and shoulder paddings. The yoke and X-style are the standard design that offers good pressure distribution.
Furthermore, products made with moisture-wicking liners and breathable fabric will make heavy tasks on hot days more bearable. Ensure to find a ventilated one since extra sweat is really irritating when we need to handle work for hours.
Adjustability – Adjustable buckles are very important to make the best use of suspenders. Your chosen rig should come with front, back, and chest adjustment points. A good fit makes sure the whole system is balanced. Besides, a quick-release buckle is a nice touch that ensures easy wear.
Also, make sure that the item features a long-enough harness for adjustment. Standard suspenders should fit people around 5 to 6'2" tall. If you are not in that range, it is trickier to choose one that fits well, so looking up the size chart and asking for customer service help is recommended.
Most suspenders come with either belt loops or belt hooks. The loop allows us to insert the belt through it, but we need to take our pouches off first. So, the hook is more convenient, making the suspender more versatile, too.
Durability – Most of these well-made and tough suspenders are made of leather, Cordura, or ballistic Nylon. These materials can handle heavy loads well and endure cuts, abrasions, and tears. Occidental Leather is well-known for its high-quality leather and nylon construction.
Meanwhile, famous Klein tool belt suspenders are made of either 1000D Nylon or tear-resistant Cordura material. Other brands like ToolsGold or MeloTough produce many affordable yet rugged suspension systems.
How Do You Wear a Tool Belt With Suspenders?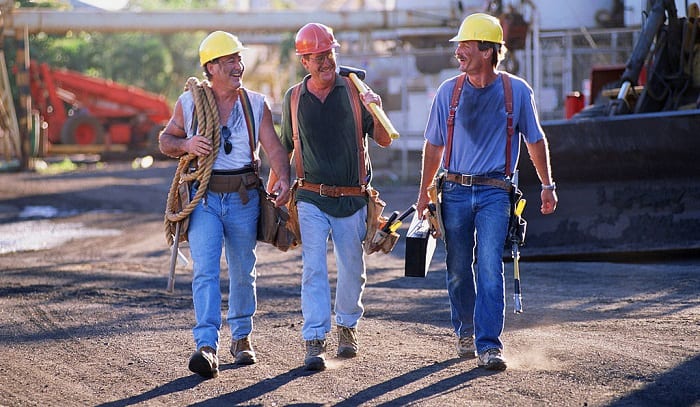 There are often two types of suspenders, as stated above. The one that allows inserting with loops requires us to take off all the holders and pouches on our belt. Then, we can put the belt through four loops and fasten all the buckles. Put the holders with tools on after you are done with the suspender.
The other type is much easier to handle, but your belt must have attachment hooks. In that case, we can use the hooks on the suspenders and clip them on our belt with ease. Just adjust the straps and buckles afterward to feel comfortable.
Do Tool Belt Suspenders Have Loop Attachments?
Yes, they do. Tool belt suspenders always come with loop attachments. They determine the maximum belt width you can attach to the suspension system. If your parcel does not have loop attachments inside, contact the sellers to see if there's any shipping issue.
Will the Suspender Fit All Sizes?
Sadly not. But suspenders fit a pretty wide range of sizes. The standard belts that fit onto these suspenders are 46 inches long and 2 – 3 inches wide. Meanwhile, the suspenders can accommodate people who are 5'2" to 6'2" tall.
Conclusion
If you make it to the end of this article, thank you for reading, and hopefully, you already have a good product in mind. Choosing the best tool belt suspenders is not a difficult task as long as we have all the right clues to start searching. You should read many reviews and take suggestions from experienced users from Reddit and other platforms.
Please make sure you pay attention to the critical features we have pointed out above. Work safely!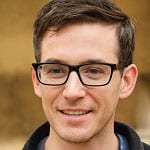 This is Edward Manning, the editor in chief of Construction Informer. Quite a bit of my time is spent researching the market and interviewing experts in the field so that I can give you reliable information.