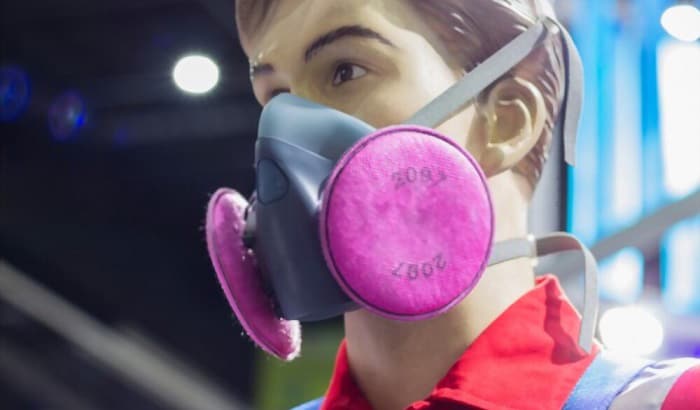 Health hazards from welding applications should not be ignored, no matter how small and light-duty the tasks are. Exposure to welding fumes, gases, radiation, sparks, and particulates can hurt us immediately and leave health issues in the long term. Therefore, gearing ourselves with full protection is a necessity.
Among various protective pieces, welding respirators should be the most important. They ensure that the welding fumes will not enter our respiratory system. With that, choosing the best welding respirator should be a thorough process. Here're some essential features to look out for:
Design – There are various options in the market that allow us to have the proper protection in the current work hazards. The half-mask design should be the most common one, based on how it ensures both safety and convenient use. For protection at a higher level, we will be looking at powered-air purifying models and air-supplied models.
Filters – Filtration is a critical factor that points us to suitable welding respirators. One thing to remember is choosing filters and cartridges approved by NIOSH (The National Institute for Occupational Safety and Health). Also, N95, N99, and N100 particulate filters are enough to block welding fumes.
Breathability – Needless to say, we should pick a face mask with good ventilation, like one having a cool airflow valve. Also, a half-face mask with a soft seal should make it comfortable and easy to breathe.
For more details about these features, we gathered helpful information for a buying guide below. But before checking out the advice, let's see the highly-recommended welding masks in the market.
Top 11 Welding Respirator Reviews
1. Miller Electric Half Mask Respirator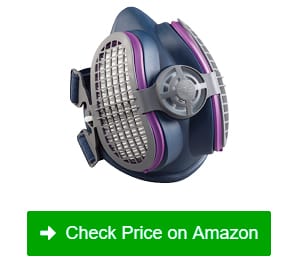 The Miller Electric Half Mask Respirator can keep metal fumes, gas particles, and other common hazards from the respiratory system during welding.
What surprised me about this mask is how it blocks all the dust from getting into my nose. Indeed, the design does not leave black gunks on the bridge of my nose. I believe that's the respirator's excellent coverage at work. Its seal fits my face contour better than I originally expected.
And, it gets better. This Miller welding respirator allows me to wear a welding hood over it or put on safety glasses. That's how compact and versatile this half facepiece welding respirator is. Also, I am delighted to learn about this device's non-return exhaust valve. The feature makes breathing easier while wearing the mask for long-hour welding work.
More importantly, this mask is an effective welding shield due to its P100 filtration system. It is certified by NIOSH for protection against air hazards. In fact, the mask's purification efficiency can be as high as 99.97%.
Furthermore, when installed, the Ellipse HEPA filters provided along with this mask can block toxic fumes, small particulates, and mist metals. Those are critical features for a welding respirator.
Even though it is easy to replace the filters, we will have to do that quite often, which can be costly to many.
Pros
Good face shield that keeps the nose clean and comfortable
A compact and versatile design that allows wearing a welding hood or glasses
Has an exhaust valve for great breathability
NIOSH-approved P100 filtration system to filter out 99.97% of air hazards
Ellipse HEPA filters block toxic fumes, small particulates, and mist metals
Cons
Filter replacement is rather frequent and a bit pricey
To be honest, I always find my investment in this quality welding respirator mask and all filter replacements worth it, considering how they keep me safe to handle all welding tasks with ease.
2. GVS SPR457 Elipse Half Mask Respirator
Respirator masks for welding should be comfortable enough for prolonged wear while offering proper protection. With that in mind, GVS introduced their SPR457 Elipse Half Mask Respirator with ultimate support for welders.
I opt for the small/medium size, and I am pleased that it fits me just right. There is one more medium/large size, adjustable to accommodate different face types. Furthermore, this welding respirator also comes with a low-profile and lightweight structure, adding no obstruction or extra weight.
To deliver optimal comfort and safety, the brand makes the mask seal using thermoplastic elastomer, offering soft and non-toxic wear for people with allergies to latex and silicone. Furthermore, it solves the odor issue where people often smell rubber when wearing their new masks for the first weeks.
Professional workers value this welding respirator since it comes with a NIOSH-certified P100 filter. With that, the mask works efficiently to block welding fumes and dust from entering lungs.
Besides, thanks to the pleated HEPA filter, it is easier to breathe wearing this mask for long hours. The low breathing resistance indeed works, making me feel less fatigue after a long day of work.
However, this mask for welding makes a little flappy sound occasionally when I exhale. Still, that is common for most respirators.
Pros
Available in different sizes and adjustable for a good fit
A low-profile and lightweight structure, adding no obstruction or extra weight
Thermoplastic elastomer design, offering soft and non-toxic wear
Emits no uncomfortable odor like rubber smells
NIOSH-certified P100 filter, high efficiency in blocking fumes and dust
Has pleated HEPA filters for a lower level of breathing resistance
Cons
Makes a little flapping sound occasionally
It is among the best welding masks that offer adequate protection against fumes and particulates. We can wear it to keep air hazards generated from the welding process from hurting our lungs.
3. 3M Half Facepiece 6391/07003 (AAD) Respirator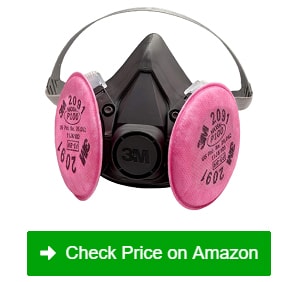 The next welding mask respirator that works well in various settings is the 3M Half Facepiece 6391/07003 (AAD) model. The brand never disappoints with its cost-effective yet functional masks, and this one is not an exception.
The 6000 series respirator is used in many high-quality face masks for different work. In this welding mask design, there are two P100 filters to increase the power of the whole device. We can breathe in fresh air without welding smoke, harmful fumes, and other particulates after putting it on.
Notably, 3M always makes it easy to find a replacement when our filters or respirators no longer work. In detail, this mask is compatible with many product series of the brand, offering multiple choices to upgrade its filtration efficiency.
Wearing a respirator will come with more fatigue for users, especially after a long work shift. This design makes such a situation much more bearable with an adjustable fit and lightweight design. That must be why people love this half-facepiece reusable mask rather than full-face shields.
The seal on this mask is well-made; it does not irritate my skin or has a bad smell. Also, the nose bridge is not a nuisance because it leaves no bruise on my nose after use. So, those are other good things about this quality mask.
A little warning, though, is buyers should probably check the package for filters. Some users reviewed that they had to contact the sellers to get those.
Pros
Has two P100 filters and a 6000 series respirator for extra protection
Keeps people safe from welding smoke, harmful fumes, and other particulates
Easy to find quality and compatible filter replacements
Adjustable fit and lightweight design for comfort
Has a comfortable seal and nose bridge, no bad smells
Cons
Might be shipped without filters included (shipping issue)
In my opinion, this one is the top-rated welding respirator that gives workers comfort and protection during long welding sessions.
4. Miller ML00895 Respirator
Welders will be missing out on a premium product if they do not check out the Miller ML00895 Respirator. I love to use this mask since it is made to reduce breathing resistance.
The first notable thing about this Miller design is its wrap-around structure. When welding, we also want to protect ourselves from sparks or flying metal pieces and debris, and this mask can guard us well with the protective wrap.
Indeed, its ergonomic design also reduces the space for dead air; thus, wearing the mask in hot weather is not suffocating. As mentioned above, this welding respirator also minimizes breathing resistance, mostly with its pleated filters that come with larger surface areas.
I feel much safer putting on this welding breathing mask as its materials are medical-grade. In fact, people with allergies to latex and silicone can put it on for hours one end without triggering any symptoms. Besides, it does not have a bad smell like many rubber masks do.
The best appeal of this mask must be its respiratory protection. The P100 filters purify the air, keeping harmful metal fumes, vapors, and dust particles from entering.
I always advise my fellow workers to replace the filters on this mask often. It can be a bit costly, but the best protection properties are worth the investment.
Pros
Wrap-around structure to protect against sparks or flying metal pieces and debris
The ergonomic design also reduces the space for dead air
Has pleated filters for minimum breathing resistance
Mask materials are medical-grade, non-allergenic, and without a bad smell
P100 filters block harmful metal fumes, vapors, and dust particles
Cons
Requires replacement for filters quite often
Many workers deem this design their most suitable respirator for welding due to its effective filters and good coverage. From my experience, it is a go-to mask for tasks in the summer heat.
5. RANKING Strong-AX Dust Half Respirator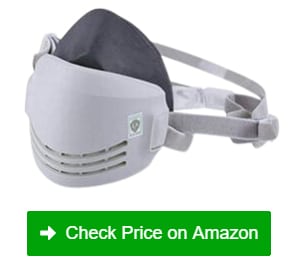 What the RANKING Strong-AX Dust Half Respirator can offer is exactly what I need for my welding tasks. In fact, I detect no lies in the description about this product's protection properties.
First of all, this mask is made of safe and quality materials for face skin. Its rubber seal and headband are hypoallergenic and soft, ideal for prolonged wear. The bands do not pull my hair or tighten uncomfortably around my head. The seal is soft enough to cover my face without putting pressure on my nose and chin.
Furthermore, this N90 respirator can keep me from breathing in hazardous gases, fumes, and various particulates. With such a good protection capability, it is among the half-mask respirators perfect for chemical handling, grinding, sawing, and not just welding.
I love that its dual-filtration system works effectively without compromising breathability. I can breathe in and out just fine during heavy-duty work with its independent inlet and outlet systems. As a result, I feel much less fatigue compared to when I wore my old respirator.
Besides a facepiece reusable respirator, the package also packs two cotton filters for replacement.
However, some of the welding respirator reviews pointed out that the mask was a tad bulky and not very nice-looking. Many might agree with that, but such things do not affect its performance.
Pros
Made of safe, hypoallergenic, and quality rubber
Soft seal around the face to secure with less pressure
Headband does not pull out hair
N90 respirator blocks gases, fumes, and various particulates for different tasks
Effective yet breathable with independent inlet and outlet systems
Packs a reusable mask and two cotton filters
Cons
The mask is a bit bulky and not very nice-looking
Overall, I appreciate this welding ventilation mask due to its efficient dual-protection system and superb breathability. Therefore, I deem its downsides not a deal-breaker.
6. 3M Half Facepiece Reusable Respirator 6200
The 3M Half Facepiece Reusable Respirator 6200 will be worth every penny we spend on it. It is tricky to find a better-quality face mask for welding at such a low price.
I came across this recommendation when looking for respirators that fit under welding helmet. Needless to say, it is a pleasant surprise, considering how its low profile allows me to add more pieces of protective equipment, including glasses and a helmet when dealing with heavier welding fumes and sparks.
This face mask can do a good job of protecting our lungs from air hazards prevalent in working spaces with grinding, sanding, welding, construction, and more. Such versatile applications speak volumes about the mask's high efficiency in blocking vapors, gases, and airborne particles, especially when paired with qualifying cartridges.
I like the fact that the mask is comfortable to wear. Like most quality face shields, it allows free adjustment for a nice fit. And I did not have to fidget to achieve my desired fit, even at first use.
Indeed, this face mask is durable enough for multiple cleaning and uses. The item comes with a storage bag that allows us to keep it intact for traveling.
However, the thing is, we need to purchase compatible cartridges and filters to use with the mask. Luckily, 3M makes it easy with their extensive collections of suitable filters and bayonet-style cartridges.
Pros
Low-profile respirator under welding helmet and safety glasses
Ideal for grinding, sanding, welding, construction, and more
Paired with cartridges to block vapors, gases, and airborne particles
An affordable, durable and reusable face mask
Comes with a storage bag for traveling
Cons
Requires purchasing the cartridges and filters separately
Overall, this welding fume mask is among the reasonably-priced, functional, and reusable respirators that I can make good use of for a long time.
7. Trend STEALTH/ML Stealth Air APF10 Respirator
The next piece that makes it to the top-rated welding fume respirators is the Trend STEALTH/ML Stealth Air APF10 model. It fits the budget of many workers and DIY-ers due to the reasonable price.
Good adjustability makes the mask a popular one among welders. The combination of a neck strap and a headband ensures a secure fit onto our heads. Furthermore, it features a quick-release hook, making it incredibly easy to adjust, wear, and pull off.
Comfort is another strong suit of this welding half mask respirator. The half-piece design with an exhalation valve allows air to flow smoothly. As the resistance is minimized, breathing inside this mask is a breeze.
Moreover, this face mask is made using non-allergenic materials, free from latex and silicones. As a result, users can put it on without being irritated by a bad rubber smell or having allergic symptoms.
Still, the most important thing that makes this model among the most trusted welding respirators must be its HEPA filters. The NIOSH-approved N100 filtration system can surely keep all kinds of dust, airborne particulates, and fumes from attacking our respiratory systems.
Due to the wide range of protection, the welding respirator filters work well for various tasks, including painting, welding, and other DIY jobs.
However, it is tricky to find new cartridges for this mask after it breaks down. We might need to purchase a new respirator entirely.
Pros
A low-priced and functional respirator mask
Offers good adjustability with a neck strap and a headband
Has a quick-release hook, making it easy to adjust and wear the mask
Half-piece design with an exhalation valve for breathable wear
Non-allergenic materials, free from latex and silicones, with no bad smell
HEPA N100 filtration system approved by NISOH for welding tasks and more
Cons
Tricky to find a replacement for the cartridges
For welding tasks, we should skip disposable masks and opt for this affordable reusable one for excellent protection.
8. 3M Half Facepiece Reusable Respirator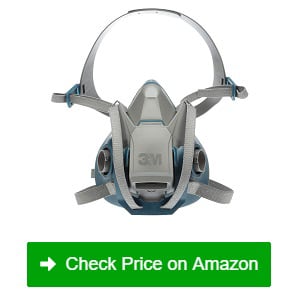 The 3M Half Facepiece Reusable Respirator should make it to many welders' shortlist of ideal companions in a hazardous welding environment.
It takes a minute to get comfortable under this face mask. First of all, it has a quick-latch design, allowing users to put it on and take it off right away. Secondly, the head harness is straightforward with three levels of adjustment. We can easily tighten or loosen the mask for a comfortable fit.
It is not surprising that this product is of good quality and durability. The first clue is its rugged silicone seal, providing a firm coverage around our faces. I was surprised to find out how soft yet secure the piece was when I put the mask on for the first time. The next notable feature is its spandex straps that seem flexible and resilient.
Many professional welders love this 3M welding respirator mostly because of its low-profile structure. What good can come out of it? The answer is many. We can put on standard welding helmets or shields to cover this mask just fine. Furthermore, it allows inserting safety glasses to further improve work protection.
Wearing this mask is a necessity when we deal with fumes, metal dust, and other airborne particulates. Also, it is a breeze to find compatible filters and bayonet-style cartridges to attach to this 3M mask and start working.
Two months in, I have not thought of a single complaint about this well-made mask. I will update if anything comes up later.
Pros
Has a quick-latch design, convenient and easy to wear
The head harness is straightforward with three levels of adjustment
Features a rugged silicone seal for a firm coverage
Spandex straps are flexible and resilient
Low-profile mask to wear with welding helmets and glasses
Compatible with 3M filters and bayonet style cartridges
I can attest to the quality and convenience of this low-profile welding respirator. It is safe for various tasks, as long as we attach suitable cartridges to this filtration mask.
9. Breath Buddy Respirator Mask
We wear welding masks to keep us from the harmful fumes and dust during welding. Therefore, they must have the best protection properties against such hazards. In that case, this Breath Buddy Respirator Mask can suffice.
The device works well as a shield against vapors, fumes, gases, and particulates, all the air hazards that can appear in a welding session. In truth, it comes with two layers of filters and cartridges to ensure we breathe in fresh air.
Protection is one thing; breathability is another important factor we should consider when purchasing welding masks. The fact that this Breath Buddy mask can ensure both is enough to make it desirable for professional welders. It has a cool air valve, ensuring working in the summer heat is not suffocating.
Furthermore, this welding gas mask makes it comfortable for long-hour wear. In detail, it has adjustable straps that promote a good fit. Furthermore, the mask is made of lightweight and thin materials to add no extra burden.
Due to such a design, this mask allows wearing safety glasses without obstruction. In fact, the brand offers one pair in the package for us to handle work with lung and eye protection right away.
Still, make sure to clean its filters and cartridges frequently because dust tends to build up in there.
Pros
Two layers of filters and cartridges to block vapors, fumes, gases, and particulates
Breathable welding mask with a cool flow valve
Comfortable to wear with adjustable straps
Lightweight respirator design
Includes a pair of safety glasses for use
Cons
Requires frequent cleaning to remove dirt
What counts is the best protection provided by the mask's filters and included glasses. Overall, this Breath Buddy welding respirator mask is a perfect pick for anyone seeking a compact design that fits under their auto-darkening welding helmet or glasses.
10. ANUNU Chemical Half Facepiece Respirator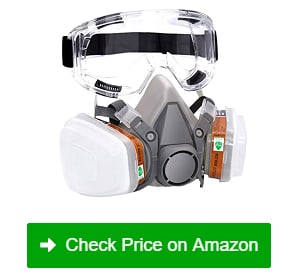 Our next pick for a valuable welding mask is the ANUNU Chemical Half Facepiece Respirator. This face shield's filter range is wide enough to cover many types of work, including welding, fabrication, construction, cleaning, and the list goes on.
In fact, this package comes in a complete set of respirators, goggles, filter boxes, cotton filters, and earplugs. Therefore, not only welders, but any people dealing with hazards at the worksite can rely on these products.
For many, allergic reactions are a huge problem, which is why they hesitate to wear face masks and work. For those who cannot afford to keep the mask off, it is best to pick a safe and healthy one like this ANUNU design. In fact, this type of respirator is popular due to its non-toxic and soft silicone seals that do not cause irritation.
Besides safety, this welding mask with respirator also delivers great comfort. Besides the soft-feeling seal, it has an adjustable and elastic headband that is easy to tighten or loosen without hurting the scalp.
Furthermore, unlike full-face masks, this half-piece design can support extended work shifts without much heat and inconvenience.
But, be aware that some of the packages come with missing pieces due to shipping issues. We should check our purchase thoroughly to report to the seller if it does not come intact and complete.
Pros
Versatile product for work, including welding, fabrication, construction, etc
A complete set of respirators, goggles, filter boxes, cotton filters, and earplugs
Non-toxic and soft silicone seals for people with allergies
Adjustable and elastic headband for comfort
Half-piece welding mask for convenience in extended use
Cons
There were some shipping issues
The bottom line is this package of welding respirators is a great bargain, considering how many items we get from one purchase. It works as intended in keeping us safe from welding hazards, including fumes, smells, and particles.
11. N\C Reusable Active Carbon Respirator
One last pick that we include in this list is the N\C Reusable Active Carbon Respirator. It might not be as popular as some products from big brands, but the mask does its job and does it well.
First of all, its construction ensures safety for workers with allergies. The brand makes the mask seal using non-toxic and healthy materials. The premium-grade silica gel will not leave an unpleasant smell or press too hard on our skin. Plus, it is durable enough for repeated use.
In this package, we will find one respirator mask and other parts for a quick installation. It includes eight pieces of cotton filters and two cartridges, sufficient to block harmful fumes, gases, and vapors from hurting our lungs. Furthermore, the piece has two covers to protect the filters from popping out accidentally when we are in the middle of tasks.
The efficiency of this active-carbon respirator should not be doubted. It can purify the air that enters our lungs, making sure that 97% of the air hazards will stay out, including tiny particles and dust.
Needless to say, this face shield promotes hassle-free adjustment. Its headbands are made with two-fold stretchy fabric, thus allowing us to have a comfortable fit. Besides, due to the soft seal, wearing this mask for hours is not irritating.
However, this affordable facepiece does not suit heavy uses of welding tasks with a high level of toxic fumes and gases. So, that's an important thing to know before purchasing.
Pros
Premium-grade silica gel seal is non-toxic, soft, and odor-free
Has a whole set of necessary items for assembly
Features two covers to protect the filters
Block harmful fumes, gases, and vapors with an efficiency of 97%
Allows hassle-free adjustment with two-fold stretchy headbands
Cons
Not suitable for heavy uses with a high level of toxic welding fumes
This product is up to par with welding respirators from well-known brands while being more affordable. It works as intended to ensure that welding fumes do not hurt us long-term.
What to Look for When Buying Welding Respirators?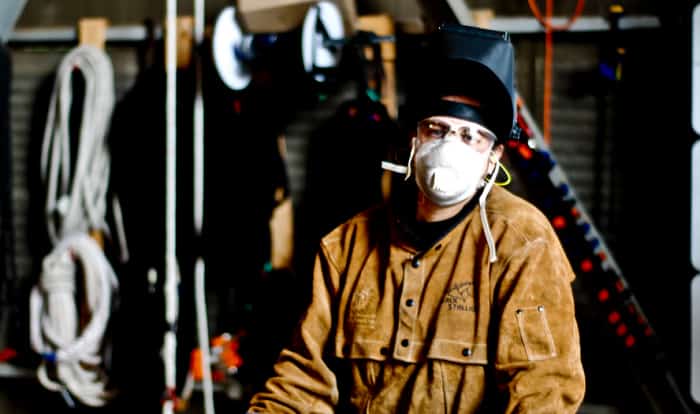 Welding respirators are mostly used to block welding fumes and other substances from entering workers' respiratory systems. Prolonged exposure to such hazards in welding areas can result in long-term medical conditions. Therefore, it is critical that we pick the right welding mask that provides sufficient protection.
Design – A welding respirator is a must-have protective equipment in any welding setting. There are different product designs ideal for specific requirements.
Half-mask respirators – What we recommend for daily light to medium-duty welding tasks are half-piece shields, of which many good pieces are mentioned above. These products can block fogs, fumes, dust, sprays, vapors, mists, and small particles from entering users' lungs with the right features.
Furthermore, many welders prefer this type of respirator since it offers convenience and comfort for them to move and bend for intricate tasks. They are also deemed more breathable, ideal for hot weather and long-hour work.
Powered-air purifying respirators – These models are required in an environment where welding fumes fill the air, where a half-piece design cannot offer appropriate protection.
This welding hood with respirator often comes with a full-face shield with particulate filters and an electric fan. Such a design can remove dust, mists, fumes, and especially toxic gases prevalent in welding areas. Indeed, they can provide good breathability for workers as the pieces also come with a breathing tube and blower. But we will have to compromise a bit in terms of convenience and flexibility since they are bulky pieces.
Supplied air respirators – We need an all-round protector in some setups where harmful fumes are at the highest levels. That's where the supplied-air respirator comes to the rescue.
This is another full face welding respirator, and it is undeniable that it will take a bit more effort and certain restrictions to keep this respirator on for long. Still, this type can provide fresh air and separate your breathing air from the polluted and hazardous one of the working environment. Breathing is indeed easy with this respirator.
Filtration system – Most of the time, the filters can come with the respirator, sparing you the trouble of purchasing them separately. But, in my case, you need to do the research yourself, since maybe your mask needs an upgrade.
Whichever situation it is, you should consider the amount of welding fumes, gases, vapors, and particulates at your work site. Determining the exposure levels and their limits will help you select the right filtration system.
Particulate filters – NIOSH-approved filters should be reliable for blocking air hazards. For wedding tasks, you can choose the N-series, including N95 and N99, to prevent welding fumes from attacking your lungs. You might need to go up to N100 if your welding tasks involve cadmium and lead.
Gas and vapor cartridges – NIOSH-approved products are also the ones you should look for when purchasing welding cartridges. They should include activated carbon to absorb the hazards.
There are many welding tasks that require a combination of filters and cartridges. For instance, a respirator for welding galvanized steel must block gases, vapors, fumes, and particulates effectively.
Fit and comfort – If your work only requires a quality half-face respirator, it is a breeze to choose a comfortable and well-fitted model.
First of all, you should pay attention to the ventilation properties of the face mask. It is better if the design has a cool air valve for a smooth flow of clean air in and out. With that, we can perform in high temperatures without sweating uncontrollably or feeling suffocated.
Furthermore, many should appreciate a mask with a soft and non-toxic face seal. Since the seal will have direct contact with our skin, make sure it is made of safe and healthy materials like high-quality silicone. It should not emit a bad rubber smell that annoys users for several first weeks on end.
A good fit ensures both comfort and safety. Therefore, we should wear respirators with freely adjustable headbands. It is even better if the mechanism of the latch or hook on the band allows quick putting on and taking off. And more importantly, it should not pull our hair in the process.
I always vouch for a lightweight and low-profile mask since it allows us to easily put on glasses and welding helmets. So, if you always want to add other pieces of protective equipment, choose a compact respirator.
Can You Wear a Respirator With a Welding Helmet?
Yes, you can. It might be tricky for some bulky respirators to have a full-face shield cover it. But, generally, we can wear a welding helmet along with our respirator. Still, when choosing a welding mask, make sure it is compact and lightweight enough to not obstruct any other safety gear.
Is N95 Mask Good for Welding?
Yes, an N95 welding respirator should suffice to block harmful fumes from entering our respiratory system. In fact, 3M safety recommends N95-class filters for most types of welding applications.
How Long Do Welding Respirators Last?
The shelf life of welding respirators is 5 years. However, upon frequent use, we might need to replace the filter in several months. Also, we should maintain the cartridges by cleaning them the right way.
Conclusion
When working in hazardous environments, we should always look for proper protection that minimizes health risks. Therefore, make sure you analyze your harmful substance exposure and its limits to choose the right masks.
Furthermore, you can go on reliable forums and pages with honest best welding respirator reviews like Reddit or Quora to find sincere advice. Also, hopefully, after reading our suggestions, you already have a good pick in mind.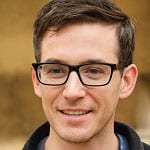 This is Edward Manning, the editor in chief of Construction Informer. Quite a bit of my time is spent researching the market and interviewing experts in the field so that I can give you reliable information.