We can imagine how dangerous the welding process is, especially when we do not have the necessary gear for protection. Carelessness without proper equipment is the reason for fire, burns, shock, vision damage, prolonged exposure to ultraviolet rays; the list goes on.
In this review, we present the best welding safety glasses to lessen the risks of ocular injuries. As choosing the right goggles can be tricky, here're the three factors that you should consider:
Safety glasses shade – You should know which type of welding applications you must handle. If they are light welding, grinding, or cutting, the sensible choice is shade 5.0 gear. In case of heavy duties like MIG and TIG welding, we should go for at least welding goggles shade 10. Of course, some designs allow adjustment between a wide range of shade numbers, and they are often available at a higher price.
Safety standards – When the gear ticks all your box of requirements, make sure it meets essential safety standards before purchase. Qualified welding goggles that can deliver protection should receive ANSI z37.1 certification. Other than that, a reliable pair should meet CSA-Z94.3 or CE standards.
Comfortable wear – Your protective welding goggles should ensure sufficient comfort for your long-hour tasks. If you intend to use it for intense work, the construction should be lightweight, and its nose bridge should be soft. Also, its size and design must conform nicely to your face contours.
And for people seeking prescription welding goggles, the model should be ample and breathable.
For more detailed information about choosing good gear, check out our detailed buying guide below. And before that, let's browse through some of the best quality products trusted by welders.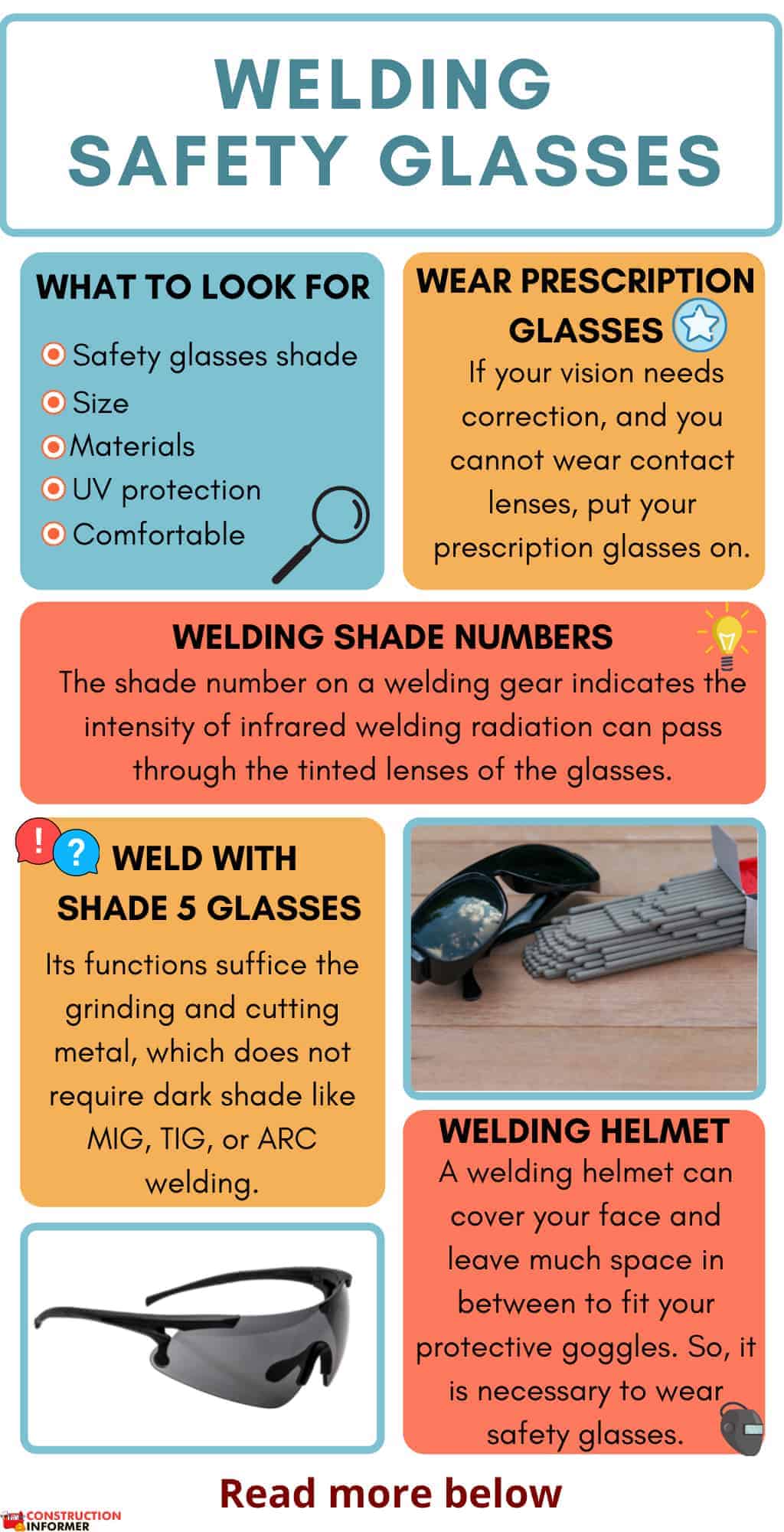 Featured Products
Best Overall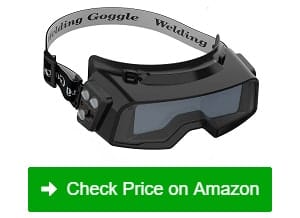 YESWELDER Auto Darkening Welding
– Comes with a free mask
– Adjustable shades
– Offers great clarity and bright colors
Editor's Pick
Edge SW11-IR5
– Durable
– UV protection
– Reduces eye fatigue
Premium Choice
Hobart 770726
– Shatterproof and scratch resistant
– Offers form-fitting structure
– A shade number 5 gear certified by ANSI z87.1
Best Welding Safety Glasses Reviews
1. YESWELDER Auto Darkening Welding Goggles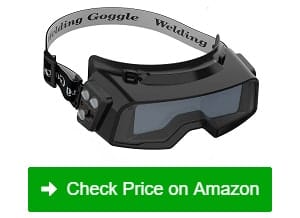 Now, it's the time for high-end welding equipment that caters to various tasks – the YESWELDER True Color Auto Darkening Welding Goggles. This one is a superb safety gear that deserves a five-star rating.
The danger of the welding processes forces us to be geared with reliable goggles like this one. In truth, it covers a wide range of shades, number 4 -5 for ARC plasma cutting and number 9-13 for TIG, MIG welding. The eyewear also supports grinding applications, proving its incredible versatility.
And the good things about all those functions are them being easy to adjust. The dual sensor incorporated in these broad-viewing lenses indeed supports work in tight positions. The sensor helps change the shade automatically, making it a convenient pair of auto darkening welding glasses.
Besides, it is incredible how these goggles offer clarity and bright colors with their dark shades, allowing me to perform detailed tasks.
Another notable thing is the included face shield that is compatible with the goggles. The added part can block hot splashes from hurting our skin, keeping us safe from all hazards at the welding site. Also, worry not about these pieces intruding on the welding helmets or hard hats, as they leave enough space for the gear.
Still, many people tend to wear them on before reaching up to change the sensitivity and welding level; that's a no. We should adjust before starting the work.
Pros
Adjustable shades, with welding shade numbers 4-5 and 9-13
Ideal for ARC plasma cuts, TIG, MIG welding, and grinding
Offers great clarity and bright colors
Features dual sensor in these broad-viewing lenses
Comes with a free mask, compatible with a welding helmet and hard hat
Cons
Requires adjustment before tasks
It's never a hassle to
wear safety glasses
with a mask and helmet if we choose the compact and compatible one, and this gear is among those. Not to mention, it is a functional auto shade darkening welding eyewear.
2. Edge SW11-IR5 Dakura Safety Glasses
A pair that I came across when searching for an affordable welding goggle is the Edge SW11-IR5 Dakura Safety Glasses. It was unexpectedly effective in blocking welding arc sparks.
I adore a fashionable pair that delivers protection purposes well like this product. Its design finds the balance of cutting-edge style and exceptional comfort for wearers. Thus, I am more than happy to work for long hours with these welding safety glasses on.
These safety goggles also significantly reduce eye fatigue and ensure little visual distortion, allowing users to perform up-close duties without hassle.
Furthermore, welders involved in intense working pace can rely on the eyewear's durability and flexibility. It features an optimal impact-resistance function, meeting the Z87+ standard. Besides, these welding safety goggles are as strong as gear qualified for military ballistic standards.
Besides welding arc splashes, these safety glasses' eye protection also involves Ultraviolet lights. With that, the gear filters out, shielding our eyes against the immediate and permanent effects of sun exposure. Of course, it can handle medium levels of infrared arc welding flash.
Thus, I love to utilize these welding safety glasses in light, and medium duties, but not the heavy ones like TIG and MIG welding that should require welding glasses shade 10 or more.
Pros
An affordable pair to block medium levels of infrared arc welding flash
Balances stylish cutting-edge style and exceptional comfort
Reduces eye fatigue and ensures little visual distortion
Durable pair with Z87+ standard impact-resistance function
UV protection of 99.9% of UVA, UVB, and UVC radiation
Cons
Not ideal for heavy-duty TIG and MIG welding
Although this one is not ideal MIG welding glasses, it works as intended for all other eye protection functions, from blocking flashes to shielding against sun rays and impact.
3. Hobart 770726 Shade 5 Safety Glasses
For a list of recommended welding gear, we cannot leave out Hobart safety glasses. Workers who want an ANSI-certified protection piece for their tasks should check out the 770726 Shade 5 model.
The distinct feature of this pair is its exclusive Hobart mirror lenses. This leads to less light passing through, making it ideal for unfavorable conditions such as: sand, snow, or high altitudes.
The mirror lenses are made of shatterproof polycarbonate, offering durability for long-lasting wear. Furthermore, they are reinforced with a scratch resistant coating to preserve clarity. I am grateful for this feature, as after some accidental drop, the lenses are intact.
The Hobart safety glasses' design is among its charms, especially when we need to keep it on for hours. Due to the form-fitting structure with its soft foam liners, wearing the welding glasses is not as burdensome as some of us might imagine. Besides, such a design delivers complete protection from dust and debris.
One last thing that we should know about these welding safety goggles is the ANSI z87.1 certification. It means we can rely on the piece's shade number 5 function for eye protection in plasma cuts.
However, this product is not ideal to fit over prescription glasses since it is rather tight.
Pros
Features exclusive Hobart mirror lenses for unfavorable work conditions
Shatterproof and scratch resistant lenses for long-lasting wear
Offers form-fitting structure and soft foam liners for comfort
Protects against intrusion of dust and debris
A shade number 5 gear certified by ANSI z87.1
Cons
Not large enough to wear prescription glasses underneath
Despite its minor flaw, the pair's lens material and protective functions make it one of the best safety glasses for welders in the market.
4. Miller Electric Shade 5.0 Welding Safety Glasses
Miller Electric has always been the go-to brand for high-performance gear in welding projects. So, I intend to put their Shade 5.0 Welding Safety Glasses first to share the excellent function that lives up to the brand's reputation.
First of all, it looks quite compact and slim for protective eyewear, which might cause some worry among first-time buyers. But fret not, as the pair delivers good shielding with its polycarbonate lenses. It supports welding shade 5.0, which suffices cutting and grinding metals.
Also, the photochromatic lenses feature an ArcArmor Ultraviolet shielding feature of 99%. That means we can put the pair on for outdoor work without hassle. Besides, many people who have photophobia can benefit from the glasses, even if they do not weld.
I love the design, including the wraparound structure, foam lines, black frame, and green lenses. All of them combined result in rather stylish yet comfortable eyewear for long-hour work.
Most importantly, it meets the ANSI Z87.1 standards, which is vital for eye protection gear. And the polycarbonate lenses will not scratch easily upon intense and frequent use.
However, such a shade is not suitable for MIG and TIG welding. So, buyers should not attempt to purchase this pair for such heavy-duty tasks. 
Pros
Delivers good shielding for cutting and grinding metals with shade 5.0
Welding goggles with 99% UV filtration from ArcArmor
Ideal for people suffering from photophobia
A stylish and comfortable pair: wraparound frame, foam lines, …
Meets ANSI Z87.1 standards for eye protection
Features scratch resistant polycarbonate lenses
Cons
Not dark enough for MIG and TIG welding
For the designated purposes of these Miller Electric welding goggles, the pair delivers well. I rely on it to have enough protection for light duties.
5. Bolle Safety Shade 5.0 Welding Safety Glasses
Another shade 5.0 goggles for welders to utilize is here: the Bolle Safety Welding Safety Glasses. In my opinion, its best attribute is the extra comfort.
Starting with its protection capability – the main factor as we consider buying goggles, I have to say it keeps my eyes safe from all splash hazards. Thus, this one becomes my ultimate partner for duties such as plasma cutting, metal torch brazing, and so on.
The green lenses are ideal for working in different conditions, sparing me the trouble of changing into another pair when the light is dimmer. Of course, it works wonders for outdoor tasks with the 99.9% UV-protected polycarbonate lenses.
Other vital criteria for choosing welding safety glasses are certifications for safety requirements. And I was delighted to find out that this one receives both ANSI Z87. 1 and CSA-Z94.3 approval. Also, this high-quality and durable pair features a scratch-resistant coating, ensuring long-term use.
Best of all, wearing it for hours on end is nowhere near an irritating experience. Due to the wrapping frame design with a flexible and breathable headband, there is enough protection, security, and comfort for my eyes.
One warning for all welders that expect to carbon arc weld with this pair, please do not. Just opt for safety glasses with darker shades.
Pros
Keeps eyes safe from splash hazards of plasma cutting, metal torch brazing, …
Green lenses for work in bright and dim lights
Comes with 99.9% UV protection polycarbonate lenses
Approval from ANSI Z87. 1 and CSA-Z94. 3
Features scratch resistant coating
Comfortable pair with wrapping frame & flexible and breathable headband
Cons
Not the choice for carbon arc welding
The bottom line is, this model is among the best safety glasses for welding duties that require shade number 5 protection. Also, outdoor work is easier with its UV light blocking.
6. Yarrkc Auto Darkening Welding Goggle
The next pair of auto darkening safety glasses from Yarrkc stands out among the best welding goggles for its anti-glare function.
What caught my attention is the quality of the whole piece, especially the ABS and PC frame that is tough enough to handle the impact. Also, the durable lenses feature an scraping-resistant coating, protecting the clarity and auto darkening feature of this gear.
Furthermore, such a strong construction appears to be more lightweight and comfortable than I expected. It comes with soft rubber and adjustable legs for convenient use.
Regarding its functions, there are many notable things such as the UV rays blocking and anti-glare attribute. They allow me to work better under the sun without compromising visibility due to reflection and harmful Ultraviolet radiation.
Of course, these auto darkening goggles do not disappoint in terms of blocking welding flash and splash. Wherever the sensor parts detect a striking arc, it automatically changes the shade into darker tints, shielding our eyes from all possible hazards of the welding processes.
However, this shade darkening welding goggle does not seem to perform that well in a dark room without sunbeams or artificial light. It is due to the welding arc sparks are not a stable source of lights in the darkness.
Pros
Quality ABS and PC frame that resists impact
Durable lenses with scraping-resistant coating
Lightweight and comfortable due to the soft rubber and adjustable legs
Features UV rays blocking and anti-glare attribute
Blocks welding flash and splash with the auto darkening feature
Cons
Not the ideal arc welding glasses for dark conditions
All in all, choosing safety glasses with a sturdy construction like these auto darkening goggles is recommendable for various welding applications.
7. YESWELDER Solar Powered Welding Goggles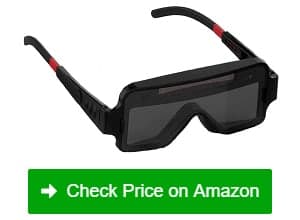 This one is, I would say, the upgraded design version of the YESWELDER glasses reviewed above. It is indeed a slim, nice-looking, and most importantly, functional pair for welding applications.
I opted for these welding safety goggles mainly because of their solar-powered function. The premium sensors incorporated in the top part of the glasses use clean energy to help us work. Thus, we are guaranteed green use and prolonged battery life.
Regarding its wide view, the lenses measure 4.29 inches wide and 1.28 inches high, promoting no hindrance in peripheral vision for welders. Such a measurement, combined with its slim design, we can put on a weld mask or hat without adjusting any part.
Yeswelder gains much reputation for their true-color lenses, as they are ideal for intricate tasks. And these safety goggles prove this point nicely with the minimal color distortion viewing. Whenever a detailed task comes up, it is the first pair that I pull out of my collection to bring along.
One last thing about this high-quality welding safety pair is its quick response. Due to the sensitive sensors, its responding time is about 5/10000s, changing from light DIN3 to dark DIN 11 quickly. Hence, the safety glasses are perfect for TIG, MIG, and MMA welding.
However, we should not wear these darkening welding goggles to face the sun directly, as it has no UV protection function.
Pros
Solar-powered welding glasses for green use and prolonged battery life
Wide view and slim design, ideal for wearing with a mask and hat
Adopts true-color lenses, minimizing color distortion
High-quality auto shade darkening welding with quick response time (5/10000s)
Changes from light DIN3 to dark DIN 11 for TIG, MIG, and MMA welding
Cons
Should not be used to look directly at the sun
Overall, this pair of welding safety glasses should be ideal for any welding application you must handle due to its versatility and responsiveness.
8. QHRM Optical Clarity Welding Goggles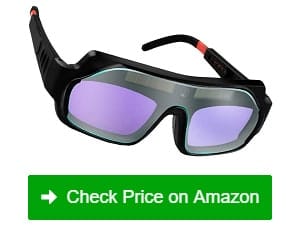 I love this all-in-one package that offers more than just safety glasses. The QHRM Optical Clarity Welding Goggles indeed give an excellent user experience.
As expected, the glass lenses are constructed from premium polycarbonate. The lenses boast impressive impact resistance and sun glare blocking, making the pair sufficient for work in unfavorable set-ups.
Furthermore, the model supports welding safety glasses shade dimming that makes welders' life easier. In detail, as the arc touches the weld pool splashing bright flash, the glass lenses will darken their colors, adjusting to protect our eyes. Then, they immediately brighten the shades when the welding arc is drawn.
What truly wins me over is the air vent system of this design. Its breathable temples are incorporated with small holes to reduce the suffocation feel when we put on helmets or hard hats while working. Furthermore, the soft rubber and non-slip band give me peace of mind for active tasks.
And the best part is bonus items included in this package, other than the quality welding safety glasses. There are work gloves, an extra band, protection lenses, and a case, allowing us to conveniently utilize the pair.
Still, it is a pretty low-profile pair, giving no sophisticated or stylish vibe. But for me, that's a trivial matter since these safety glasses do not look too bad, just a little bulky.
Pros
Premium polycarbonate lenses for impact resistance and sun glare blocking
Quickly dims and brightens the shades when detecting arc flashes
A breathable pair with an air vent system
Features soft rubber and the non-slip band for active tasks
Includes work gloves, an extra band, protection lenses, and a case
Cons
Not so much of a stylish pair, rather bulky
As I said, its look is not that bad; the important thing is how these welding safety glasses perform well in protecting our eyes.
9. Miller Electric Welding Goggles
Slightly different from the Miller welding glasses above, this one is a high-end gear for heavy-duty applications. So, anyone looking for welding goggles shade 13 should check out this one.
Professional welders can trust these well-thought-out welding safety glasses that make all duties more manageable. Even for tasks in tight spaces, we can utilize the piece instead of bulky traditional helmets.
To go into details about this superb gear, we can start with the Acrylonitrile butadiene styrene frames that are sturdy enough to handle the strong impact. To be honest, this one is among the toughest welding glasses shade 13 I have ever used.
The unique thing about these welding safety glasses must be how the frame embraces our eyes tightly, leaving no space for hazardous intrusion. It is accompanied by a silicone skirt, ensuring front and side protection for our face.
Furthermore, due to its magnificent and versatile lens functions, the pair is suitable for different work such as MIG, TIG, gas welding, and gas cutting. The sensitive sensor adopted for this design can quickly switch among the welding glasses shade numbers 5,7,9,11 to 13.
However, these auto shade darkening welding glasses are available at a high price, approximately ten times more pricey than the most low-cost one on this list.
Pros
Ideal for professional welders using in tight spaces
Features acrylonitrile butadiene styrene frames for strong impact
The frame design and the silicone skirt fit and protect the whole face
Suitable for MIG, TIG, gas welding, and gas cutting
Switches among the welding glasses shade numbers 5,7,9,11 to 13
Cons
Costs a lot more than safety goggles for light duties
I vouch for this high-end gear as it is among the best shade 13 welding glasses one can find in the market. Conforming to our face contour, keeping our eyes safe, and replacing bulky helmets, we could not ask for more!
10. Forney 55320 Welding Safety Goggles
Beginners in the field who want to start with affordable gear should check out the Forney 55320 Welding Safety Goggles. Despite the low cost, it works as intended, shielding our eyes from exposure to sparks and splashes.
This well-made design makes me feel comfortable with its ample space when fitting onto my head. Instead of wearing contact lenses, I can insert prescription eyeglasses underneath without feeling suffocated.
The unique point of this design is the one-piece lens that is hardened and covered with clear glass. With that, the safety goggles ensure better clarity and front viewing for welders. In detail, its measurement is 2 inches high and 4.25 inches long.
For people who are not convinced by this budget-friendly gear's protection features, check out the ANSI Z87.1 approval it receives. And besides being the qualified shield against flashes, this one can handle UVA and UVB radiation attacks, ensuring an efficient rate of 99.9% filtration.
Buyers who want to use this pair for plasma cutting or gas welding are choosing the right piece as it supports shade number 5. But, the ones who seek dark protective goggles for heavy-duty TIG or MIG welding should find at least a pair of shade 10 welding glasses.
However, some workers seem bothered by its rather bulky design, claiming that it hinders their movements a bit in tight spaces when they have to turn around or look down often.
Pros
Allows comfortable wear with ample space that fits over prescription eyeglasses
One-piece lens hardened and covered with clear glass for clarity
Measures 2 inches high and 4.25 inches long for front view
Meets ANSI Z87.1 standard for eye protection
Can filter 99.9% UVA and UVB radiation
Supports welding shade number 5
Cons
Rather bulky for tight space work
All in all, these prescription welding glasses protect and support as it is designed to be, keeping welding sparks and UV rays from hurting our eyes.
11. Titus IR Welding Safety Glasses
This final entry is not less unique or functional than those welding glasses mentioned above. In fact, the Titus IR Welding Safety Glasses show the charm with retro style and foldable side shields.
Let's make it clear, these safety glasses protect us from light-duty applications, not the harsh ones. And that means it is constructed for metal grinding, torch soldering or brazing, and light weldings. So, it is definitely not the level 14 welding glasses that some professionals look for, but the pair works well in its protection range.
In truth, the model combines ABS frames and PC lenses, promoting resilience against impact. Furthermore, the lenses are reinforced with scratch-resistant and shatterproof features. And its side shields are foldable, thus convenient when we decide if we need the side protection.
Regarding the pair's power against harmful rays, it comes with anti-glare and welding flash filtration. That means the dark lenses reduce exposure to light hazards and keep our visibility at a high level. Its UV and IR3 lenses make it easier for us to perform indoor and outdoor tasks.
We need to check before purchasing safety gear if the authority approves its safety. And when checking this one, I found out it meets ANSI and CE standards, giving me confidence about its qualification.
Some welders might not like the side guards since a while of use can make it hard to fold them out completely. In that case, just cut them off.
Pros
For metal grinding, torch soldering or brazing, and light weldings
Impact-resistant ABS frames and PC lenses
Features scratch-resistant and shatterproof lenses
Foldable side shields for convenience
Has UV protection, anti-glare and welding flash filtration
Meets ANSI and CE standards
Cons
The side guards might not work well after frequent use
The pair is not perfect, but it can pass as well-made welding glasses that last a long time and protect us against UV and welding sparks well.
12. Insight Safety Welding Glasses
The next entry for our review today is the Insight Safety Welding Glasses – a sleek and stylish pair that provides welding flash and UV protection.
Seeing these safety glasses for the first time, I knew the model was intended for medium duties, but I doubted its capability to deliver. Luckily, the refund policy of the brand convinced me to try it, as I could return in case of dissatisfaction. However, I decided to keep the piece because it works wonders.
First of all, the fashionable welding glasses feature a wrapping frame, which enhances both our front and peripheral visions. Such a structure ensures little arc flashes to hurt our eyes from all angles. Furthermore, these safety glasses shade number 12 can cater to the needs of different welding missions.
The outstanding point of the pair must be its function as high-quality sunglasses. As its appearance matches the purpose, the Ultraviolet light coating is also reliable. It keeps the harmful rays from attacking our eyes, even when we perform under the sun for long hours.
And some extra pieces coming in the package make me adore this product further. There is a nice zippered case, a soft piece of microfiber cleaning cloth, and a pair of welding safety glasses. These are enough for me to bring to the worksite and finish some quick and light tasks.
Still, these welding goggles shade 12 are not the most suitable option for plasma cutting, from my experience.
Pros
Comes with a refund policy to ensure customer satisfaction
Features protective wrapping frames to shield from all angles
A functional pair of protective glasses shade 12
Serves as quality UV protection pair
Comes with extra items: a zippered case and a microfiber cleaning cloth
Cons
Not the perfect option for plasma cutting
Overall, I deem this pair of welding safety glasses shade 12 worthy of my investment due to its sleek and well-fitted design, as well as dark lenses for optimal protection.
What to Look for When Buying Welding Safety Glasses?
When seeking the best welding safety glasses for yourself, make sure to check the three factors mentioned at the beginning of our review. It is essential to know if you need a light-duty shade 5 or heavy-duty shade 14 welding glasses. And for professional work, gear with a darkening shade function will benefit you in multiple tasks.
Size-wise, it is different when choosing a pair of goggles, one-piece eyewear, or prescription glasses for welders. Depending on what you need in terms of breathability and fit, you can opt for the right type. For instance, the gear must have ample space if you want to cover it over a pair of prescription specs.
Another thing about welding safety glasses must be the product material, as this factor will determine how durable the model is. You should settle for impact-resistant construction that can handle drops without breaking. If you prefer a lightweight piece, make sure it is resilient enough not to be damaged under pressure or sudden impact.
Also, UV protection is an important factor to consider for people who perform outdoors. Besides the capability to protect infrared welding radiation, sun rays and glare can definitely hurt your eyes and performance. Keep in mind that a good-quality pair can filter 99.9% UV radiation, so do not settle for less.
If you are confused about all factors mentioned here, not knowing where to start, just check out reliable brands in the market. For welding gear, Miller Electric, YESWELDER, Edge, and Hobart are well-known manufacturers. We can scroll through their collections to see what the best brands offer.
How Dark Should Welding Glasses be?
Well, this depends on which welding tasks you are handling.
If you focus on metal grinding and plasma cutting, a gear with shade number 5 suffices your work. But for more intense duties like MIG and TIG welding, there should be help from goggles shade number 10 to 13. You can check the amperage of your welding arc; the higher it is, the darker shade you need for protection.
What Do Welding Shade Numbers Mean?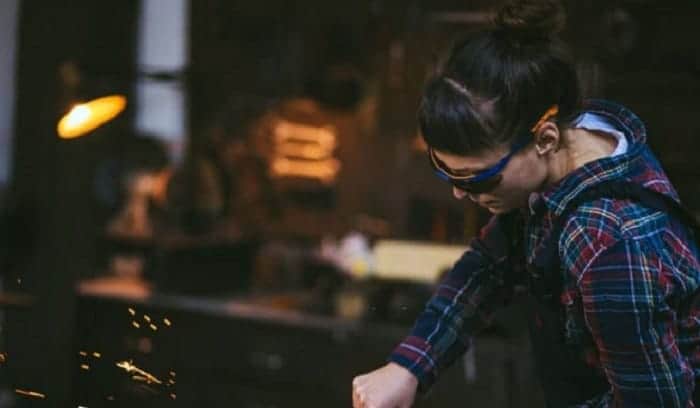 The shade number on a welding gear indicates the intensity of infrared welding radiation can pass through the tinted lenses of the glasses.
Higher numbers show darker lenses, meaning the gear lets less harmful radiation reach your eyes. But that does not mean we should weld with the highest shade number, as each level of shade is intended for a specific type of welding application.
Can You Weld with Shade 5 Glasses?
Yes, you can. But this type of safety glasses can only protect your eyes for light duties. Its functions suffice the grinding and cutting metal, which does not require dark shade like MIG, TIG, or ARC welding.
Is It Necessary to Wear Safety Glasses If You are Already Wearing a Welding Helmet?
Yes, it is necessary. A welding helmet can cover your face and leave much space in between to fit your protective goggles. Thus, you should wear the gear to prevent infrared light from penetrating the filters and hurt your vision. Besides, the safety glasses can prevent flying particles from attacking your eyes.
Can You Wear Prescription Glasses While Welding?
Yes, you can. If your vision needs correction, and you cannot wear contact lenses, put your prescription glasses on. The only thing to note is finding a welding goggle that can fit over the specs, leaving you breathable and ample space for comfort.
Conclusion
When choosing your best welding safety glasses, there are some factors to keep in mind. And do not leave out any of them, especially points that involve safety functions. It is critical to pay attention to the shade number, frame and lens material, approved standards, ventilation, and more.
Hopefully, our review already gives you a clear idea about the selection process, or better, a good pair in mind. Good luck!
Hi, I am Alexander, forty-seven years old this year. I have been in the construction industry for twenty-five years and have provided a wide range of services. When it comes to expert guidance on site safety gear, you can put your trust in me.