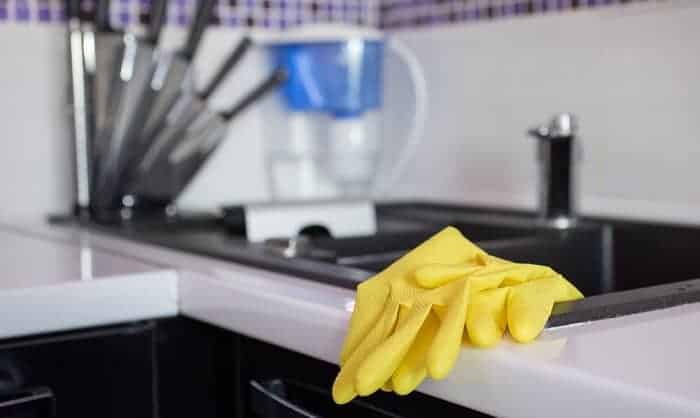 Household chores can involve much exposure to chemicals like cleaning agents, bleach, etc. Also, our tasks around the house and in the garden leave much dirt on our hands. So, a feasible solution is always wearing a suitable pair of rubber gloves for protection.
Some of us wear disposable pairs to clean, yet others prefer reusable gloves. And the problem arises when those gloves trap oil and dirt, yet we do not want to ruin the pair while disinfecting it. So, let's find out here how to clean rubber gloves the right way.
Refer to my methods of washing them inside out, disinfecting and drying them in more detail as follows.
How to Clean Rubber Gloves Step by Step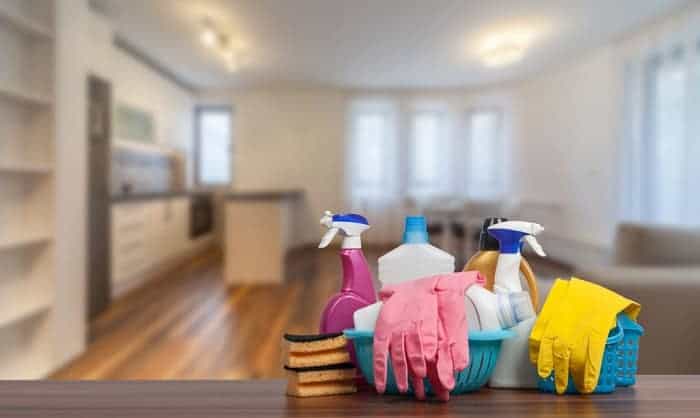 Dish soap
Water
A cup
Disinfectant: Make sure you invest in a rubber-safe agent
Step 1: Wash the outside of the gloves.
After cleaning around the house, do not take the pair off immediately. You can use your hands and create strong friction to rid of significant dirt stuck on its surface. Just pour a little dish soap on your hands and rub it together thoroughly. Then, rinse the glove underwater.
Step 2: Wash the inside of the gloves.
When you finish washing the outside of the gloves, take the pair off and wash your hands carefully. As your hands are clean, you can bring out the cup prepared and fill it with warm water.
Next, you can put some dish soap into the cup and make soapy water for this step. Make sure you carefully turn the glove inside out. Now, soak the whole pair into the soapy water and leave it there for some minutes.
After letting the soap remove dirt and sweat inside the gloves, we can gently wash them several times by rubbing them together.
Step 3: Dry the gloves.
You can take the gloves out of the soapy water and rinse them under water one more time to remove all the soap. Then, it is advisable to hang the pair in an open and clean space, away from direct sun rays.
Step 4: Disinfect the gloves.
This step requires using the prepared disinfectant or sanitizer, which should be formulated to sanitize rubber gloves without damages.
To make sure this process goes smoothly, you should note down three things:
Kindly only use the sanitizer for the outside of the work gloves. We do not want the agent to stick on the inside and attack our skin later.
Please follow the disinfectant's attached instructions for application time and drying period. This is to make sure we do not overdo it.
Remember to wash your hands thoroughly with soap again after finishing the disinfection.
Step 5: Dry and store the gloves.
When all the steps are finished, you can let the glove dry at room temperature or hang it somewhere ventilated. Once again, make sure you do not expose the pair to direct sunlight.
After the glove is dry, you can keep it in a clean drawer or hang it on the rack designated for cleaning gloves.
How to Get Rid of the Smell on Rubber Gloves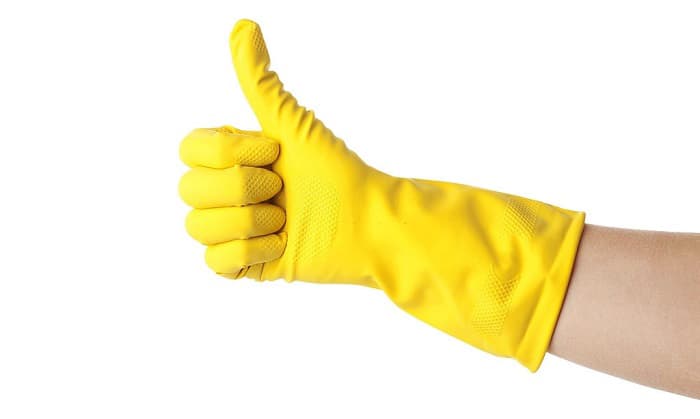 It is fairly easy to eliminate the ugly smells left on your gloves by soaking and washing them with soap. Here's a video that guides you through the process and tells you how to check for leakage, too.
How to clean hand gloves and reuse them again
To sum up, it consists of easy steps, including:
Soak your gloves in soapy water. Press and rub the pair to make sure the mixture reaches all its parts.
Rinse the whole pair under running water.
Let the water fill the glove to check for any puncture or leakage.
Leave the glove to air dry without exposing it to direct sunlight or a hairdryer.
Please remember that if the glove has any minor leakage or puncture, throw the pair away. You do not want to work with cleaning agents, chemicals, and dirt with unsafe gloves.
Tips on Maintaining Rubber Gloves
You should wash your gloves for everyday use. Most dirt or chemicals stuck on your gloves will turn bad after a day or two. So, you do not want them to ruin the pair after several wears.
Wash your hands before and after using your  gloves. This is to protect your skin and the glove inside.
Keep your gloves away from direct heat, making sure they are not left under the glaring sun or in the dryer.
Separate your gloves for cleaning and cooking. It is best to purchase different color gloves for specific purposes or label them to avoid mixing.
To remove the rubber smell on the gloves, you can use baking soda, scent lotion, or scented soap.
Frequently Asked Questions
Can you disinfect rubber gloves?
Yes, you can. Make sure you use a disinfectant or a sanitizer formulated to work well with rubber.
Can you machine-wash your rubber kitchen gloves?
If your household gloves are relatively thick and the glove manual allows machine washing, then it's okay to do so. Yet, it would help if you put them in a garment bag together with some soft towels. Also, remember to set a gentle washing cycle and avoid using bleaches.
Conclusion
Getting a hold of steps on how to clean rubber gloves and maintain them is pretty easy. Hopefully, you follow the instructions while using and cleaning the pair to ensure both your skin and the gloves are intact. Besides, never forget to wear suitable gloves to do your household chores!
If you have any verdict or feedback, do not hesitate to reach out to us via our contact page!
Hi, I am Alexander, forty-seven years old this year. I have been in the construction industry for twenty-five years and have provided a wide range of services. When it comes to expert guidance on site safety gear, you can put your trust in me.