Leather is a familiar material used in constructing protective wear for workers, including gloves. There are multiple leather types, and depending on the source of the materials, they are generally good at shielding against punctures, cuts, heat, and chemicals.
However, not everyone can afford top-quality leather gloves for their tasks. That's where gloves made with leather palms become a life-saver. So, what do leather palm gloves protect you from? Well, such pairs excel at keeping your hands safe from abrasion, punctures, and sometimes water and heat.
What Hazards Can Gloves With Leather Palms Protect You From
As their name suggests, leather palm working gloves are not made entirely of leather materials but a combination of different fabrics. The most common material to pair with a leather palm is canvas or cotton, which constructs the glove's back.
There are also many types of palm protection glove leather materials, including cowhide, cowskin, pigskin, deerskin, and so on. Among those leather kinds, there can be grain and split leather, or the different parts of the animal hide or skin.
Therefore, different leather palm gloves can protect your hands from various hazards, depending on their properties. Here's what you should expect to be protected from when wearing these pairs:
1. Cut
Work gloves featuring reinforced palms and fingers made with premium split cowhide leather can resist cuts incredibly well.
Furthermore, such a palm allows a good grip to grab tools and handle small objects. With such a pair of high dexterity cut resistant gloves, wearers can do maintenance, gardening, farming, and multiple DIY tasks with good protection.
2. Abrasion
Abrasion-resistant gloves are necessary for lifting heavy objects and handling metal tools. In such cases, a glove palm made entirely of split cowhide leather or high-quality pigskin leather can meet the requirements.
Indeed, such gloves are applicable for various jobs, as workers wear them for construction, landscaping, fencing, road work, warehouse work, etc.
3. Water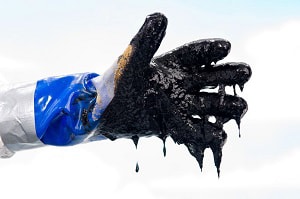 It is true that we can put on a pair of leather palm work gloves to resist water intrusion and complete tasks in wet conditions.
In detail, leather materials using HydraHyde technology can keep moisture away from our palms, reducing the irritating and slippery feelings of water seeping through the gloves.
Furthermore, with such a technology, work gloves with leather palms become more breathable for gardening, landscaping, farming in hot weather, and more.
4. Heat and/or flame
Indeed, not all heat resistant gloves can ensure that we are not hurt by flame. However, gloves with top-rated goatskin paired with Kevlar fabric can keep wearers safe from both.
It is understandable that leather palms require reinforcement from other materials to resist flames. So with good construction, a pair of durable work gloves with leather palms can handle tasks like welding, grinding metal, baking, etc.
Furthermore, when paired with layers of quality flame-resistant liners, such gloves can protect our hands against electrical sparks. However, make sure to read the glove specifications and consult the manufacturers on whether the pair can offer protection at that level.
What Are the Benefits of Using Leather Palm Work Gloves
Besides good protection, leather palm work gloves also provide multiple great features and functions to make heavy-duty tasks more tolerable and manageable:
Breathability – Unlike work gloves made entirely of leather, which is known to retain heat better than most fabrics, pairs without a leather backing are often more ventilated. As a result, it is better for workers to have such a breathable pair for performing in hot weather.
Flexibility – Leather, while durable and protective, can be restricting with its tight fit and rigid textures. Therefore, without leather as the backing, incredible replacements such as spandex or lycra ensure durability while offering freedom of movement.
Furthermore, when in contact with moisture, these fabrics are subjected to stiffness less than most leather materials.
Affordability – Suppose we cannot afford 100% leather gloves, which can cost more than most work gloves, but still want to experience the material's good features. Then, purchasing an affordable pair with reinforced leather palms should make excellent sense.
Conclusion
So, what do leather palm gloves protect you from? It is clear that this type of work gloves is made to highlight many good features. It uses leather's protective properties, including abrasion, cut, and heat resistance, while adding flexibility and breathability from other materials.
With extra reinforcement from liners and advanced technology applied to leather, we can expect even better resistance capabilities for our leather palm work gloves.
That said, please know that you should always read the glove's features to know if it meets your current work requirements. Do not assume that leather can protect you from any hazard.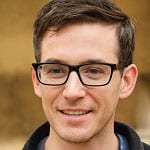 This is Edward Manning, the editor in chief of Construction Informer. Quite a bit of my time is spent researching the market and interviewing experts in the field so that I can give you reliable information.