No matter how good you think you are with your tools, accidents can happen. So, whether you're a hobbyist working on crafts at home or a professional carpenter working on large construction projects, the safety of your hands should be your number one priority.
That is why I went on a search for the best carpenter gloves available on the market. Unlike your typical gloves, carpenter gloves are designed to maximize hand protection without sacrificing flexibility.
To that end, I've listed down a selection of great carpenter gloves that I've tried and liked a lot.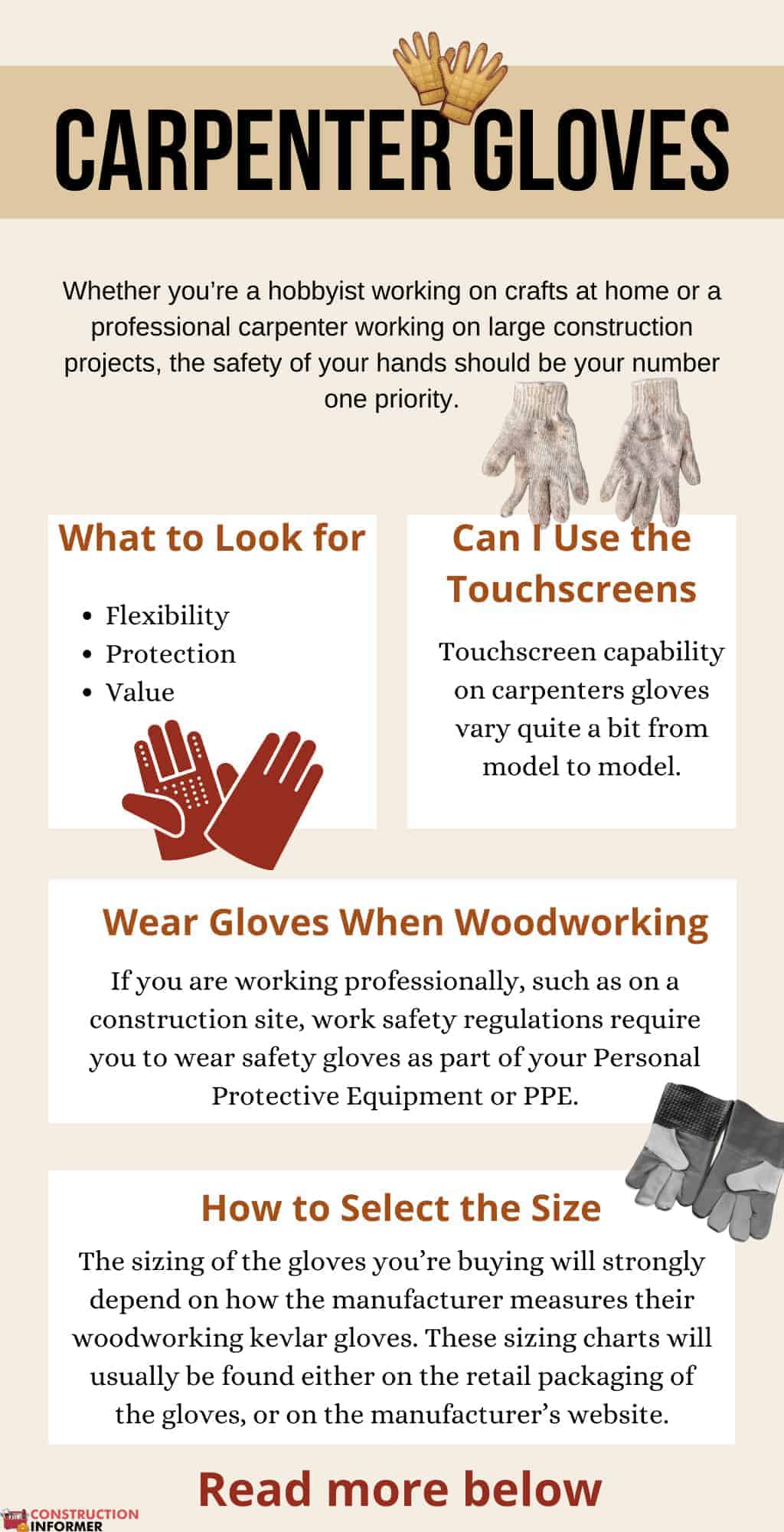 Featured Products
Best Overall
Custom Leathercraft Work Gloves
– Shrink-resistant materials
– Protects against snags
– Insulated inner lining
Editor's Pick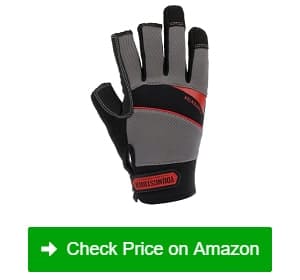 Youngstown Carpenter Plus Gloves
– Three open fingertips
– Reinforcement padding
– Keep the hands cool and dry
Premium Choice
Mechanix Framer Work Gloves
– Protect against scrapes and impacts
– Offer premium fit and feel
– Give unmatched protection
14 Carpenter Gloves Reviews
1. Custom Leathercraft 125M Handyman Work Gloves
For most workers, their conditions are usually dry, sunny, and warm. However, the weather is never constant, and rain and snow can make quick work of gloves that do not suffice. Weather-resistant gloves like the model 125M from Custom Leathercraft are the solution to that problem.
Weather-resistant gloves are special because of their additional specifications. They also have to keep the wearer comfortable in all weather conditions. The insulated inner linings of these gloves should keep the hands warm and dry for maximum comfort, even in cold weather.
These gloves are constructed with a combination of synthetic leather, Lycra, and Spandex. Custom Leathercraft specifically chose these materials because of their resistance to shrinking in wet or cold conditions.
Glove construction usually involves stitching parts of the glove together to form the finished product. However, a lot of the time, these stitches are left exposed, which leaves the glove open to early failure if something catches on the stitching. Concealed stitching throughout these gloves solves that issue, protecting against snags and ensuring long-lasting performance.
Though construction will always be a physical industry, touchscreens are becoming common on the construction site. One will find them on tablets used to visualize building plans and the consoles of heavy equipment. To keep up with these modern developments, three fingertips of these gloves feature a touchscreen-friendly material.
Unfortunately, the fingertip material isn't very durable, and I've had one of the fingertips rub off after several months of frequent abuse.
Pros
Shrink-resistant materials ensure consistent fit
Concealed stitching protects against snags
Insulated inner lining for cold-weather comfort
Three useful touchscreen-friendly fingertips
Cons
Fingertip material can rub off over time
All in all, the Custom Leathercraft 125M is one of the
best carpenter gloves
for winter.
2. Youngstown Carpenter Plus Gloves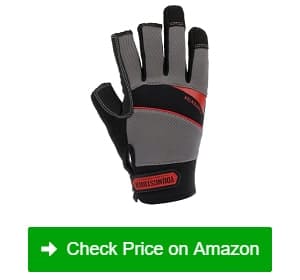 Youngstown Glove Company has been in the business of making industrial-grade gloves since 2002. If anything, this should tell you quite a bit about the quality of these carpenters gloves.
Designed for the modern-day worker, the Carpenter Plus gloves are made with a composite blend of fabrics and synthetics, including nylon, polyurethane, and polyester. This composite construction allows the glove maker to combine comfort and strength in a single glove compared to using a single material and adding more features. And indeed, these gloves do have a lot of features.
The back of the glove is from engineered fabrics that wick moisture away from the hands. This is a handy feature for the type of person who has to deal with sweaty hands regularly. With these gloves, they can keep on working without having to take them off to dry.
Unfortunately, these fabrics prevent the back of the gloves from having a lot of padding. This is important to keep in mind if the job involves heavy lifting.
However, this is not to say that these gloves aren't protective. Reinforcement padding covers the palm of the gloves to protect the wearer from splinters and stray sharp objects. In truth, the thickness of the material should help it last a long time.
Carpentry and woodworking involve handling all sorts of small screws, nails, and bolts, as well as operating drills and other power tools. Typical work gloves will make these tasks a bit harder because their fingertips are thickly padded for extra protection.
But because these gloves are designed with carpenters in mind, their thumb, index, and middle fingertips were left open to ensure maximum control when doing these precision tasks.
Pros
Composite construction combines comfort and strength
Moisture-wicking fabrics keep the hands cool and dry
Reinforcement padding for long-lasting protection
Three open fingertips for maximum control
Cons
Fabric back doesn't protect from impacts
Although they aren't the most protective, the Youngstown Carpenter Plus gloves are a great pair of high-dexterity work.
3. Mechanix M-Pact Framer Work Gloves
The M-Pact line from Mechanix is one of the most popular gloves for heavy-duty protection. It is ideal for people working in construction, oil and gas, heavy industry, etc.
With a wide range of models specially designed for specific industries, workers will have no trouble finding the gloves that fit their needs. This Framer model is one such design, with features that make them one of the best work gloves for carpenters.
The main feature that gives these gloves their impressive protection is what the brand calls M-Pact. It is a set of TPR guards fused into the gloves at key areas: the knuckles and along the lengths of the fingers. TPR is known for being very durable and resilient, giving the glove unmatched protection from most kinds of work hazards.
Now, these TPR guards do add a considerable amount of bulk to the gloves, especially along with the fingers. In my opinion, this makes the fingers feel unwieldy when handling small objects.
To compensate for this, these gloves use a semi-fingerless design. This gives the most used fingers on your hands—the thumbs, index finger, and middle finger—ample dexterity while still keeping the other two fingers fully protected.
While many glove makers are turning to synthetic gloves to make their newer models, there is no doubt that leather is still one of the best materials for high-performance work gloves. A lot of woodworkers I know still swear by leather gloves for their work. That's why Mechanix has equipped these gloves with leather palms to provide that same premium fit and feel.
Although leather seems a bit old-fashioned, that doesn't mean it can't be taken into the modern era. These leather palms have integrated pads that offer additional protection from scrapes and impacts for truly heavy-duty performance.
Pros
M-Pact TPR guards give unmatched protection
Semi-fingerless design for finger dexterity
Leather palms offer premium fit and feel
Palm pads protect against scrapes and impacts
Cons
TPR guards make fingers feel unwieldy
The M-Pact Framer gloves are one of my favorite gloves for carpentry work if I need next-level protection.
4. Ironclad GUG General Utility Work Gloves
This is another example from the Ironclad brand, called the model GUG. Standing for "General Utility Gloves", these work gloves are made for one thing and one thing only: to be the one pair of gloves that you use for just about any job. Given that these are the brand's most popular gloves, it's not hard to see why when you take a closer look.
Unlike most gloves that are designed to work well for specific applications, these gloves don't excel at any job in particular. Instead, they strike an excellent balance between flexibility and protection, which allows the gloves to work fine in most applications without any problems.
The gloves are built out of synthetic leather and engineered fabrics—two popular materials for being fairly low-maintenance. So even when we sweat in these gloves so much that they start to smell, they can be washed will be ready for their next job with ease.
The palms and fingers of the gloves are reinforced with additional synthetic leather panels to help the gloves last longer. While this choice of material is great for general use, synthetic leather is not as grippy as rubber or real leather hide, and I would've liked to see grippier materials used on these gloves instead.
No matter what job you do, hazards are always present and will strike at any time. That's why these gloves are made with quick-release cuffs so you can very quickly remove your gloves in an emergency, potentially saving your hands and your life.
Pros
Great balance of flexibility and protection
Low-maintenance materials for no-fuss cleaning
Reinforced palms and fingers for enhanced durability
Quick-release cuffs for emergencies
Cons
Synthetic leather is not as grippy as other materials
Sometimes carpenters want one pair of gloves that will work well in any situation. The Ironclad GUG is a fine example of the jack-of-all-trades glove.
5. Mechanix M-Pact Coyote Tactical Work Gloves
When it comes to conversations around high-performance work gloves, Mechanix is the brand that almost always crops up. This is no mistake, as many professionals trust their gloves in demanding fields such as motorsports and law enforcement. That's why gloves like the M-Pact Coyote are just as suited in the field as they are on the construction site.
These gloves come with M-Pact thermoplastic rubber guards that are some of the most protective on the market. Mechanix takes things a step further, though, by extending the M-Pact guards to all fingers.
As such, these gloves should offer true full-hand coverage for extreme impact protection. The extended coverage does mean that there are no more exposed fingers on these gloves. This might be a downside as the gloves are a bit bulky for handling tiny items.
Of course, most construction work doesn't need precise finger dexterity anyway as most workers use hand and power tools to get the job done. And these gloves offer features that are very useful for these applications. For one, the index finger uses a special Impact Guard that protects the knuckle while providing excellent flexibility for use with power tools such as drills and nail guns.
The palms of these gloves are also equipped with pads that absorb impacts and vibrations. This is a handy safety feature for construction workers as it can help prevent Hand-Arm Vibration Syndrome or HAVS.
Most gloves with this level of protection can get hot and sweaty during long hours of use. This isn't a problem, though, thanks to the TrekDry mesh used on the back of the gloves. The breathable fabric maximizes airflow to keep our hands cool and comfortable all day.
Pros
Full-hand coverage for extreme impact protection
Impact Guard for easy power tool use
Palm pads absorb impacts and vibrations
TrekDry mesh for breathability and comfort
Cons
A bit bulky for flexibily handling small items
The uncompromising protection of the Mechanix M-Pact Coyote makes them one of the best safety gloves for carpentry.
6. Ironclad FUG Framer Work Gloves
Ironclad is a brand that shows up fairly often in discussions about good construction gloves. This is because of the general design of their gloves, which the brand has been refining and improving over the years. With their emphasis on flexibility without compromising on protection, Ironclad gloves are well-received by workers, particularly in the materials handling industry.
One of the key design features of these gloves is the stretchable fabric that extends along the entire back of the gloves. This gives the gloves the level of flexibility required for the precise actions needed for construction, carpentry, and framing work.
In addition, the fabric was very comfortable to wear, and I had no trouble having them on while working on my projects for long hours.
These gloves also have other worker-friendly features. Integrated into the back of the thumb area is a convenient cloth sweat wipe—a very thoughtful feature that will come in handy during long work sessions.
Furthermore, the cuffs of the gloves use a hybrid system that consists of a secure Velcro loop and a quick-release, making the gloves easy to put on and take off.
Of course, let us not forget the core features of these gloves that make them so great for construction work. As the parts of the hands that do the most work, the palms have to be very well-protected. And Ironclad does not disappoint here, with their Duraclad material covering the entire palm as well as additional reinforcement pads on high-wear areas.
While resilient, though, the reinforcement pads on the gloves are a bit concerning. This is because of the exposed stitching that can be damaged and ripped off easily with a strong cut or scrape.
Pros
Stretchable fabric back for comfort and flexibility
Convenient integrated cloth sweat wipe
Hybrid cuff for easy on and off
Duraclad palm and reinforcements on high-wear areas
Cons
Stitches on reinforcements can rip off easily
Made with the worker in mind, these thoughtfully designed construction gloves will get you through any project.
7. SHOWA Atlas 300 Rubber-Coated Gloves
Light-duty gloves like the Atlas 300 from SHOWA are excellent choices for people who want a truly comfortable pair of work gloves.
What makes light-duty gloves so comfortable to use is in their construction. While the other gloves we've seen use stiffer materials like leather for increased durability, these gloves are made entirely out of cotton and polyester fabric. This blend of soft fabrics gives these gloves top-tier comfort that heavy-duty work gloves cannot achieve.
Another nice thing about the cotton-polyester knit of these gloves is that they can be machine-washed just like a t-shirt. This is very convenient as it means I don't have to take time out to wash these gloves separately.
However, it should be noted that cotton or polyester aren't the most durable fabrics and therefore don't offer much protection against cuts and abrasions.
As we'll see in some of the other examples on this list, the material choices on your gloves can change how they feel on the hands. In the case of these gloves, the use of a thicker 10-gauge knit for the body gives them a puffier feel and, from my experience, much better durability than thinner gloves with the same fabric.
Speaking of material choices, light-duty gloves like these will usually have rubber-coated palms for durability and grip, and different coatings will produce different results. The natural rubber used on these gloves is very versatile and will offer a consistent grip on most surfaces.
Pros
Cotton-polyester blend offers top-tier comfort
Machine-washable for convenience
Thick 10-gauge knit body for improved durability
Natural rubber coating ensures consistent grip
Cons
Fabric has little cut or abrasion protection
Personal protective equipment doesn't have to be uncomfortable, and the SHOWA Atlas 300 is proof of that.
8. Superior Glove Open-Finger Framers Gloves
With so many innovations in materials science and manufacturing techniques, finding the perfect carpenters gloves is becoming a lot more confusing. Modern carpenters gloves now have all sorts of different features that are making it rather challenging to find a pair of gloves among numerous choices.
From my experience, these framers gloves from the Superior Glove Company fit the bill quite nicely. The backs of the gloves are constructed with spandex, a versatile fabric known for its excellent stretching properties. Because it can stretch out along with the movements of our hands, the spandex fabric makes the gloves comfortable and easy to wear.
Sadly, having the spandex back does come at the cost of the gloves lacking proper knuckle guards. One might have to look to more robust options if impact protection is required at the workplace.
These gloves stick to the tried and true design formula used by some of the best woodworking gloves on the market, which opens the first three fingers while keeping the ring and pinky fingers covered. This strikes a great balance between protection and precision, as woodworking jobs often use many small tools and parts.
PVC grip pads are also integrated into the palms of the hands. On top of offering a good grip on most surfaces, PVC is also very durable and should help the gloves last longer overall.
Of course, the most important thing for any good pair of work gloves is the fit. That's why the gloves use hook-and-loop cuffs for a secure fit that works as well on day one as it does on day 1000.
Pros
Spandex back for stretchable comfort
Three open fingers for precision carpenter tasks
PVC grip pads for added durability
Hook & loop cuffs for a secure fit
These framers gloves from the Superior Glove Company are an excellent option for any carpenter that needs a pair that just works.
9. Maxiflex Ultimate Nitrile Work Gloves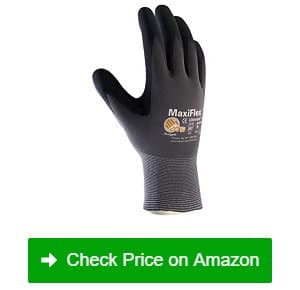 Gloves from the Maxiflex brand are great examples of high-quality construction gloves for light-duty work demands. Designed to provide the best grip and flexibility of any coated cloth gloves on the market, the Ultimate model represents the best that Maxiflex has to offer. And this shows in its many purpose-built features.
Like most other light-duty work gloves, these gloves are coated with nitrile rubber covering the palms and fingertips. Nitrile rubber on its own is already a perfect material to use as a glove coating because of its excellent durability. Compared to other materials such as latex and natural rubber, nitrile rubber is also resistant to chemicals, which gives the wearer just a bit more protection.
On top of these characteristics, the nitrile rubber also helps the gloves grip well on dry, wet, and even oily surfaces. This gives the gloves impressive versatility for use in various working conditions.
What sets the Maxiflex Ultimate apart from other gloves, though, is its unique micro-foam grip. Micro-foam is the name the brand gives to the unique texture of their nitrile rubber coating.
Where other coatings cover the fabric body of the gloves entirely they're applied to, micro-foam instead has lots of very tiny pores that let air through but not water. The result is a unique rubber coating that is breathable but also waterproof.
The fabric base of the gloves is also of high quality. Their tight knitting means they conform well to the shape of the hands for a more secure fit.
Unfortunately, while the fabric protects against scrapes quite well, it isn't designed to protect against cuts; thus, cutting hazards are something to look out for while wearing these gloves.
Pros
Nitrile palm coating for durability and chemical resistance
Grips well on dry, wet, and oily surfaces
Micro-foam technology for breathable, waterproof coating
Tightly-knit fabric for a secure fit
With its versatile grip and incredible comfort, the Maxiflex Ultimate is one of the best light-carpenter gloves available.
10. KAYGO KG15P Polyurethane Work Gloves
What I adore about coated fabric gloves is their wide variety despite their simple design. Depending on the design targets, glove makers can design their gloves with enhanced grip, long-lasting durability, chemical resistance, electrical protection, and more.
These construction gloves from KAYGO are great examples of this specialized design. Targeted mainly towards electronics and automotive work, this model KG15P aims to provide enhanced grip while being as thin as possible. And having used them myself, I can say that these gloves have lived up to those claims.
The fabric body of the gloves is built with a 15-gauge fabric knit. The gauge of a fabric refers to the tightness of textiles – the larger the gauge number, the tighter and thinner the fabric. With this 15-gauge knit, the gloves almost feel like using your bare hands.
Because of this thin fabric, these gloves won't protect you from impacts. However, this shouldn't be too big of an issue as fabric gloves, in general, aren't made to handle heavy-duty hazards anyway.
To improve their durability, the fabric base is knit together seamlessly. By eliminating seams, the glove becomes more tear-resistant because there are fewer weak points on the glove. Building the gloves this way has the added benefit of improving comfort because the wearer's hands won't feel any seams while using them.
The gloves are also coated with a substantial layer of polyurethane. Like nitrile rubber, polyurethane is a reliable, all-purpose grip that will easily hold onto most surfaces.
Even at the end of a long day, these gloves have you covered. You can throw these gloves into the washing machine along with your other clothes and will come out the other end looking good as new.
Pros
15-gauge knit offers an almost bare hand feel
Seamless construction is comfortable and tear-resistant
Polyurethane coating for all-purpose grip
Easy to wash and quick to dry
Cons
Thin fabric can't protect from impacts
The KAYGO KG15P is another great pair carpenters can rely on to work with ultimate safety.
11. SHOWA Atlas 370B Nitrile Glove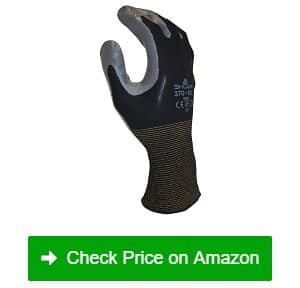 Believe it or not, light-duty work gloves are becoming more popular in the construction and carpentry fields. One reason for this is that, although heavy-duty gloves offer very high performance, they don't offer much in the way of value.
Besides, the simpler construction of these fabric-coated work gloves allows manufacturers to make these gloves in greater numbers at a lower cost.
This means that we can buy multiple pairs of light-duty gloves for the same price as a single high-performance one. The SHOWA Atlas 370B is a great example. These gloves can be purchased in bulk packs of 12 pairs, which offers incredible value.
Now, you might be thinking that these gloves aren't very high quality because they could be bought in bulk. In fact, it's quite the opposite. Each pair of gloves has a nice and thick coating of nitrile rubber, which gives ample protection against scrapes and punctures.
Another feature of these gloves that I appreciate is their knit wrist cuffs. By using a tighter knit on the wrist area, the cuffs fit more tightly on the wrists, improving the fit characteristics while also preventing dust from entering the gloves.
To improve the fit even further, these gloves use a slimmer and more close-fitting sizing. By having the gloves fit closer to the skin, the hands are able to move more naturally without feeling hampered by the gloves' material. However, the slim fit means that you might have to go up a size to get the best fit if your hands are a bit thicker.
Pros
Comes in pack of 12 pairs for incredible value
Nitrile coating protects against scrapes and punctures
Knit wrist cuffs help keep dust out of the gloves
Close-fitting sizing for a more secure fit
Cons
Gloves fit a bit tight for thicker hands
The value proposition of the Atlas 370B work gloves makes them an easy recommendation on a budget.
12. Intra-FIT General Work Gloves
Though some people will see it as a waste, most can agree that premium work gloves add a unique flair to the work experience. This pair of work gloves from Intra-FIT is one of those gloves.
The star of the show on these gloves is, of course, the premium deerskin hide used throughout the glove. Dyed a bright yellow, the deerskin leather makes up the palm and the fingers and reinforcement pads on the knuckles and the saddle of the hands.
While I did like the high-visibility yellow used on the leather, I noticed the color fading away on my pair after a few weeks of work. So this is something to keep in mind.
Instead of the thick and stiff leathers used on high-performance work gloves, these gloves use much softer and more pliable leather, especially throughout the palms. This results in a luxurious, premium fit and comfortable wearing on top of being very durable.
An interesting point about the design is that most of the rest of the gloves use fabrics instead of leather. Having leather on areas such as the back of the hand can be a waste of the material since the backs of the hands don't encounter many hazardous incidents. So instead, the back of the hands areSpandex to make the gloves breathable and quite comfortable.
The side panels of the fingers, too, use engineered fabric instead of leather. This time, the fingers have Lycra fabric panels that give much more flexibility than raw leather could achieve.
Pros
Premium deerskin palm and fingers
Soft leather is comfortable and durable
Spandex back for breathability and comfort
Lycra panels for extra flexibility in the fingers
Cons
Yellow leather dye can wash off
The soft deerskin leather on these gloves makes them one of the most premium-feeling gloves on this list.
13. ATG 34-874 Nitrile Grip Gloves
ATG is one of the leading manufacturers of industrial-grade safety gloves. With years of research and development behind each of their products, it is no surprise that they are trusted by various industries from construction to chemical. The model 34-874 gloves are one of their best models and come with features that make them suited for general-purpose light-duty work.
One of their main qualities is their excellent abrasion resistance, thanks to their high-quality materials. Being light-duty gloves, it's to be expected that they don't have the best cut resistance.
However, for carpenters and woodworkers, abrasion resistance is much more important as these jobs involve a lot of contact with building materials, hand tools, power tools, and other objects for extended periods. These gloves should do a great job of protecting the hands from these scraping hazards.
The palms and fingers of the gloves are coated with a layer of nitrile rubber. The material is widely used in these kinds of gloves because of their ability to repel oils and chemicals. This is in addition to nitrile rubber's excellent abrasion resistance and good all-purpose grip.
Unique to these gloves is the way that the rubber coating is applied to the gloves. Most fabric-coated gloves are dipped in rubber while in its liquid form, then let to dry and cure. And for most gloves, the rubber coating tends to soak into the fabric and take up the inner lining.
ATG has circumvented this problem by applying the coating only on the outer surface, preventing excess penetration and retaining the fabric feel of the liner for maximum comfort.
The fabric used on these gloves is breathable nylon knit. This was chosen mainly because it is less prone to fraying compared to other fabrics, which in turn prevents tearing and increases durability.
Pros
Excellent abrasion resistance
Nitrile coating repels oils and chemicals
Minimal coating penetration for maximum comfort
Breathable nylon knit prevents fraying
With their well-balanced feature set, these work safety gloves will keep your hands in shape to get the job done.
14. HANDLANDY Framer Work Gloves
With so many carpenter work gloves on the market following more or less the same designs, glove makers are now turning to the little details to stand out. That is why I like these carpenters gloves from HANDLADY, as it has a lot of small details in their design that makes a big difference compared to other gloves on the market.
These gloves still follow the tried and true semi-fingerless design for framers gloves. These gloves expose the thumb, index, and middle fingers to allow the wearers to use their fingers for high-precision tasks such as using touchscreens and operating small tools.
One detail of these gloves that I like is the design of their wrist cuffs. Instead of the typical cuff going straight across the wrist, these gloves have a U-shaped cutout that allows the wearer to put on a watch. As someone who would never leave the house without a watch, I find this very convenient.
Another nice detail of these gloves is that they are constructed with large, neon green panels. This makes the gloves compliant with high-visibility equipment standards and will help keep you safe on the job as other workers will be able to see you.
I appreciate the foam palm padding on these gloves as well. Unlike the thinner pads on other gloves that are mainly there for reinforcement, the foam padding on these
gloves is designed to absorb vibrations
. This is a handy safety feature, especially for workers who use power tools often.
Pros
Touchscreen and tool-friendly open fingertips
U-shaped wrist cuff for wearing with watches
High-visibility panels for safety on the job
Foam palm padding absorbs vibrations
Cons
Thick palm padding can restrict the palms
These gloves set themselves apart from the rest with convenient little details made with the worker in mind.
What to Look for When Buying Carpenter Gloves?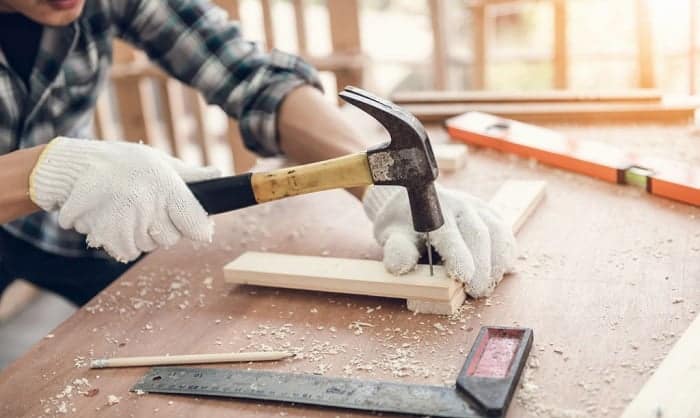 The best carpenter gloves come in all shapes and sizes, from light-duty gloves for comfort and flexibility to heavy-duty gloves that provide top-of-the-line protection. Depending on your workload, the best framing gloves for you will usually be different from others. With that in mind, here are a few of the things you should look out for when looking for the best gloves for woodworking:
Flexibility: Carpentry work usually involves a lot of precision. After all, good workmanship requires accurate measurements, and accurate measurements require accurate hand movements. Having carpenters gloves with good flexibility will allow your fingers and hands to move as freely as if you weren't wearing gloves at all while still giving you the protection you need.
Protection: As a core part of a worker's personal protective equipment, work gloves should offer the best protection for the worker's specific workload. This means that you don't necessarily need heavy-duty gloves if your job involves handling small tools and doing high-precision work.
As a worker, it is very important to consider the most common hazards of the work you are doing and look for gloves specifically designed to protect against those hazards.
Value: Of course, it is also crucial to consider the value proposition of the gloves you are looking to buy. It is usually not a good idea to spend money on features that you don't need.
Following this logic, we should also consider how long you expect a pair of gloves to last and how much each pair of gloves costs. Like some of the gloves, I recommended in this list, buying cheaper pairs in bulk can often result in better value than buying just one or two heavy-duty gloves.
Should You Wear Gloves When Woodworking?
Absolutely. If you are working professionally, such as on a construction site, work safety regulations require you to wear safety gloves as part of your Personal Protective Equipment or PPE.
But even if you only do woodworking as a personal hobby, it is better to wear some form of hand protection anyway—yes, even the really cheap gloves from Home Depot or B&Q, the equivalent hardware supply store in the UK.
The reason for this is that, even if you might not be exposed to any major hazards, you will still encounter the odd splinter or loose nail sticking out of the wood you are working on. As the saying goes, it's better to be safe than sorry, and for that reason, I would still recommend that you wear gloves to prevent splinters.
How Do I Select the Size of the Gloves?
The sizing of the gloves you're buying will strongly depend on how the manufacturer measures their woodworking kevlar gloves. These sizing charts will usually be found either on the retail packaging of the gloves, or on the manufacturer's website. Most glove makers use two ways to determine sizing for their gloves.
The first method is with the width of the palm. Simply measure straight across the palm without including the thumb, which should correspond to one of the sizes on their chart.
The other method measures the length of your hand instead, starting from the base of the wrist and ending at the tip of the middle finger. Some glove makers will use this method to help provide a more exact fit.
Will I Be Able to Use Touchscreens or Smart Devices with These Gloves?
Touchscreen capability on carpenters gloves vary quite a bit from model to model. Many of the models on this list are fingerless work gloves that let you touch and hold things with your bare fingers.
Meanwhile, other gloves, especially winter gloves for carpenters, can't leave the fingers exposed because they're designed for cold weather. So for fully-closed types of gloves, they will instead be equipped with touchscreen-friendly fingertips that react to the capacitive touchscreens on phones and enable workers to use their touch screens even with their gloves on.
Conclusion
It's becoming quite hard to buy work gloves for carpenters nowadays. With all sorts of features, technologies, and fancy jargon, it can be overwhelming for the typical buyer to find a pair of gloves that is right for the job. This list of the best carpenter gloves will have hopefully shown you some of the possibilities these work gloves have to offer.
Hi, I am Alexander, forty-seven years old this year. I have been in the construction industry for twenty-five years and have provided a wide range of services. When it comes to expert guidance on site safety gear, you can put your trust in me.