Work in cosmetic surgery doctors, tattoo artists, workshop operators, and many more duties require the use of laser lights. And we all know how hazardous the beams' impact on our eyes. In truth, direct exposure to its radiation can cause lens, retina, and cornea pain and damages. So, we must have good, if not the best laser safety glasses.
But choosing a pair might not be the most straightforward task due to various factors to consider. To lessen the confusion for first-time buyers, here're three most important criteria to pay attention to:
Certifications – We need to check if the pair meets the necessary standards for laser eyewear. In this case, there are EN207: 1998, A1EN207: 1998, and A1: 2002. Also, goggles that are certified by CE are qualified pieces for use. These certifications will show us that our chosen pieces' protecting capability is reliable.
Laser wavelength – It is critical to know which laser wavelength we are dealing with every day in order to choose an eyewear that suffices the requirements. On the laser devices at work, there will be specifications that indicate this figure. Often, a standard piece will cover a spectrum from 275 nm to 530 nm, 200nm to 2000 nm, or 9000nm to 11000nm for Co2 lasers.
Visible light transmittance – This factor is crucial as it shows the percentages of visible lights allowed through the filter lenses. It will decide the glass's colors and lens thickness. If you opt for clear glasses, VLT should be 75% – 92%; if you choose colored lenses, VLT should be between 14% and 85%.
Other than these specifications, there are some more features to consider, elaborated on in the buying guide below. Before that, let's dig in to see the highly recommended laser pairs used by many.
Featured Products
Best Overall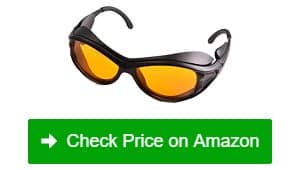 FreeMascot Laser Safety Glasses
– Filters blue and violet lasers
– High-quality polycarbonate lenses
– EN207 and A1EN207 certifications
Editor's Pick
ANZESER Laser Safety Glasses
– Lightweight plastic frame
– An ergonomic design
– An affordable and long-lasting pair
Premium Choice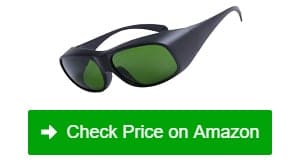 LaserPair Safety Glasses
– CE-certified laser safety goggles
– Blocks ultraviolet rays
– Lightweight and comfortable
Best Laser Safety Glasses Reviews 
1. FreeMascot Professional Laser Safety Glasses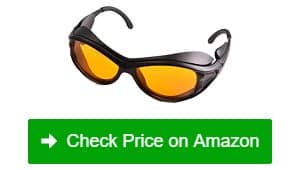 The first certified entry that impresses us is the FreeMascot Professional Laser Safety Glasses. This pair offers sufficient filters most workers need in a hazardous environment.
As expected, FreeMascot uses high-quality polycarbonate to construct eyewear lenses. The brand's polycarbonate glasses line amazes me with their advanced coatings, and this professional type is my favorite. It can correspond to the wavelength from 190 nm to 490 nm.
Regarding other specifications of the filter lenses, their VTT (visible light transmittance) is rated 55%, and their optical density is 6+ Diopters. These details determine the thickness and ability to filter laser beams with different wavelengths, from 275 nm to 450 nm.
Notably, its power is not limited to blue and violet lasers, as this model can filter UV light while ensuring little color distortion. This is what I desire when looking for a good pair of protective glasses for me to handle detailed work in various conditions.
Another vital thing that convinces me about the reliable functions of this model is its EN207 and A1EN207 certifications. They prove how the glasses meet the standard for laser protective eyewear, allowing use in hazardous tasks.
With all the excellent functions, this pair of safety glasses for lasers can cost us a little more than usual.
Pros
High-quality polycarbonate lenses for advanced filter coatings
Corresponds to the wavelength from 190 nm to 490 nm
A function pair with a VTT of 55% and 6+ Diopters
Filters blue and violet lasers and UV lights
Meets EN207 and A1EN207 certifications for laser eyewear
This purchase is a worthwhile investment for me, as I have a superb companion that prevents ocular injuries due to the danger of laser lights.
2. ANZESER Laser Safety Glasses
Another good pair to protect our eyes while operating the laser machine is the ANZESER Laser Safety Glasses. After months working with this piece, I can attest to its good fit and clear view.
Starting with the pair's protective function, it suffices versatile use in different situations. Some workers have them in medical applications to treat patients with light therapy. Notably, the glasses can handle harsh military and industrial duties with a VLT of 90%.
I appreciate the good fit this laser eyewear brings right off the bat. Its plastic frame feels lightweight, helping me to get used to the sensation quickly. Also, its ergonomic structure allows wearers to keep the glasses on for hours on end without fatigue.
Yet, the best thing about these safety specs must be excellent visibility. Such a great function is the combination of high optical density and extended lenses. Thus, it can ensure great peripheral viewing, making me aware of my work surroundings.
Anyone with a limited budget to spend on their first pair of laser safety glasses should consider this model. It is a cost-effective option due to the reasonable price and long-lasting use even with scratches.
The only gripe I have with the pair is its limited function in low-light conditions. So, for work that operates in the dark, these glasses will not be the best pick.
Pros
Has a VLT of 90%, ideal for various duties: medical, industrial, military, …
Offers a good fit with a lightweight plastic frame
An ergonomic design for comfortable wear-all-day
Excellent visibility with high optical density and extended lenses
An affordable and long-lasting pair
Cons
Not perfect for working in low-light conditions
Overall, this is an affordable pair of laser proof glasses police use offering a great help with various tasks while making wearers comfortable all the time.
3. LaserPair 200-1400nm IPL Safety Glasses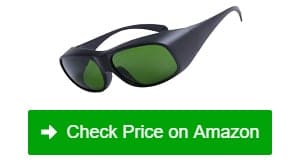 The LaserPair 200-1400nm IPL Safety Glasses get a nearly perfect rating from me for their overall functions and design. This green lens model is among my favorite low-profile pairs for laser work.
Before purchase, I checked out the pair's protection standards to find out it is a CE certified laser safety glasses. With such an approval, I am confident to handle work with laser lights while putting the glasses on. Hence, it is an ideal pick for laser technicians who want a decent quality tool to keep their eyes safe.
Its specifications are listed clearly on the manuals attached in the package. The pair supports a VLT of 10% for the wavelength from 200 nm to 1400 nm. It does not feature high diopters (only at 1.5), so people with good eyesight can utilize the pair without a headache.
What amazes me about the glasses must be their capability to block UV lights. I do not expect these absorption protection specs to perform this well under glaring sun rays. I clearly had the wrong impression, but lucky enough to enjoy sufficient protection against Ultraviolet rays.
Considering the UV coating and its impressive laser absorption, this pair proves to be wide-ranging protection eyewear. Not to mention, it is very comfy, more than expected, with a lightweight structure.
In truth, it is a breeze for these glasses to fit over prescription specs. But, this can count as a downside for users with small faces because it might be bigger than expected.
Pros
A CE certified laser safety goggles
Quality tool for a laser technician
Supports a VLT of 10% for the wavelength from 200 nm to 1400 nm
Features 1.5 Diopters for people with good eyesight
Blocks ultraviolet rays with the UV coating
Lightweight and comfortable to put on
Cons
Might not fit on small faces
All in all, my experiences with this pair of laser glasses have been superb. It delivers all functions well, keeping me safe from exposure to laser lights.
4. FreeMascot Red Laser Safety Glasses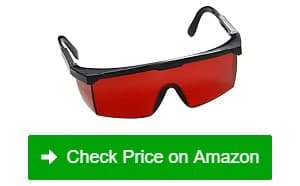 FreeMascot indeed has many good protective pairs in their collection. And the Red Laser Safety Glasses caught my attention with high diopters and glass lenses.
First of all, approval from essential regulations should be a factor for us to consider purchasing personal protective gear. Following such a guide, workers can experience reliable shielding from this EN207, A1EN207 and A1 certified laser pair.
Also, as astigmatism is a common condition for many people, these 4+ OD lenses can be of excellent help. In my case, the safety glasses allow me to see clearly for better performance for up-close tasks.
Other attributes of this laser eyewear that make it a sufficient pair for laser blocking are the VLT of 30% for the wavelength range from 190 nm to 550 nm. I often operate laser lights at 550 nm, so this device is a good companion.
Of course, I adore this whole piece's design with its red glass lenses and black arms. The colors add a fashionable touch to my pretty boring working uniform. Besides, the brand packs a protective case and a cleaning cloth with the goggles, ensuring convenient storage and maintenance.
The only minor downside for this pair is that its pretty dark lens shade will not be ideal for tattooing in the dark.
Pros
Meets EN207, A1EN207, and A1 certifications for laser protection
Corrects eye condition with 4+ OD lenses
Supports VLT of 30% for the wavelength range from 190 nm to 550 nm
A stylish glasses with red glass lenses and black arms
Comes with a case and a cleaning cloth for convenient use
Cons
The dark lenses might not be great for tattooing in the dark
It is tricky to find a pair that boasts a nice look yet functions flawlessly in filtering laser light and correcting our vision.
5. Sunshine-Electronics Laser Protection Goggles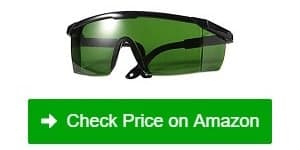 My partner has a Neatcell Picosecond laser pen for her work, and she tried to look for good protective eyewear. At last, she settled for the Sunshine-Electronics Laser Protection Goggles recommended by a colleague.
Among the pairs I know, this one stands out as having the broadest range of wavelengths. In detail, it filters out laser light at 200 nm to 2000nm, offering versatile applications for users. So, she can use it on IPL devices, too, which is a huge bonus for salon or spa owners.
The piece's absorbing capability shows in its features, such as the VLT of above 55%. In truth, it can filter out 80% blue light and 40% red and green light. Also, this pair comes with an optical density of +4, allowing workers to have better visibility while handling tasks with details.
Due to such all-around functions, the glasses are of good use for 3D printers, too.
Yet, one thing that makes my partner decide to stick with this pair is its ultimate comfort. The well-fitted glasses embrace snugly on her nose and ears, causing no fatigue even after hours of wear. Plus, anyone looking for low-cost protective eyewear should consider this Sunshine-Electronics model.
However, for this price range, the glasses are not the most durable gear in the market. That means we need to take care of it after work to avoid cracking or scratching its lenses.
Pros
Filters laser lights with wavelength ranging from 200 nm to 2000nm
Versatile eyewear for use on IPL devices and 3D printers, etc
Features a VLT of 55% and an optical density of +4
Offers optimal comfort with a snug fit
An affordable option for laser blocking eyewear
Cons
Requires care to avoid scratching and cracking
Overall, my partner finds this pair working well for her projects. The great price and protective functions make the glasses a superb buy.
6. JILERWEAR Professional Laser Safety Glasses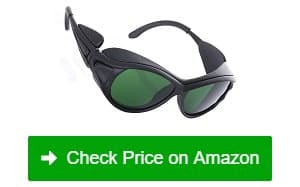 The JILERWEAR Professional Laser Safety Glasses are a must-have item for work utilizing laser lights. People who use blue 405 nm devices can rely on this gear to keep them safe and concentrated.
Let's see the certifications the piece has first to give us peace of mind when wearing it for intense duties. As expected, the high-quality goggles are approved by EN207, A1EN207, and A1 for safety functions. Hence, the piece will do a great job in civil, industrial, and commercial applications.
For the record, this one features a wide range of protection, shielding users from 200m -1200nm laser light. Such an impressive filtration allows it to be used in beauty fields, reducing the exposure to lasers from freckle and hair removal devices. Also, many workers wear the pair to perform electric welding.
The power of this laser eye protection model is also in its VLT of 60%, UV coating, and 360-degree coverage. The goggles come with large side temples that block harmful lights from all angels.
It's not a good pair of work specs if it's not comfortable enough for long-hour wear. Luckily, this model comes with comfortable nose pads and no-odor rubber, promoting no distraction while performing tasks.
However, it would be perfect if the brand packs instructions on size adjusting in case the pair is a bit larger or smaller for some people.
Pros
A certified laser eyewear with EN207, A1EN207, and A1 standards
Shields us from 200m -1200nm laser lights
Ideal for freckle, hair removal devices, electric welding, etc
Multiple functions: VLT of 60%, UV coating, and 360-degree coverage
Comfortable pair with comfortable nose pads and no-odor rubber
Cons
No size adjusting instruction
Excellent protection against different hazardous lights, from laser to ultraviolet beams, this eyewear is a nearly perfect pick for numerous work.
7. FreeMascot Store IPL Laser Safety Glasses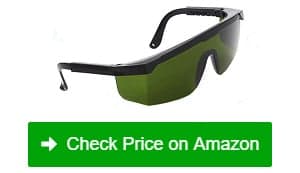 At this point, it is no exaggeration to say FreeMascot produces many quality gears that I love to use. This time, the IPL Laser Safety Glasses make it to this highly recommended list for a cool look and reliable protection.
A good look should not be our priority when picking a safety gear, but at first glance, this one's cool appearance had my full attention. The wide green lenses that cover my eyes entirely with the durable blue frames make this one a nice companion.
Best of all, its compatible wavelength is on a long spectrum, from 200 nm to 2000 nm. Due to this board range, the pair filters out infrared laser beams well for our heavy duties. Also, outdoor work is safe with its UV-protection attribute. And, our eyes are also shielded from blue and red lights.
Here're the suitable specifications that get me hooked on the pair: 15% VLT and 4+ Diopters. They are precisely what I need for both day and night work. Besides, all these features are approved by EN207, A1EN207, and A1, so no worry about my eyes hurting in hazardous scenarios.
I always love how FreeMascot lives up to its reputation with good service. The addition of cleaning cloth and eyewear case is such a nice touch, sparing me the effort to buy them separately.
Although the pair is pretty large, it does not allow us to fit prescription specs underneath. So, for anyone looking for an OTG model, this one is not it.
Pros
Boasts a cool look with wide green lenses and durable blue frames
A long spectrum of wavelength: 200 nm to 2000 nm
Ideal for blocking UV lights, laser lights, blue, red beams
Features 15% VLT and 4+ Diopters
Has laser safety eyewear approval from EN207, A1EN207, and A1
Good customer service: case and cleaning cloth included
Cons
Does not fit prescription specs underneath
The bottom line is, I adore this good-looking and protective eyewear with a broad spectrum of wavelength compatibility. It is suitable for many duties, other than my usual work.
8. Yanuo IPL Laser Protection Goggles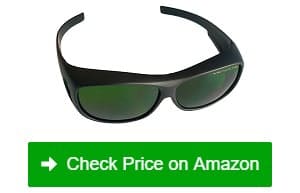 Another green-tinted pair that I have tested is the Yanuo IPL Laser Protection Goggles. It covers an entire spectrum of visibility lights, amazing me with its unparalleled protection so far.
My verdict on its compatibility with 650 nm lasers is superb. Even lights with 10000 milliwatts do not cause fatigue or hurt my eyes the slightest, so I trust the pair with all my tasks. In fact, its covering wavelength ranges from 200 nm to 2000 nm, showing great versatility in use.
Other than the efficient infrared laser light protection, this one works to absorb UV, blue, and red beams for minimal impact on our eyes. Due to the pair, we can carry on work in hair removal, whitening, or skin rejuvenation with utmost ease. Also, its optical density reaches 5+, promoting a high level of visibility.
Furthermore, this CE-certified laser light is made of thermoplastic polyurethane, ensuring a strong frame for heavy work. Also, the polycarbonate hardened lenses promote clarity and durability for a long time. In my opinion, the whole design is comfortable to wear for hours on end.
Still, this sturdy pair is somewhat bulky, as it does not come with a slim arm design. With that said, it functions well as a protective pair despite the low-profile look.
Pros
Compatible with laser lights ranging from 200 nm to 2000 nm
CE certified pair, efficient in blocking infrared laser light
Works with UV, blue, and red beams for minimal exposure
Ideal for hair removal, whitening, or skin rejuvenation devices
Optical density reaches 5+ for great visibility
A sturdy and comfortable piece made
Cons
Not the slimmest and most stylish pair
All in all, I never once regret investing in this air of high laser level safety glasses. Its wavelength protecting spectrum alone is convincing enough for me to settle for the pair while performing hazardous work.
9. LaserPair CO2 Laser Safety Glasses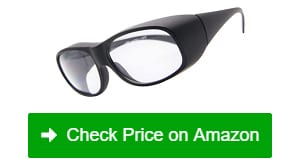 Many workers are seeking an ideal protective pair to work with their CO2 lasers. I have a 10600nm one for my own, and the LaserPair CO2 Laser Safety Glasses have been beneficial.
Starting with its protective attributes, the pair covers a range of wavelengths from 9000 nm to 11000 nm. In this spectrum, its visible light transmittance rate is 90%. Also, anyone looking for a high diopter pair can consider this model since it supports excellent clarity with 6+O.D.
As stated before, these goggles do an excellent job of filtering harmful lights from a 10600nm laser device. The ones that benefit from this pair the most are the cosmetic surgery doctors. They can rely on its functions to handle skin resurfacing and fractional treatment using lasers.
Another perk that is worth mentioning is the well-fitted design. These glasses come with a snug fit, including the curving front and wrapping temples. I enjoy comfortable wear, especially for long-hour shifts.
One more important thing about this quality pair is its certification for laser safety gear: the CE certification. Due to such reliable approval, I decided to purchase it and utilized it till now.
However, some people might be back and forth with their purchasing decision due to its rather bulky look. If anyone asks me about this downside, I would say it's not a big deal for me.
Pros
Features visible light transmittance rate is 90% for 9000nm to 11000 nm lights
Supports excellent clarity at 6+diopters
Filters harmful lights from 10600nm laser device
Ideal for cosmetic surgery: skin resurfacing and fractional treatment
Boats a snug and comfortable wear
CE approved laser safety eyewear
Cons
A rather bulky-looking pair
Overall, this well-made piece got me covered for all of my work with CO2 Laser. Anyone who handles such a device should try this one out.
10. Karono Carlany IPL Safety Glasses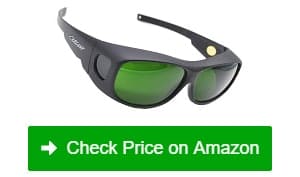 It is tricky to stumble on a pair that excels at blocking both infrared LED lights and Ultraviolet radiation. But fortunately, I got to try the Karono Carlany IPL Safety Glasses thanks to my friend's suggestion.
This one is a highly rated pair by tattoo artists due to its compatibility with IPL devices. Like many quality laser glasses in my list, this one's multiple functions can support tasks in cosmetic procedures well. It is among the ideal protective gears when it comes to teeth whitening or skin tanning.
Digging into its construction, the piece features thermoplastic polyurethane arms and high-quality polycarbonate lenses. Such a solid construction ensures long-lasting use despite the abuse. Also, I never feel irritated or suffocated when putting the pair on, thanks to its ventilated and flexible design.
One highlight of the glasses must be its large wrapping temples that block flying objects and hazardous splashes from all angles. The model is also big enough to cover my prescription glasses.
Plus, it does a good job of filtering out UV lights with its UV400 protection feature. That's why it is the best goggles on my list for outdoor work.
However, the lenses might pop out of the glasses if not handled with care. We should not put the glasses underneath many heavy things.
Pros
Compatible with IPL devices, thus ideal for tattoos and cosmetic procedures
A solid thermoplastic polyurethane arms and polycarbonate lenses
A ventilated, flexible and comfortable design
Blocking the dies from flying objects and hazardous splashes
Big enough to cover a prescription pair
Filters UV lights for outdoor work
Cons
Lenses might pop out if not handled gently
I always go for this pair when any outdoor work comes up, and I want to shield my eyes from UV and infrared light exposure.
11. JILERWEAR Professional Laser Protective Glasses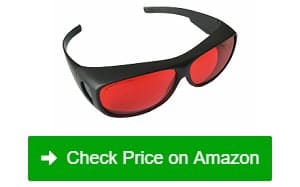 With an efficient rate of UV light blocking as high as 99%, the JILERWEAR Professional Laser Protective Glasses can filter out different hazardous lights.
I would say this one is a professional gear that does not disappoint regarding the protection functions. For instance, it is designed to keep laser lights at a wavelength of 190 nm to 540 nm from attacking our eyes. So, we are safe from commonly-used laser lights at 405 or 445 nm.
The wide range of protection allows the pair to shield against ultraviolet lights (UV radiation), blue and green lights. Hence, the glasses are ideal for applications like freckle and hair removal laser devices, workshop duties, etc.
As I said above, certifications are of utmost importance when picking safety gear for eyes. And this one meets all the critical standards that a laser pair has to, including EN207, A1EN207, and A1. With that, I go to work and handle tasks with confidence and peace of mind about my safety.
The brand is responsive when it comes to taking care of its customers' requirements. They go out of their way to offer 24-hour help when we purchase the wrong wavelength or any issue coming up.
However, it will be a tight pair for people with large faces and ears. Since its small size might not fit them well.
Pros
Blocks 90% UV radiation for outdoor tasks
Shield eyes against laser lights at a wavelength of 190 nm to 540 nm
Filter blue, green and laser lights
Suitable for freckle and hair removal laser devices, workshop duties, etc
Meets EN207, A1EN207, and A1 standards for laser eyewear
Cons
Not ideal for people with large faces and ears
Despite the lack of suitable sizing for some people, this pair screams excellent and reliable protection.
What to Look for When Buying Laser Safety Glasses?
When looking for the best laser safety glasses, we must look for three factors mentioned above: certifications, compatible wavelength, and visible light transmittance (VLT).
The tasks we do, which can be cosmetic surgery, tattooing, or operating workshops, are important when making our decision. For people that are confused about their first-time purchase, just check out reliable brands such as LaserPair, Yanuo, or the collection of 3M laser safety glasses, and more.
In the process, we should pay attention to the lens diopters. It is the specification that shows the optical power of the lenses, meaning to rectify our vision. If your eyes are weak for far or near sight, pay attention to the +/- sign.
Furthermore, protective features that cover a wide range of beams are essential. If you want to perform under sun rays, go for a pair that can block Ultraviolet lights. I often go for UV400 coating, which is a high level of blocking a pair can get.
When you handle tasks in hazardous environments with blue, red, or green lights, make sure your pair can filter them out with high efficiency. Hence, goggles with a wavelength of 200 nm to 2200nm can cover an entire spectrum of visibility lights.
Also, comfort and a good fit should be among the things that convince us to settle with a pair of diode laser safety glasses. Protection qualification is important, but will we be able to put them on for long without feeling suffocated and irritated? With that, make sure the pair has soft nose pieces, ventilated arms, and maybe adjustable temples.
How Do You Protect Your Eyes from a Laser Pointer?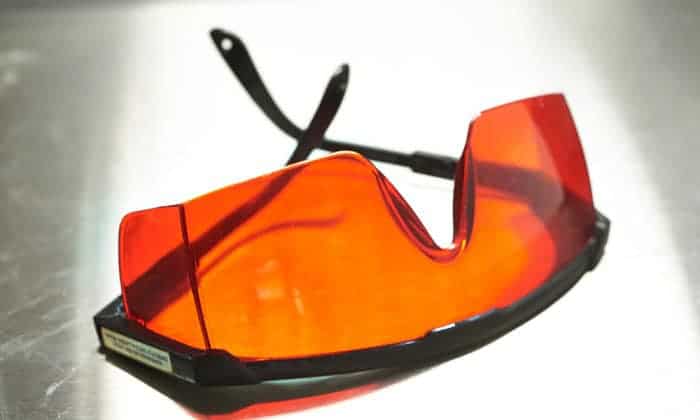 Laser pointer hazards are many, as they can cause severe eye injury. So, to protect yourselves while handling a pointer, make sure you are geared with safety glasses that can filter the dangerous lights. You can put on the ABG piece with green lenses to identify the beam spot and use it at night.
ARG glasses will reduce the impact of blue and green laser pointers. Meanwhile, BGR lenses can keep your eyes safe from blue, green, and even led lasers. It's your call.
What are Laser Safety Glasses Made of?
Lenses – The laser safety eyewear lenses are often made of glasses to avoid scratches and support a higher optical density level. They can also be constructed out of polycarbonate – a popular material for durable eyewear lenses. Both options are good, depending on its extra protection features.
Frames – The choices for eyewear frames are multiple, including plastic, polycarbonate, or thermoplastic polyurethane. These frames are lightweight and rugged, but thermoplastic polyurethane is a bit more flexible. It is important that you go for one offering long-lasting use and optional comfort.
Which Wavelength of Safety Glasses Offers Protection for a KTP Laser?
A KTP laser is a solid-state device producing a green light beam. For a KTP laser, please consider a wavelength from 190 nm to 532 nm. This spectrum will effectively protect your eyes from this type of laser device.
Will Polarized Sunglasses Block Lasers?
No, it will not. Please choose the glasses with the proper laser protection function. And by that, I mean there should be specifications that show the wavelength, diopters, VLT, and more. Do not rely on any type of polarized sunglasses to block lasers for your eyes.
Conclusion
Hopefully, as this guide comes to an end, you have enough information needed to buy the best laser safety glasses. It is important that we go to work with sufficient gear that minimizes all dangers presented there. Also, make sure you take good care of the pair so it can protect you for a long time.
Do not hesitate to reach out to us if you have any concerns!
Hi, I am Alexander, forty-seven years old this year. I have been in the construction industry for twenty-five years and have provided a wide range of services. When it comes to expert guidance on site safety gear, you can put your trust in me.