Various tools are required for drywall tasks, including measuring, cutting, fitting panels, coating, and the list goes on. To carry such a massive load of hand tools and fasteners, we need a reliable system of a belt and pouches. But how can we choose one that meets our needs among the myriad of products out there?
There is no definite answer to this, as the best drywall tool belt should cater to our work and specific needs. But, to narrow down our choices, there are some critical features to pay attention to:
Measurements: A suitable sheetrock tool belt should meet our requirements about waist size, storage space, and the number of holders. We should take a look at our tool assortment and our sizing first before deciding.
Durability: We should not let our investment go to waste after some months. A rigorous working environment requires durable pieces made of quality leather, Duratek nylon, or polyester fabric. Make sure to find ones with reinforced rivets and reliable stitching.
Design and price: If you look for a tool belt with removable pouches, expect to spend more than usual for its comfort and functionality. If you only need a pouch, make sure it is compatible with your existing tool belt. Besides, a simple bag should not cost much.
Moreover, the complication of our tasks is among the main factors to determine a good tool belt option. We will discuss the details of this point and more in the buying guide below. But, first of all, let's see the most recommended products used by drywall construction workers. Read on.
Featured Products
Best Overall
OX Tools OX-P263804
– 22 spacious and well-arranged holders
– Comfortable and adjustable
– Rugged and nice-looking
Editor's Pick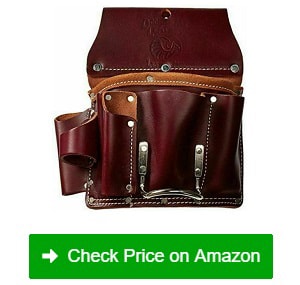 Occidental Leather 5070
– Dimension of 12 x 10 x 4 inches
– Lightweight 1.4 lbs
– Withstand sagging and tearing
Premium Choice
Gatorback B145 Carpenters Belt
– Durable 1250D nylon construction
– Added foam backing
– Box-shape design for no sagging
Top 7 Drywall Tool Belt Reviews
1. OX Tools Outback Leather Drywaller's Rig OX-P263804
Drywall finishers will appreciate this well-made and ample Outback Leather Drywaller's Rig from OX Tools. At first look, we can notice that the whole piece boasts high quality for rigorous use.
What caught my attention is the rugged-looking design. Upon closer and thorough checking, I found out about its construction of oil-tanned top-grain leather. It explains the nice appearance and durability of this piece.
Furthermore, the model is reinforced with contract stitches to resist cuts and tear when accommodating sharp tools. And, drywall construction workers can rely on its pouches to carry heavy gear with the strong riveted layout. In other words, the bags will not give in to frequent use any time soon.
Yet, the best thing about this tool belt must be its spacious and well-arranged holders. There are 22 pockets in total, holding hand tools and fasteners neatly for easy packing and retrieving. Notably, it comes with a pocket to keep a jab saw, which is a must-have tool to cut through drywall.
Also, the tool belt is fully adjustable and comfortable enough for workers to carry pouches full of tools without hurting their hips. It is 3 inches wide, fitting a 29 to a 37-inch waist.
Although its width is of standard sizing, with the belt's length, people with a large build will have difficulty putting on the belt, especially when wearing thick winter clothes.
Pros
Rugged and nice-looking tool belt made of oil-tanned top-grain leather
Features contract stitches to resist cuts and tear
Can carry heavy gear with its strong riveted pouches
22 spacious and well-arranged holders for hand tools and fasteners
Has a pocket to keep a jab saw for drywall tasks
Comfortable and adjustable tool belt at 3 inches wide
Cons
Maximum 37-inch waist size makes it hard for people with a large build to fit
Overall, as long as this tool belt can fit us well, there is no reason to look at other pieces. It delivers the storage space and durability that every drywall construction worker needs.
2. Occidental Leather 5070 Pro Drywall Pouch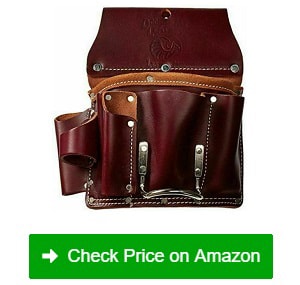 Occidental Leather is a familiar name in the industry, as the brand is responsible for a large collection of high-quality tool belts, bags, and other work gear. For drywall construction workers, the 5070 Pro Drywall Pouch must be among their go-to products.
The brown and tan leather color is a signature professional look that belongs to Occidental Leather. The quality of this design's materials is top-notch, resulting in years of use without sagging and tearing.
This piece's dimension is 12 inches long, 10 inches wide, and 4 inches high. It is a rather compact bag with multiple holders for specific hand tools. For instance, we can pack metal snips, jab saws, utility knives, and a circle cutter inside its compartments. A quick checking will reveal the positions of all tools, so retrieval is effortless.
As an incredible organizer, it suits the use of professional drywall workers and lathers. There is actually no limit to how this bag is used, as long as we can stack our essential tools into its designated space.
Also, this professional pouch will go well with a standard tool belt, not necessarily a model from Occidental Leather. According to users, the piece is surprisingly lightweight at only 1.4 lbs, considering its high-quality leather fabric.
Pros
Professional-looking brown and tan leather design
Durable to withstand sagging and tearing
Ideal dimension of 12 x 10 x 4 inches for multiple specific hand tools
Packs metal snips, jab saw, utility knives, and a circle cutter for quick retrieval
Good organizer for professional drywall workers and lathers
Lightweight 1.4 lbs, compatible with various tool belts
Cons
No version of the same model for left-handed workers
Considering this model's top-quality leather and functional holders, it is a good drywall tool pouch for workers.
3. Gatorback B145 Carpenters Belt
The Gatorback B145 tool belt is initially designed for carpenters. But with such a well-made structure and roomy storage, it will be of excellent use for drywall finishers.
The use of 1250D nylon indeed contributes to this tool belt's unparalleled toughness. Its build is reinforced by rivets and bar tacks, resulting in a durable construction for heavy duties. Despite frequent use and abuse, it can last for years dealing with sharp tools and vigorous working space.
As stated above, this finish carpenter tool belt can be a good companion for drywall construction workers. What justifies its versatile use is the wide-opening holders that accommodate various hand tools for drywall tasks. Its main pouch is as deep as 8 inches, and other compartments and its loop is enough to hold a hammer, fasteners, and more.
One issue that happens to many tool pouches after a while is sagging. Workers hate this, since a sagging bag will pour out their tools, preventing them from climbing ladders. Yet, with this tool belt's box-shaped pouch design, drywall workers can repair or coat the ceiling without worry.
Furthermore, it is the tool belt that delivers good comfort and support for long-hour work. It comes with air channels and breathable fabric that make the belt cool during wear. The added foam backing will ensure our back is supported when carrying heavy tools.
However, such well-designed drywall finishing tool bags with a belt can cost workers much money.
Pros
Durable gear with rivets and bar tacks on 1250D nylon construction
Deep 8-inch main pouch, loop, and holders for hammer, fasteners, etc
Box-shape design for no sagging
Comfortable belt with air channels and breathable fabric
Added foam backing to reduce back pains
Cons
High-priced tool belt for professional workers
This Gatorback sheetrock tool belt does not disappoint, especially with the back support foam. Anyone with a big budget can consider purchasing this design to ensure every aspect of their work goes well
4. OX Tools Drywaller's Tool Pouch
If we already have a belt and need an extra bag to pack more items, the OX Tools Drywaller's Tool Pouch is an excellent choice.
The dark leather color is one of the appeals of this design, apart from the durable construction. It is hard to resist such a nice-looking pouch that feels soft to our touch. The use of oil-tanned top-grain saddle leather is the main reason behind such a soft yet rugged model.
Every hand tool can sit neatly in one of the 12 holders this bag offers, including a steel loop for a hammer. Since all of its pockets are rather tight, an issue like falling tools will not occur and hinder our work pace. Besides, these holders are designed for professional drywallers, so there is space for all our essentials.
Durability must be among the best things about this drywall tool bag. The leather material used is 2-mm thick, enough to withstand abrasion and cuts well, especially when it keeps utility knives and jab saws. Also, rivets are added to hold all the stress points together to resist tear and sagging.
The convenience of this tool pouch shows in the wide leather tunnel that accommodates standard belts from OX tools and other brands. It is made with two layers for added durability against sharp and hard edges.
The only complaint I have with this pouch is that its pencil pocket should be at the front instead. Still, it does not interfere much with my overall great experience with the piece.
Pros
Dark leather color from the oil-tanned top-grain saddle leather
Comes with 12 tight holders, including a steel hammer loop
Packs drywallers' essentials and prevents tools falling out
2-mm thick leather to resist abrasion and cuts
Rivets on the stress points to resist tear and sagging
Convenient double-layer leather tunnel to accommodate any belt
Cons
The pencil holder should be at the front instead
This OX Tools drywall pouch setup with a quality belt will make a terrific partner for workers. Besides, this investment is cost-effective in the long term due to its incredible durability.
5. Custom Leathercraft Standard Drywaller's Tool Pouch
Super lightweight and functional, that's how most workers describe this Custom Leathercraft Standard Drywaller's Tool Pouch. It is among the affordable options that fit nearly everyone's budget.
Welcoming us is the sight of a pretty chrome-tanned pouch. It will go well with another nice-looking belt from CLC or any standard piece up to 3.75 inches wide. The brand is popular for bright-colored tool pouches, making their models stand out, while ensuring no quality compromise.
In truth, this pouch's whole construction is made from leather, ensuring good use for a long time. Just like other products from CLC, this one is reinforced with nylon stitches and steel rivets. Such features allow users to pack tools for heavy duties and work with ease.
Another striking point about this pouch is its holder layout. We can notice double rows of main pockets to host essential hand tools. Also, the added loop at the bottom is for a hammer, and the leather holder at the top is for a 30-inch measuring tape – another essential drywaller tool.
Notably, the pouch is incredibly lightweight at just 0.02 lbs, adding nearly nothing to our gear load. Its compact dimension of 9.75 x 10.62 inches also allows easy carrying. I find such a dimension convenient and practical.
On the other hand, it is tricky to insert rasp tools due to the hard leather material. It might take some time to break in the pouch.
Pros
A nice-looking and affordable bright chrome-tanned pouch
Fits all standard belts up to 3.75 inches wide
Has nylon stitches and steel rivets for added toughness
Has double rows of main pockets, a hammer loop, and a measuring tape holder
Compact (9.75 x 10.62 inches) and lightweight (0.02 lbs)
Cons
Hard leather needs a break-in period
Overall, I am glad I went with this low-priced CLC tool pouch when starting my first projects. It offered excellent help with well-arranged holders to keep all my drywaller tools.
6. OX Tools Tradesman Drywall Pouch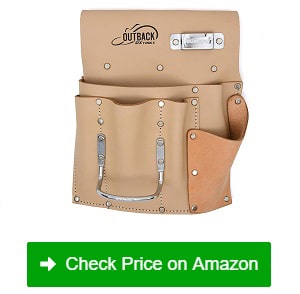 OX Tools always stays in the top brands making quality drywall pouches, and this next product is another proof of such reputation.
The OX Tools Tradesman Drywall Pouch comes with 6 pockets for keeping tools. Since its height is 9 inches, the piece can keep hand tools just as long. Furthermore, the added loop at the bottom allows one large-sized hammer to sit nicely without falling. All other compartments are designed to hold firmly to the tools inside, too.
It is not surprising that the tool pouch is durable enough to handle harsh working conditions. The piece is constructed out of suede leather, resulting in a nice look and decent durability. We can expect it to survive sharp edges and heavy tools with double stitches and strong rivets.
As a compact bag, it weighs slightly more than 0.7 lbs. That means we only need to worry about the tool assortment's weight and not this pouch's. Notably, the brand offers compatible tool belts and padded suspenders for this model. We can purchase them separately to complete the drywall setup.
Most workers are satisfied with this product, especially its affordable price and 1-year warranty policy. But it is not perfect, since there are some complaints about the soft leather fabric. The piece does not really give the rugged feeling as some workers expect in a heavy-duty bag.
Pros
Suede leather construction survives harsh working conditions
Features rivets and double stitching for added durability
Lightweight pouch at 0.7 lbs and compact with 9-inch high
Available at an affordable price and has a 1-year warranty
Cons
Soft leather fabric can bother some workers
Drywallers who look for a quality tool pouch to fit their tools that's compact enough not to hinder work should take this product.
7. Style N Craft 70685 Drywall Hanger's Tool Pouch
The last entry that completes our list is the Style N Craft 70685 Drywall Hanger's Tool Pouch. We can make good use of its smart layout to pack all our essential tools for any project.
Mainly designed for drywallers, this pouch is usable for tradesmen and other workers since it has well-organized holders. There are only 6 pockets of different sizes. Thus, all the hand tools, pencils, and sharpeners can be put inside the main compartments while the hammer sits on its designated loop.
It is worth mentioning that the piece can pack one drywall jab saw on each side. Such a layout makes it easy for left-handed and right-handed workers to utilize it without hassle. Also, retrieving a tool is easy since everything is on display.
A durable pouch is necessary at rigorous worksites to keep up with duties without tearing and sagging too soon. Luckily, this piece is designed to deliver decent sturdiness with top-grain leather fabrics and heavy-duty nylon stitches. The whole construction ensures long-term use to carry sharp and hard tools.
With all the good features provided, the pouch's nice look seems like a bonus. The dark brown oiled leather gives it a professional and rugged appearance that serves various work purposes. Plus, this piece is a single pouch design, and it fits tool belts up to 2.5 inches wide.
However, compared to other pouches with the same storage size, this one costs us more than most.
Pros
6 pockets of different sizes to host various hand tools
Packs a drywall jab saw on each side for both left and right-handed workers
Easy tool retrieval with a straightforward layout
Sturdy pouch made of top-grain leather fabrics and heavy-duty nylon stitches
A nice look with dark brown oiled leather
Fits tool belts up to 2.5 inches wide
Cons
Costs us more than tool pouches with the same storage size
All in all, this professional-looking tool pouch can become essential gear for drywall construction workers. It serves its purposes with good durability and compartment design, justifying the hefty price tag.
What to Look for When Buying Drywall Tool Belts?
Drywall tool belts and pouches are designed to hold all drywallers' essential tools. We need to find one that keeps all the necessary gadgets safe while allowing easy retrieval. It is as simple as that. But, the tricky part is among many models, which one fits our needs the best?
There are some factors that guide us to the right choice.
Storage room and holder layout
The first thing we should do is bring out our tool assortment and visualize the holder number and size we need. There are tool bags with multiple holders, up to 20, fitting both large-sized and small hand tools. If we have a hammer and measuring tape, we need to find a pouch with a loop and a tape holder.
Smaller designs allow us to pack only essential hand tools. At the same time, a larger piece with removable pouches allows us to carry either a heavy or lighter load.
If you are left-handed, finding a suitable tool belt might be trickier. If you have eyes on an appropriate model, but there is no left-handed version of it, maybe change how you arrange the frequently-used and secondary tools.
Designs
Most workers want to invest in a full set of tool belts with multiple pouches. These designs are the best choice for flexible use, whether one's working on big projects or doing small troubleshooting or coating jobs.
Meanwhile, smaller touch pouches around 12 inches long and 6 to 9 inches high are suitable to pack an essential tool assortment. Such a compact design allows easy use and traveling. Furthermore, it makes organizing and retrieving tools effortless. We can also rely on these models to handle tasks on ladders.
Durability
Tool belts and tool pouches are important gear that makes our work easier. They are an investment that we want to make use of for a long time, so durability is important.
Products made of leather can vary in price. Top-grain or other genuine leather tool belts are incredibly tough, resisting abrasion, cuts, and tear with top-notch textiles. Meanwhile, suede leather is much cheaper, but it is also decent for long-lasting use.
Duratek Nylon, Cordura Plus fabric, or polyester materials are also used in making rugged pouches and tool belts. DuraTek Nylon makes for a rather high-priced product, but its anti-sagging function is incredible. Whichever pieces we choose, these materials can ensure good abrasion and puncture resistance.
Durability also shows in reinforcement features, which we should pay close attention to, besides the fabric. Steel rivets on stress points are important to prevent sagging due to heavy loads. Furthermore, we should go for products with sturdy stitching, preferably double layers, to keep the holders together despite contact with sharp tools and hard edges.
Comfort
Comfort is an important feature when we purchase tool belts. The best product should be breathable, allowing us to feel ventilated during long-hour work, especially in the summer weather.
Also, added memory foam pads for back support are a recommendable feature. With such a high-quality component, we should feel less pain around our hip despite carrying many heavy tools for hours on end.
Price
Price is indeed an important factor when purchasing any work gear. It often points us to high-quality products from reliable brands. Some leather-made products can come with a rather hefty price tag. Still, we can find a decent tool belt under 100 if we search long enough.
Meanwhile, it is more affordable if we go for a tool pouch and purchase a simple belt. In that case, we might reduce half the expense. Still, quality and compact tool pouches made of heavy-duty leather might be as expensive as $70 to $100.
What Are the Trusted Drywall Tool Belt Brands?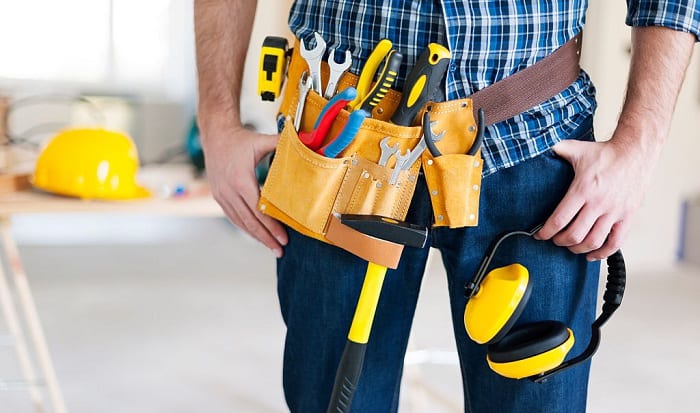 Scrolling through the product list above should give you an idea of several brands that produce reliable drywall tool belts. If you look for high-quality and heavy-duty leather tool belts, Occidental Leather and Style N Craft should be the right place to look.
Gatorback and OX Tools have some tool belts with a durable construction and smart holder arrangement. In case you need decent-quality tool pouches or tool belt setups but do not want to break the bank, check out Custom Leathercraft's collections.
How to Care and Clean Drywall Toolbelt?
There are differences in clearing and maintaining a leather drywall tool belt compared with ones made of other materials. So, make sure to read the instructions of the tool belt manufacturer first before washing or cleaning the product.
Leather tool belt:
Prepare a soft-bristled brush or a toothbrush, some mild soap agent, some pieces of soft cleaning cloths, and a leather conditioner.
Empty your pouches; make sure to pour all the tools, fasteners, and parts out. Shake it upside down to remove all the debris and loose dirt.
Make a soapy solution and use a cloth to dampen the leather belt with the cleaning agent.
Use the bristle or the toothbrush to scrub the tool belt gently. Afterwards, wipe the belt with another clean cloth to remove soap and loosened dirt.
Repeat these steps if the belt is not clean.
Let it dry naturally, keeping the belt away from direct sunlight and any source of excessive heat.
Condition the leather belt to ensure its good quality.
Nylon or Poly tool belt:
If the tool belt comes with a tag that allows machine washing, cleaning is simple. If not, you can wash it by hand with fabric stain remover and a soft brush.
Where to Buy a Drywall Toolbelt?
Most of us look for drywall tool belts at official stores of reliable work gear brands. If there is no shop in your neighborhood, online shopping is also reliable. You can find one on trustworthy E-commerce sites. Make sure you read customer reviews, product dimensions, and features before purchase.
Conclusion
Working with drywall requires various protection gear and hand tools. To make our job more manageable, a well-made tool belt is necessary. Hopefully, our recommended list of the best drywall tool belt gives you an idea of what the market has to offer. Make sure to choose one that meets your requirements. Work safely!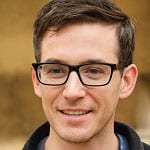 This is Edward Manning, the editor in chief of Construction Informer. Quite a bit of my time is spent researching the market and interviewing experts in the field so that I can give you reliable information.