The job of cold storage facility workers is not an easy one. Whether you are involved in meat processing, fresh produce warehousing, pharmaceutical storage, or other tasks, you are continually exposed to sub zero temperatures.
And when one is exposed to these cold environments for long enough periods, one is placed at risk of numbness, hypothermia, and frostbite, especially in the hands. For this reason, you will need protection from the best freezer work gloves.
Because of the challenges of working in the cold, a good pair of insulated work gloves should provide sufficient protection from the hazards of extreme cold and improve your performance while working in cold conditions. As such, you should expect a proper pair of freezer gloves to have the following qualities:
Thermal insulation. The basic requirement of any freezer glove, thermal insulation, involves using special fabrics that maintain warmth inside the gloves. How much insulation you need will depend on how cold your work environment is and how long you need to stay there at a time. In general, though, a good target would be somewhere around 30°F to -30°F (or around 0°C to -30°C).
Hand dexterity. Of course, having good insulation isn't everything. Your gloves must allow you to move your hands without too much hindrance. Fabrics like Spandex, neoprene, or Lycra are very stretchable and will greatly improve hand dexterity in your insulated gloves.
Waterproofing. Ice may stay cold in a freezer, but it can still melt with the heat of the worker holding it. This melted water can soak into your gloves and re-freeze, making your hands colder rather than warmer. Therefore, you should also look for waterproofing or water resistance in your ideal freezer gloves.
With all this in mind, the following is a collection of reviews of 12 freezer work gloves tried and tested. Although this is not an exhaustive list, these reviews should hopefully point you in the right direction to help you find the right pair for your job.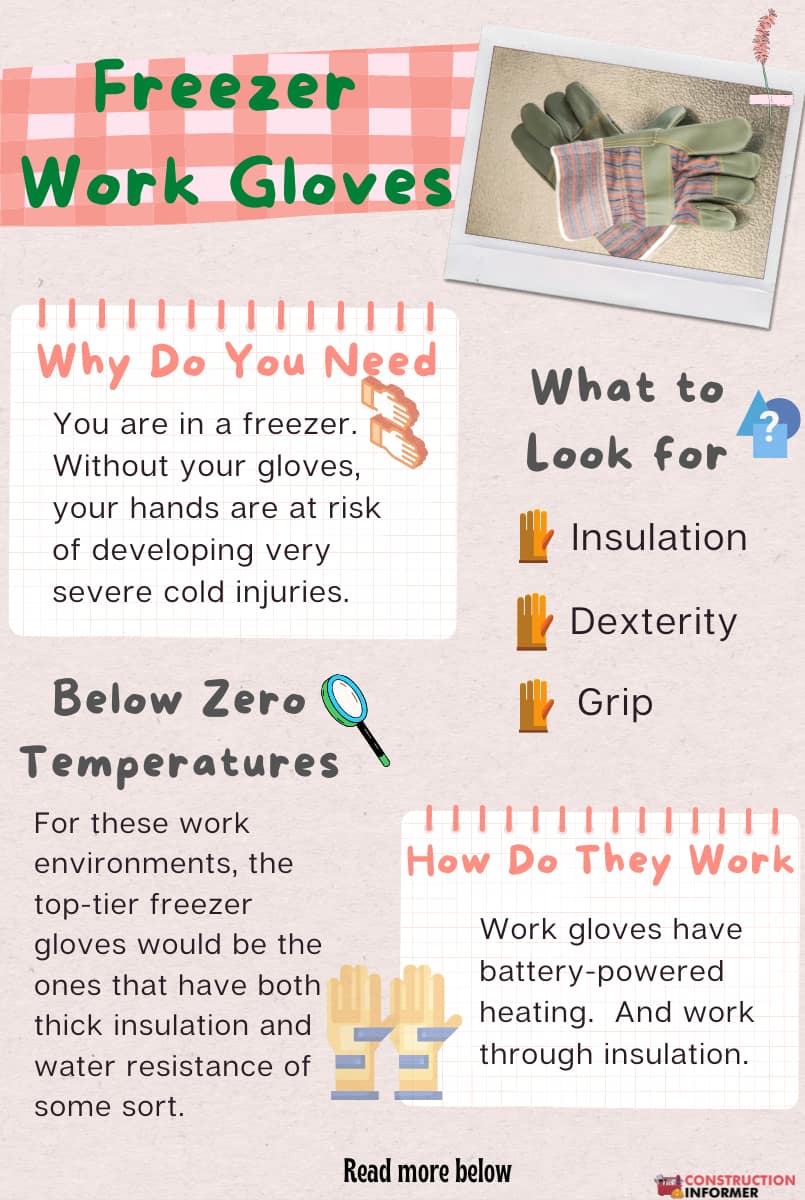 Featured Products
Best Overall
RefrigiWear Extreme Freezer
– Shock absorbing palm pads with silicone grip
– Impact protection on the back of the hand
– Stretchy Neoprene cuff for wear-and-go fit
Editor's Pick
Superior Winter Work Gloves
– Dual-layer fabric shell provides comfortable insulation
– Micropore PVC palm stays flexible even in the cold
– Srinkle grip texture works even when wet
Premium Choice
MCR Memphis N9690M
– Water-repellant HPT coating
– Acrylic terry insulating liner for free movement and insulation
– EN388 3232 protection rating for cuts, scrapes, punctures, and tears
Top 12 Freezer Work Gloves Reviews
1. RefrigiWear Extreme Freezer Gloves
When recommending a good pair of freezer wear gloves, RefrigiWear is always a good place to start. This company has been developing cold work solutions from head to toe for over 60 years now, and their RefrigiWear Extreme model is one of the best examples of their expertise.
Their "Extreme" namesake refers to their impressive insulation. This is made possible by using three layers of insulation—a tricot fabric liner, insulating foam, and 100-gram 3M Thinsulate. The result is, naturally, a warmth that can handle harsh temperature drops in cold weather conditions.
A set of shock-absorbing pads on the palm provides another layer of material between your hands and whatever cold object you need to hold on to. Because icy goods can get slippery if you aren't careful, RefrigiWear has inlaid a silicone grip across the palms to help you grip tight.
The gloves also offer impact protection for the back of the hand as well as the fingers and knuckles, giving you even more protection from whatever hard knocks come your way. A neoprene cuff keeps the gloves secured to your hands and also allows for a wear-and-go fit, thanks to its stretchy quality.
Of course, all of this protection comes at the cost of bulk. I found the gloves to be bulky for grabbing small objects and tools.
Pros
3-layer insulation: tricot fabric liner, insulating foam, 100-gram 3M Thinsulate
Shock absorbing palm pads with silicone grip
Impact protection on the back of the hand
Stretchy Neoprene cuff for wear-and-go fit
Cons
Gloves are a bit thick and bulky
The RefrigiWear Extreme gloves live up to their namesake, with great protection from the elements to keep your hands in tip-top shape even in extreme cold.
2. Superior Winter Work Gloves with Tight Grip Palms
What does it take to make a superior pair of gloves for freezer workers? Is it unmatched insulation against the cold? Is it almost-gloveless dexterity? Or could it just be a competitive price? For the winter work gloves by the Superior Glove Company, the answer to that is "a little bit of everything."
These thermal gloves feature a dual-layer fabric shell that consists of a nylon outer layer and an inner fleece lining. This combination provides the benefits of both materials, with the flexibility of nylon and the insulation of the fleece.
However, from my experience using the gloves, the fleece liner tends to build up static electricity in my hands while I work, which can cause some mild stinging feeling sometimes.
The rest of the glove, however, functions quite well. The palms are coated with micropore PVC foam that stays flexible in extreme cold without becoming brittle like other rubbery coatings. This coating also has a crinkle grip texture that gives excellent grip even on wet surfaces, which is extremely useful when handling wet produce.
While the gloves don't look like much, they actually offer a fair bit of protection. According to the ANSI standard for work glove protection, they are rated for Level 2
puncture resistance
and Level 3 abrasion resistance, which is more than enough for working in cold stores.
Pros
Dual-layer fabric shell provides comfortable insulation
Micropore PVC palm stays flexible even in the cold
Crinkle grip texture works even when wet
ANSI Level 2 puncture and Level 3 abrasion resistance
Cons
Fleece lining can cause static electricity buildup
Without any major flaws in its design, the Superior Winter Work Gloves are a great all-around option that will serve reliably in cold temperatures without any issues.
3. MCR Memphis Glove Safety N9690M Nylon Glove
When working in a freezer, our first instinct when shopping for gloves would probably be to get the warmest pair available. However, this might do more harm than good when we realize that our bulky pair makes it difficult to hold pens and grab onto small handles securely.
For tasks that require that level of precision, sleeker thermal gloves are required. And the Ninja Ice work glove from MCR Safety (formerly Memphis Glove) is more than practical for the job.
Its insulating liner uses thin acrylic terry fabric to provide reasonable insulation levels with a low profile, allowing us to move our hands more freely than with ones featuring thicker insulators.
Because the insulation is so thin, however, it cannot provide enough warmth for extreme temperatures. But for most frozen material handling jobs, the dexterity that we get from these gloves is much more valuable.
The gloves are treated with an HPT coating that helps repel water. Hence, it more than makes up for the thinner insulation by keeping cold water from soaking into the glove fabric and reaching our hands.
The combination of the fabric shell and rubber-coated palms allows the gloves to achieve a 3232 protection rating based on the EN388 standard. Such a qualifying construction ensures great resistance against cuts, scrapes, punctures, and tears, which helps the gloves last longer.
Also helping the gloves' longevity is the Actifresh sanitizing treatment done to the fabrics. So, the gloves can kill odor-causing bacteria that tend to accumulate during long work sessions.
Pros
Acrylic terry insulating liner for free movement and insulation
Water-repellant HPT coating
EN388 3232 protection rating for cuts, scrapes, punctures, and tears
Actifresh treatment helps kill odor-causing bacteria
Cons
Not enough warmth for extreme temperatures
Sleek and stealthy just like the Ninja namesake, these waterproof freezer gloves from MCR Safety provide high performance with a low profile.
4. Youngstown Winter Plus Performance Glove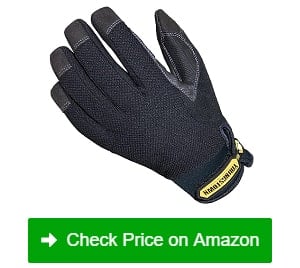 Youngstown is renowned for its catalog of work gloves that deliver reliable and consistent performance in a wide range of industries. Their Winter Plus Performance model is the manufacturer's take on the freezer work glove and offers a remarkably thoughtful feature set.
For instance, the gloves are designed with a microfleece inner liner. This structure provides a good amount of protection from the cold while also giving the gloves a soft, cushioned feel like wool mittens.
This inner liner does tend to bunch up when I take off the gloves, though, making putting them back on again tricky. Thankfully this doesn't affect the performance of the gloves in any way.
The outer layer of the gloves is completely weather-resistant to help keep the hands dry in all conditions. As someone who has done jobs handling wet produce, the extra protection from the elements is a really nice touch.
This feature is helped further by the velcro strap on the cuff, which lets me customize the fit to the exact tightness that I want.
As a bonus, Youngstown thoughtfully integrated a fabric brow wipe on the thumb area of the gloves. It's a convenient feature that I appreciate and shows their designers' attention to detail when making these gloves.
Pros
Offers reliable and consistent performance
Micro fleece liner provides soft, cushioned feel
Weather-resistant outer layer to keep the hands dry
Velcro strap on cuff for a customizable fit
Integrated brow wipe on thumb
Cons
Inner liner can bunch up when doffing
The Winter Plus Performance model from Youngstown are solid thermal gloves for freezer work, offering many convenient features on top of an already reliable pair of thermal gloves.
5. RefrigiWear Double Insulated Leather Work Gloves
With so many work glove manufacturers out there today, there is bound to be a pair of freezer gloves that will work best for every specific use case. All of the gloves we've seen so far have helped prove this point, and these RefrigiWear gloves are no exception. Designed for ultimate cold protection, this extreme freezer glove uses every trick in the book to make that possible.
For one, the bright yellow insulated freezer gloves are built with a thick, heavy-duty cowhide leather shell. The glove parts are held together with Kevlar stitching to produce an adequately tough pair of gloves that will hold up to whatever abuse we can throw at it.
However, the thick insulation of the gloves does limit the number of sizes available. Specifically, these gloves do have dimensions smaller than Large.
The gloves' cuffs are done up in a safety cuff design that extends further beyond the wrists than the typical design. These extended cuffs improve the hand protection coverage of the gloves.
The gloves are reinforced with PVC abrasion pads for added durability on high-wear areas—specifically the middle of the palms and the fingertips. This design provides an extra barrier to shoulder the wear and tear before it reaches the leather material.
The result of this design is an insulation rating of -30°F. For reference, this temperature is only a few degrees higher than the winter temperatures in the North Pole—so you can be sure that these will efficiently protect your hands in sub zero temperatures.
Pros
Heavy-duty cowhide shell with Kevlar stitching
Extended cuffs for better coverage
PVC abrasion pads on high-wear areas
-30°F insulation rating for the coldest jobs
Cons
Doesn't come in smaller sizes
Although it comes at the cost of hand dexterity, these extra-thick RefrigiWear freezer gloves provide complete protection from the cold and are one of the top-rated freezer gloves for outdoor work.
6. G&F GripMaster Cold Weather Work Gloves
There is a common theme among all of the freezer glove reviews we've seen so far, and it is that they are typically bought to replace whatever low-quality gloves are given to you by your employer.
But for cold storage warehouse staff managers, giving freezer workers better gloves could substantially affect their morale and productivity. The GripMaster gloves from G&F are one such option.
These gloves immediately stand out from the crowd with their vivid high-vis orange shell. While it doesn't seem all that practical when worn by just one worker, it becomes a perfect workplace safety option when worn by an entire team. And, it is made easier by the gloves being available in bulk packs of a dozen pairs.
And that's not to say that the gloves themselves are no good—far from it, in fact. A soft fleece inner liner is underneath the bright orange shell, which provides a good amount of comfort and protection for the typical refrigerated warehouse.
Unlike most dip-coated freezer gloves, G&F uses a double-dipped palm, which makes them much more durable than their single-dip counterparts. Besides, the design results in better dexterity of the hands when gripping and handling small objects.
A consequence of the dip-coated design is that they have limited impact protection on the back of the hands.
Pros
High-vis orange for worker safety
Can be bought in bulk packs of 12 pairs
Soft fleece inner liner for comfort and protection
Double-dipped latex coating has great durability
Dexterous gloves that allows gripping and handling small tools
Cons
Limited impact protection on the back
The GripMaster gloves from G&F are a great pair of frozen food work gloves with a functional high-vis shell to give freezer workers additional safety in the workplace.
7. Ergodyne ProFlex Waterproof Work Gloves
Glove design has come a long way from stitching layers of fabric or leather together by hand. Engineered fabrics and sewing machines have made it possible for insulated freezer work gloves to have combinations of materials that would have been unthinkable in the past. The Ergodyne ProFlex gloves are an excellent example of modern glove design.
Ergodyne used a dual-zone approach in these ProFlex gloves instead of a single uniform layer of thermal insulation. Hence, the gloves provide a unique balance of warmth and dexterity by using thinner insulation on the palms and thicker insulation on the back.
The outer shell of the gloves is also treated with DWR, which allows the fabrics to repel water and keep the hands dry. This shell is reinforced further with abrasion-resistant pads on the palms and fingers that protect against sharp objects.
Besides modern materials, these gloves are also made to handle modern technology. The thumb and index fingers of the gloves are equipped with touchscreen-compatible pads that let you use smartphones and tablets without needing to take off your gloves.
An important thing to note about these gloves is that their sizing runs larger than other brands. As such, I would advise buying a size smaller than what you would normally buy in other brands to get a better fit with these gloves.
Pros
Dual-zone insulation balances warmth and dexterity
Touchscreen-compatible thumb and index fingertips
DWR treatment keeps hands dry
Reinforced with abrasion-resistant pads
Cons
Sizing runs larger than expected
The careful balance of dexterity and thermal protection offered by the Ergodyne ProFlex gloves makes them one of the most reliable gloves for freezer work that I've tested.
8. Superior Winter Work Gloves with Fleece Lining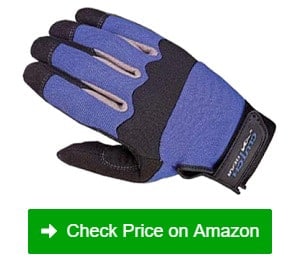 It should be no surprise why there are two gloves from the Superior Glove Company on this list. I have used many of their gloves before and have had very positive experiences all around. These gloves live up to the reputation.
One of the best features of these gloves is their palms, which are made of water-resistant microsuede. I like them so much because they provide a lot of flexibility and hand feel while also protecting against abrasions thanks to its reinforced thumb crotch.
The gloves are also made with breathable finger insert panels. These panels are the ones that cover the space in between the fingers. The choice of breathable fabric really helps with comfort here, which is great as my hands can get quite clammy in some of the warmer gloves that I've used.
However, this does come at the cost of waterproofing, as water will get soaked in these finger areas and the back of the gloves.
Speaking of which, the back of the gloves is equipped with neoprene knuckle padding, which provides protection from knocks and scratches without affecting hand dexterity.
Hook-and-loop closure on the cuffs is another nice touch, in my opinion. This helps ensure a locked-in fit that doesn't loosen over time, as gloves with knit or elastic cuffs tend to do.
Pros
Water-resistant microsuede palms with reinforced thumb crotch
Breathable finger inserts for added comfort
Neoprene knuckle padding protects from knocks and scratches
Hook and loop closing cuff ensures a locked-in fit
With a well-rounded feature set, these work gloves for freezer jobs are a fair option to choose if you need a reliable pair of gloves to keep you warm.
9. Wells Lamont Cold Weather Grip Gloves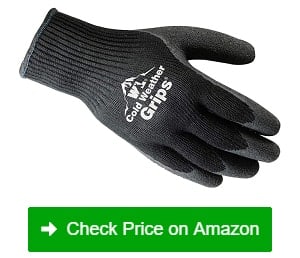 Starting out as a humble glove maker in 1907, Wells Lamont is now among trusted industrial gloves manufacturers. Their Cold Weather Grip gloves are just one part of a massive and storied catalog of high-performance designs and are made to accommodate just about everyone.
And when I say "just about everyone," I do mean it. Wells Lamont has made these gloves available in an extensive range of sizes, from XS to 3XL.
When we pair this with their excellent stretchy knit construction that provides a snug fit, these gloves should be able to accommodate hand sizes that most other glove manufacturers don't bother to serve.
The gloves themselves are also of very high quality. They come in packs of two pairs each, which gives me a handy extra pair just in case I manage to lose one. I keep a spare pair in the bag I take to work as a backup, so I am always properly equipped if I forget to bring my main pair.
On top of the soft and stretchy thermal knit, the gloves are dipped into latex with a coarse but soft texture. Thus, they offer excellent grip for workers on different surfaces and objects. Such a pair also resists puncture and tear well for long-lasting use.
While they do perform very well for freezer work, some people can get allergic reactions from coming into contact with latex. This is something to keep in mind.
Pros
Available in XS to 3XL sizes, in packs of 2 pairs
Stretchy knit construction provides a snug fit
Soft thermal knit construction for warmth
Textured latex palm is grippy and protective
Resists puncture and tear well for long-lasting use
Offers excellent grips on surfaces and objects
Cons
Latex can cause allergic reactions
If the reaction to latex is not an issue, the Cold Weather Grip gloves from Wells Lamont are one of the most favorite gloves for working in a freezer.
10. Dewalt DPG737L 2-in-1 Insulated Grip Glove
Dewalt is a brand best known for its expertise in hand and power tools. But as we see with the DPG737L, they have also dabbled in making personal protective equipment. And from my experience, these are quite excellent gloves for working in chillers.
What makes these gloves stand out for me is their unique glove-in-glove system. As its name suggests, these gloves come in two parts.
First, the thermal liner is made of thick 7-gauge acrylic wool to ensure we are warm when handling tasks in low temperatures. And the other is the outer layer, which is a dipped glove shell made of moisture-wicking nylon. These two layers contribute to a protective yet comfortable pair for workers.
While it seems strange to make gloves this way, a major benefit of this design is that washing these gloves are now much easier. This is because fleece and wool layers take much longer to dry than the outer shell, which can result in mold and mildew build-up if the gloves are not dried properly. Separating the two layers allows for complete drying, which I find very convenient.
The outer layer of the gloves is dipped with a latex coating that, unlike other gloves, extends all the way to the knuckles. This extended coating offers additional abrasion protection and adds another barrier to harsh weather.
Unfortunately, the rubber coating is an insulating material and is therefore not compatible with touchscreens.
Pros
Unique glove-in-glove system for easy washing
Thick 7-gauge thermal liner for protection against cold
Moisture-wicking nylon outer layer for comfort
Allows easy washing and prevents mildew
Extended latex coating offers extended protection
Cons
Not compatible with touchscreens
Their unique 2-in-1 glove system lets Dewalt's freezer gloves stand out from the competition and is a contender for the most affordable freezer gloves on the market.
11. Golden Scute Winter Work Gloves
As a Chinese-based brand, Golden Scute is not a very well-known name in the West. But from my experience using their gloves for working in freezer, I can say that there is a lot more to them than meets the eye.
For one, they have an excellent 3131 protection rating based on the EN388 standard. Such a qualification proves the ability to resist abrasion and tearing, which are common hazards that freezer workers have to deal with.
Inside the gloves is a thermal liner made of 10-gauge acrylic fleece. Compared to other fabric gauges, the 10-gauge fabric is soft and warm without feeling too thick.
The outside of the gloves is coated with two layers, the first of which is a waterproof latex coating that helps keep our hands warm without compromising dexterity.
On top of this is a 3/4 rubber dip that covers the entire palm and fingers up to the knuckles on the back of the hand. This dip serves as an extra protective layer that also assists with grip.
The two-layer dip, however, does limit how far the gloves can stretch. It means the gloves' sizing is tighter than the size suggests.
Pros
EN388 3131 protection rating to resist abrasion and tear
10 gauge acrylic fleece liner is soft and warm
Waterproof latex coating for extra protection and better gripping
3/4 rubber dip provides grip and abrasion protection
Cons
The stretch limit affects the sizing, thus requiring choosing a large one than usual
With the right size, these freezer gloves with grip from Golden Scute offer a great balance of protection and dexterity for most kinds of cold work.
12. Wells Lamont HydraHyde Cold Weather Work Gloves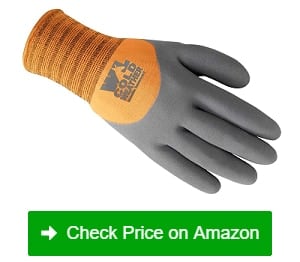 Although all of the gloves I've reviewed on this list are excellent in their own right, I feel that I've saved the best for last. These HydraHyde freezer gloves are one of the few models that I bought multiple pairs of, and for a good reason.
The seamless knit shell uses one of the softest nylon fabrics I tested in a freezer work glove and is very comfortable to use even throughout long workdays.
Thanks to the knit wrist cuffs that fit my wrists snugly, the gloves are also really easy to wear. They are effortless to adjust and don't need much thought to put on—just pull them tight, and we're all set.
This soft fabric shell is then dipped in grey latex in an extended 3/4 style like some of the other examples on this list. Unlike them, though, Wells Lamont uses a unique latex formula that is much more elastic. This addition keeps the grip consistent and performs reliably in all conditions.
Their HydraHyde branding refers to the waterproof treatment applied to the latex dip. As a result, the gloves are mostly waterproof. I say "mostly" because only the latex dip is given the waterproof treatment; this means that the orange fabric shell on the wrist area is not waterproof and will absorb water like any other fabric.
Pros
Comfortable seamless nylon knit shell
Snug knit wrist cuff is easy to wear
Elastic latex grip performs reliably in all conditions
HydraHyde waterproof palm coating
Cons
Fabric shell is not waterproof
With excellent dexterity and a waterproof palm, these HydraHyde freezer gloves from Wells Lamont are one of my favorite gloves for handling frozen food.
What to Look for When Buying Freezer Work Gloves?
As we've seen from the above reviews in this article, freezer gloves come in many different styles. The reason for this is that manufacturers design their gloves to meet the needs of workers in certain use cases. And these use cases will call for different requirements in terms of features and specifications.
Generally, though, all cold storage gloves are designed with five main considerations in mind:
Insulation is, of course, the primary function of any freezer work glove. It involves using layers of fleece, wool, or synthetic insulation to help trap warm air inside the gloves. The amount of insulation you need will be different depending on your work environment, as too little insulation will get too cold, and too much insulation will cause your hands to sweat.
Dexterity refers to how flexible the work glove is, which in turn affects how freely you can move your hands and fingers while wearing these gloves. One would naturally want to have as much freedom of movement in their gloves as possible, but as I will explain later, there are reasons why this might not be the best idea for all use cases.
Grip is another important factor in the performance of freezer gloves, especially if you work in materials handling. Since the layer of ice covers the outside of cold items can melt from the warmth of your hands (even through the gloves).
And when this happens, the package can slip out of your hands because the gloves don't have the grip for handling wet objects. As such, freezer gloves must have a palm material that can grips well on both dry and wet surfaces.
It is important to remember that no work glove can be the best at all of these features, especially in balancing insulation and dexterity. The reason for this is simple physics: if you want better insulation, you will need to use more material, and more material will give the gloves less dexterity.
This is the same when done the other way around—better dexterity requires less material, which means your glove will not be able to insulate as much.
Until someone invents a wonder material that can achieve very high insulation at very low thicknesses, this tradeoff between insulation and dexterity will be something you need to consider when shopping for a new freezer work glove.
What are the Top-Rated Work Gloves for Below Zero Temperatures?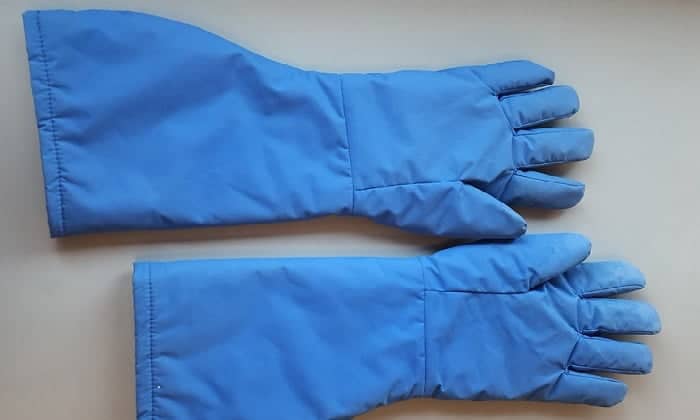 While most gloves for freezer workers function quite well at or above freezing, things get a lot more complicated when temperatures drop below zero. At that range of extreme cold, ice becomes a major issue as handling wet, icy packages can cause the ice to melt, soak into the gloves, and re-freeze again, which prevents the safety glove from working as intended.
For these work environments, the top-tier freezer gloves would be the ones that have both thick insulation and water resistance of some sort. Although this will come at the expense of finger dexterity, these two features will keep your hands safe when working in subzero temperatures.
How Do I Keep My Hands Warm While Working in a Freezer?
Now would be a good time to explain how cold storage gloves really work. Besides heated work gloves with battery-powered heating, most if not all cold gloves work through insulation—by keeping heat from your hands from radiating out into the frigid air of the freezer.
So, for your gloves to keep your hands warm, your hands have to be warm in the first place. That means you have to keep your hands active while in a freezer. Doing hand exercises encourages blood flow to your hands that helps generate heat that your gloves insulate to keep you warm.
Where Do I Buy Freezer Gloves?
As a general rule, a good place to buy your refrigerator gloves would be from industrial workwear suppliers. The reason for this is that, while you can get freezer gloves from your local hardware supply, these gloves will usually be regular winter gloves that aren't built to industrial-grade standards for protection.
Proper industrial suppliers like Grainger are great places to start shopping for your next pair because their catalog contains proper industrial-grade equipment. And with locations in Canada, UK, and many authorized distributors around the world, it is really easy to get the right freezer gloves at a reasonable price.
If you need information that's tailored more to your specific location, asking around on places like Reddit is a great way to get pointed in the right direction.
When are Freezer Work Gloves Required?
Although you aren't legally required to do so, you should wear your freezer gloves whenever you are in a freezer or handling very cold packages. And even if you choose to ignore this advice, it only takes a few seconds inside a freezing workplace for you to want to put on those insulated freezer gloves.
Your gloves are classified as protective gear for a reason. Without your gloves, your hands are at risk of developing very severe cold injuries that can leave you unable to use your hands permanently.
Conclusion
The cold is not something to be underestimated. Without the right equipment to protect you, the freezing cold is more than capable of doing some serious damage to your hands.
Hopefully, this guide to the best freezer work gloves can give you the information you need to make an informed decision, and with it, you can be on your way to find the suitable freezer gloves for your cold store job.
Hi, I am Alexander, forty-seven years old this year. I have been in the construction industry for twenty-five years and have provided a wide range of services. When it comes to expert guidance on site safety gear, you can put your trust in me.